Pork chops with piccalilli
Pork chops with piccalilli appears as an alternative version of 'Côtes de Porc à la Charcutière in Cooking for Pleasure, written by the estimable Rupert Croft-Cooke and published in 1963 when the use of French to describe any dish regardless of pedigree had reached absurd depths in Britain. In this case the dish as Croft-Cooke first describes it is French, even if the traditional preparation has so many iterations that its name almost fails to describe anything discrete. Common elements appear to be the chop, white wine, pickles and onion but optional additions, of mustard, tomatoes, tomato paste or sauce, chives, shallots, even milk and egg yolks along with other ingredients, proliferate.
In his alternate version Croft-Cooke eliminates a number of ingredients through the use of piccalilli, an inspired innovation that should not surprise the miniscule coterie of his devotees. And while he describes his dish under the traditional French term, no French cook would reach for piccalilli, the peculiar and exemplary offspring of Raj sensibilities. We therefore will not hesitate to claim his innovation for England. Two sauced chops; may be doubled at constant proportion to serve four.
---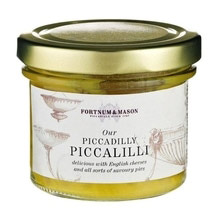 about 1 Tablespoon lard
salt and pepper
2 pork chops on the bone
an onion sliced into thin crescents
2 or 3 smashed and minced garlic cloves
generous Tablespoon flour
¾ cup pork or chicken stock
¾ cup white wine
about a heaped tablespoon piccalilli
---
Melt the lard in a heavy skillet over high heat while you season the chops.
Sear the chops until just golden and set them aside.
Lower the heat to medium and toss the onion and garlic into the skillet, stirring the vegetables occasionally until they just turn golden.
Stir the flour into the vegetables, then pour the stock and wine into the skillet, bring the sauce to a boil, reduce the heat to very low and simmer for about half an hour.
Season the sauce, then add the chops and continue simmering the dish until the chops are done to your liking, but do try not to cook them too much or they will toughen. You usually require only 5-10 minutes or so.
Stir the piccalilli into the skillet and serve the chops hot with their sauce, some mashed potatoes and a green vegetable or some red cabbage.
Notes:
-If you fear lard--and you should not fear it--substitute a neutral oil.
-Croft-Cooke liked to cook but did not much like detailed recipes so he may have been irritated with this one. He writes in English Cooking: A New Approach that "the convention of the recipe… at times seems to imply that the cook is a mentally retarded child…. " His usage may not be politically correct but it does succeed in conveying Croft-Cooke's typically robust opinion. He was a man of his word. The subtitle of English Cooking is accurate enough to describe a cookbook that Croft-Cooke had decided to write without including any recipe.
-Fortunately for the less confident cook, however, Croft-Cooke's original version of this recipe appears instead in his other cookbook, Cooking for Pleasure, which does provide a modicum of guidance.
-You will not be able to buy pork stock but if you do take the trouble to make your own the flavor of this very good dish obviously will get even better.
-The best piccalilli is, hands down, from Fortnum & Mason. It is available at Fortnum's in London and online through Fortnum's itself both in the UK and the United States. Most American versions betray a cloying sweetness; Cross & Blackwell adds a bit too much astringent vinegar but the piccalilli from Fortnum's is sublime.