A ham pie unaccountably called a cake from Your Granny's Cook Book by Sheila Hutchins.
Hutchins compiled this book in 1971 from recipes sent her by readers of the London Daily Express. This one arrived courtesy of a Mrs. F. E. Norris of London. You will want a nine inch pie plate. For four.
---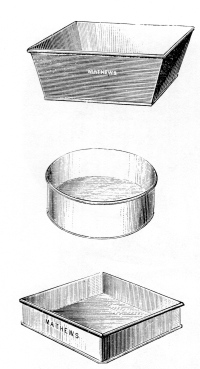 For the pastry:
-2½ cups flour
-1 teaspoon salt
-1 teaspoon sugar
-½ lb cold unsalted butter cut into ½ inch cubes
- ¼-½ cup iced water
---
Put everything but the water in a food processer and bash for no more than 10 seconds, or until the mixture takes the texture of corn meal.
Dribble the water into the processer while it is running little by little until the pastry coheres. Do not let the dough get sticky: Do not run the food processer for more than 30 seconds.
Lay the pastry onto a sheet of plastic wrap, shape it into a disc, wrap it in the plastic and then refrigerate it for at least half an hour before making your pie.
---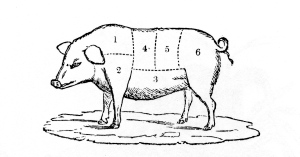 For the filling:
-1 lb coarsely ground ham
-a grated onion
-1 teaspoon dry mustard (like Colmans)
-splash Worcestershire
-4 eggs
-milk for painting the topcrust
---
Preheat the oven to 350˚.
Mix together the ham, onion, mustard and Worcestershire.
Line the pie plate with half the pastry.
Spread the filling evenly over the pastry and push four wells into the filling.
Crack an egg into each well.
Cover the pie with the rest of the pastry, vent the topcrust and decorate it with scraps of the pastry.
Brush the pie with a little milk and bake it until the crust turns golden, usually in about an hour.
Notes:
-This pie is good either hot or cold.
-The original recipe omits the seasonings of mustard and Worcestershire.
-Mrs. Norris' recipe is not much more than a sketch. It lacks a recitation of baking time, directions for the pastry or provision of any amounts.
-In a pinch you could substitute thawed storebought puff pastry for the crust from scratch. If you do, prick the bottomcrust all over with the tines of a table fork.