A traditional pie from the simpler side of the spectrum that allows the selected flavors to shine. Tandoh, a twenty-four year old prodigy, bakes an exemplary pie. For four.
---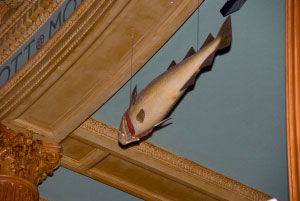 For the potato topping:
about 1 ½ lb peeled and chunked russet potatoes
4 Tablespoons unsalted butter
about 4 oz milk
salt and white pepper
For the filling:
1½ cups milk
½ lb cod cut into 2 inch chunks
½ lb smoked haddock also cut into 2 inch chunks
2 Tablespoons unsalted butter
2 Tablespoons flour (preferably Wondra)
2/3 cup dry hard cider
4 oz grated Cheddar
1 ½ cups thawed and drained frozen peas
---
Boil the potatoes until soft, usually in about 15-20 minutes.
Drain the potatoes ruthlessly , add the milk, bring it to a boil, reduce the heat to low, dump the butter into the mix and mash, then season the potatoes.
Preheat the oven to 400˚.
Heat the second tranche of milk until it steams and poach the fish on low heat for 3-4 minutes, no more.
Strain the fish and keep the milk.
Melt the butter in a heavy skillet over medium heat and whisk in the flour for a few minutes until barely pale gold. Whisk the cider into the roux to make a smooth paste.
Slowly whisk the poaching milk into the thickened cider, remove the skillet from the heat and carefully fold the fish into the sauce along with the peas and half the cheese.
Carefully slide the fish mixture into a pie pan or oven dish, top it with the mashed potato and top the potato with the rest of the cheese.
Like a sheet pan with foil, place the pie on the pan and bake it until the pie bubbles and the topping turns gold. Let it cool for a few minutes to thicken before service.
Notes:
-You might consider adding a few peppercorns and a bay leaf to the poaching liquid.
-It is important to drain the peas unless you want your filling watery.
-Tandoh selects a mild Cheddar: We prefer something sharp.