Our Rural Correspondent's recipe for Kidneys Turbigo
Nobody remembers the origin of the name. Does it refer to a rue Turbigo in Paris (Is there a rue Turbigo in Paris?) Does it refer to a forgotten town, or a precinct of one, somewhere in Italy? Is it only fanciful? These and other undocumented theories have been bruited but notwithstanding its name the dish itself seems undeniably English. Who else would toss together these ingredients so reminiscent of a robust eighteenth century devil? Besides, you are unlikely to encounter it anywhere else, or much of anywhere in England these days for that matter, but as late as the 1990s Kidneys Turbigo stood as a stalwart of room service at the Stafford Hotel in St. James's, London, if under the more descriptive and prosaic name 'kidneys with chipolatas.'
By any name the preparation is, as our Rural Correspondent reports, rather rich but enjoyable nonetheless, and its richness may anyway be tweaked by varying the quantities of puree, sherry, mustard, Worcestershire and hot sauce. The dish is quick, easy and cheap. You do not have to worry about exact weights of ingredients and any kind of kidney or various types of sausages would be fine. Good with a sturdy red wine or strong hoppy beer. Great on a cold day. For four.
---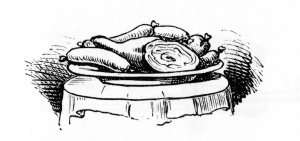 8 lamb kidneys, cored and split lengthways
25g (2 Tablespoons) unsalted butter
225g (½ lb) chipolatas ( see the Notes)
100g (3 oz) pearl onions (also see the Notes)
100g (3 oz) button mushrooms
2 Tablespoons tomato purée or tomato sauce
150ml (5 oz) dry Sherry
1/2 tsp English mustard powder
splash Worcestershire
splash hot sauce (optional)
150ml (5 oz) brown (beef, pork or veal) stock
2 teaspoons cornstarch
2 teaspoons chopped parsley
---
Heat the butter in a large skillet over medium high heat and brown the kidneys with the sausages. Remove the kidneys, add the onions and mushrooms fry them until brown. Drain off any fat.
Stir the tomato purée into the mix, then add the Sherry, Worcestershire, mustard, hot sauce and stock. Season and stir.
Bring to the boil, then simmer the Turbigo for about 10 minutes.
Mix the cornstarch with a couple of Tablespoons cold water and stir the slurry into the skillet to thicken the sauce. Cut the kidney into bite-size chunks, return them to the pan and warm them through. Serve on toast with a sprinkling of chopped parsley.
Notes:
-Once again, as noted in the introduction to the recipes, weights, measures and proportions are approximate as well as malleable.
-The rural roost of our Rural Correspondent lies in Oxfordshire, which explains his metric measurements. The Editor has supplied the parenthetical ones for American readers.
-Also for American readers; chipolatas are small English sausages, usually of good quality. You might substitute any smallish breakfast sausage; Jones is more than appropriate choice.
-Thawed frozen Bird's Eye pearl onions as always are a more convenient and equally good alternative to fresh ones.
-Rice rather than toast is the traditional accompaniment, but our Rural Correspondent prefers toast and he has unimpeachable taste.