The Editor's recipe takes astounding liberties with one from In Defense of British Cooking by Audrey Alley Gorton. The original version goes even beyond minimalist in its absence of body and seasonings but the concept is sound. To Gorton's credit, it does not appear anywhere else even though its ingredients are ineffably British. Cucumbers cooked with chicken do more than complement the bird to create a bright composition. The original recipe was hardly composed, consisting of only the chicken, the cucumber and some stock. The addition of wine and a roux transforms its bedrock elements. For four.
---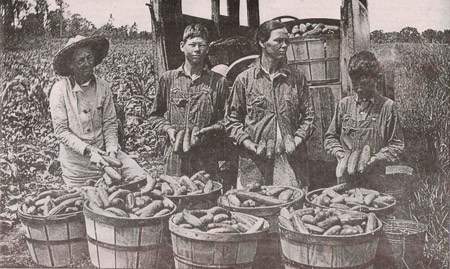 1 Tablespoon olive oil
1 Tablespoon unsalted butter
2 Tablespoons flour (preferably Wondra)
8 boned skinless chicken thighs
½ cup scallion whites
2 Tablespoons Riesling vinegar (see the Notes)
1 cup dry Riesling (look for 'Trocken' or 'Kabinett' on the label)
chicken stock to rise halfway up the height of the chicken (not much)
2 peeled and seeded cucumbers quartered lengthwise and cut into ½ inch tiles
salt and pepper
about a heaped Tablespoon minced parsley
scant ½ cup minced scallion greens
---
Preheat the oven to 350°.
Pour the oil into an ovenproof skillet already hot over medium high heat: Immediately add the butter.
Once the butter bubbles up, quickly whisk the flour into the pan to form a uniform paste. Add the chicken thighs and cook on each side until golden. It will not take long.
Scatter the scallion whites between the thighs, let them cook for a scant minute, then add the vinegar.
Allow it to reduce nearly to nothing, then pour on the wine.
Reduce the wine by a little more than half, scatter the cucumber in turn between the thighs and pour on enough of the stock to rise halfway up their height.
Cover the skillet and bake it until the cucumbers are just tender, usually in 20 to 30 minutes.
Remove the dish from the oven, season it, then stir the greens into the stew.
Notes:
-If you prefer breasts, use them, but slice them thin and beware. Unlike thighs they tend to dry.
-Riesling is ideal with the lively flavor of the cucumber but you could use another white. A decent New Zealand Sauvignon Blanc with its citrus undertones would be nice but choose nothing heavy like a Rhone or oakbomb Chardonnay.
-Riesling vinegar can be hard to find. White wine vinegar or, better, Champagne vinegar are good substitutes, but not as good.