Victor Gordon's "essential salamagundy."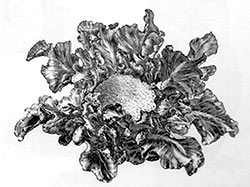 Salamagundy, a composed salad of meat with or without fish, egg, fruit, vegetables and pickles, dates to the middle ages when it was immensely popular. The combination of ingredients not commonly united by the twentieth century is intensely Medieval.
The layered cold dish remained popular until the early nineteenth century and, as Gordon notes in The English Cookbook, "seems to have gone out as the Industrial Revolution was coming in. For the purpose of authenticity, then, salamagundy "should contain nothing which derives from the New World, nor any non-indigenous foods which were not tolerably familiar before 1800 (at the latest)."
Salamagundy could become an elaborate affair, but this relatively simple version is equally appealing. Proportions are not provided because they do not matter much and as much or as little of the salad may be assembled as needed.
---
lettuces, spinach, nasturtium or other greens, alone or in combination
pickled herring
chopped or sliced hard boiled egg white
slices of pickled onion or walnut or both
crumble hard boiled egg yolk
cooked chicken or ham or both
sliced cucumber
lemon juice
slices of apple
a mustardy species of vinaigrette
---
"The idea is to form a mound by layering the different ingredients, with a leafy element at top and bottom. Starting from the bottom, a good sequence of layers would be: lettuce; herring; chopped egg white; slices of pickled onion or walnut; spinach leaves; egg yolk; chicken; lettuce; cucumber; lemon and apple; lettuce." ( English Cookbook 54)
Notes:
-Vary the sequence or not, and add or subtract elements: The mound will remain salamagundy.
-Salamagundy, as Gordon maintains, "works equally well as a sumptuous first course or out-of-doors main course instead of salade nicoise yet again." (English Cookbook 54)
-Does the term 'essential' in the title of the dish refer to the bare essence of the relatively simple version or to a dish every repertoire requires? The reader, and diner, may decide.