Sardine & blue cheese sandwiches
Long ago in a boarding school far away the Editor and her housemates ate sardines with blue cheese, pickled onions and hunks of black bread washed down with surreptitious slugs of stout. All the strong flavors stood up together instead of colliding, and so does this sandwich adapted from Tin Fish Gourmet by Barbara-jo McIntosh. Two sandwiches (obviously).
---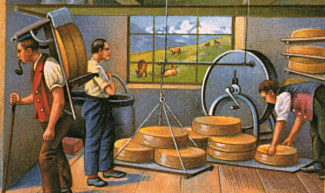 4 thick slices pumpernickel
mayonnaise
lettuce (optional)
sliced tomato (optional)
salt and pepper
a drained can, usually 115g or about 4 oz, of good sardines packed in olive oil
the thinnest possible crescents of red or sweet (like Vidalia) onion bathed in malt vinegar for an hour or so and then drained
crumbled Stilton or inferior blue (all other blue cheeses are inferior)
---
These are sandwiches so assembly instructions are very nearly superfluous: The ingredients are, as they say, the thing. For the insecure sandwich assembler: Smear the bread with mayonnaise, then layer the leaves, tomato, salt and pepper, fish, onion and cheese in turn.
Notes:
-McIntosh uses sardines packed in water, which we do not recommend, and sourdough bread, which we do.
-She also prefers balsamic vinegar, in general an overprescribed substance and in this particular case a clashing one.
-The Editor tends to forego the lettuce and tomato in favor of enhanced pungency.