According to Elisabeth Ayrton, this is a dish that traditionally was served as a hunt breakfast. She locates the recipe in the Cotswalds but does not divulge her source or its date. It has the feel of an Edwardian favorite, however, both for its association with extravagant hunting and for its extravagant style. Mrs. Ayrton calls her recipe "Lamb Chops Portmanteau'd," presumably for the blocky heft of each chop and its division into hinged halves. Her oven temperature (too low) and proportions (overstuffed) did not work the first time that the Editor tried the dish so she has changed them. It may not seem necessary to gild expensive chops in this way but they are in fact wonderful, especially served with one of Mrs. Ayrton's English tomato sauces for roast meat. The proportions given are for each chop and therefore remain constant for any quantity.
---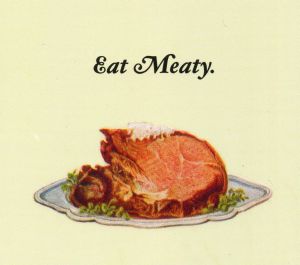 - 2 inch thick loin lamb chop
- ½ to 1 chicken liver, depending on size, chopped fine
- A button mushroom chopped fine
- unsalted butter
- beaten egg
- salt and pepper
- breadcrumbs
- Preheat the oven to 450°.
---
Cut a pocket from the edge to the bone of the bigger side of the chop.
Mix together the liver and mushroom: you want equal amounts of each.
Melt a little butter in a skillet over medium high heat until foaming, then stir in the liver and mushroom mixture: Add a little salt and pepper.
Cook the mixture just until it softens, add a little parsley and remove it from the heat.
While the stuffing mixture cools, beat the egg and season with salt and pepper.
Stuff the chop and secure the pocket with a couple of round toothpicks or metal skewers.
Dip the chop all over in the egg, then press it into the breadcrumbs so they coat the chop on all sides.
Roast the chops for about five minutes on each side for rosy meat. Delicious.
Notes:
Take care not to overcook the chops: it is worth checking them with some exploratory microsurgery on the unstuffed edge a couple of minutes after turning onto the second side.
For those squeamish about liver, substitute breadcrumbs. For a variation that we unsqueamish souls at britishfoodinamerica like even better, substitute lamb or veal kidney.
As noted in the introduction to the lead recipe, Mrs. Ayrton has a sublime tomato sauce that perfectly compliments these chops:
Mrs. Ayrton's English tomato sauce for chops.
An altogether different tomato sauce that showcases our friend the anchovy is a good foil for grilled or broiled naked lamb chops, brushed simply with melted butter and generously seasoned with coarse salt and pepper rather than coated with a crust. This version, derived extremely loosely from the Union Square Café in New York is, perhaps, even more suited to grilled pork chops or beefsteaks than to lamb:
Anchovy tomato sauce. The version of this recipe found in The Union Square Café Cookbook (New York 1994) by Danny Meyer and Michael Romano uses the debris leftover from pan frying steaks in olive oil as its base, but we found that a little problematic, and entirely unrelaxing in its last minute requirement, because it requires more time to prepare than the chops need to rest so that they become too cooled. It also uses a considerably higher proportion of anchovies, whose flavor overawes the other ingredients. At britishfoodinamerica we prefer this balanced sauce to its progenitor. Four servings.
---
-1 Tablespoon unsalted butter or olive oil, or a combination of the two
-1 heaped Tablespoon minced salt pork (preferred) or bacon
-1 teaspoon smashed and minced garlic
-3 Tablespoons minced shallots
-about 1 Tablespoon (more or less to taste)minced anchovies
-about 2 cups chopped canned tomatoes (and see the notes)
-2 Tablespoons malt vinegar
-pepper
-1 heaped tablespoon minced parsley
-1 heaped Tablespoon minced scallions (greens only)
---
Melt the butter or/and oil in a heavy skillet over medium high heat and throw the pork or bacon into the pan until the meat renders, increase the heat to high and continue to cook, stirring, until the meat turns golden. This will not take much time after you have increased the heat.
Reduce the heat to medium, stir in the garlic and shallots and cook, stirring, until they soften and acquire a little color.
Stir the anchovies into the mix, increase the heat back to high and add the tomatoes and cook the sauce until it thickens almost to the consistency of ketchup.
Pour on the vinegar, reduce the heat back to medium, add pepper to taste and cook for a minute or two.
Stir the parsley and scallions into the sauce, check the seasoning for salt and serve hot.
Notes:
-Italian canned tomatoes, San Marzanos if you can get them, are far better quality for some reason than their American 'Italian style' counterparts. Why can't we can a decent plum tomato? We grow good ones.
-The labelling of canned tomatoes in the United States is deceptive so look for the phrase 'product of Italy' or 'canned in Italy.' Some of the domestic impostors even sport a little Italian tricolor, much the same way that a widespread Chinese brand of frozen crawfish tails carries the name "Boudreau" within a silhouette of geographical Louisiana; beware. If you cannot get any canned Italian tomatoes at your benighted grocer, then settle for domestic diced tomatoes; for some other obscure reason they are better than domestic plum tomatoes. Within the EU, forget about anything Turkish and cleave to the Italians too.
-You could use fresh tomatoes, but, for this sauce in particular, only the best you can find and only at the height of the season. Peel and seed them first and use closer to 3 cups.
-A little hot sauce at Step 3 does no harm.
-If you prefer comparative less anchovy flavor, wipe them down to reduce their coatings of oil rather than scrimping on the fish themselves.
-The Union Square Café is undeniably good, although on some nights it does coast on past glory, as well as vaguely Italian, so its anchovy tomato sauce uses red wine vinegar and omits our scallions. Sherry vinegar is another excellent option.
-Coating chops with an egg wash and breadcrumbs or batter has fallen from fashion in the United States but, even though we like a good char too, the practice deserves revival. The coating creates a crisp savory crust that complements the rich and chewy meat. According to Mrs. Ayrton, Edward VII himself was more than fond of the technique:
"Cutlets Edward VII."
Edward VII liked large tender lamb chops trimmed and then dipped in breadcrumbs, then in egg and then in breadcrumbs again. To please him, they had to be grilled very fast so that the golden breaded surfaces showed the darker marks of the grill; inside they had to be pink and juicy but not raw. He liked them served with plenty of iced mayonnaise in a sauceboat and floury potatoes baked in their jackets served on separate plates, without butter, the mayonnaise being sufficient." The Cookery of England (London 1974) 42
-Presumably, 'iced' mayonnaise refers to chilled, or refrigerator temperature, rather than something frozen.
-Anchovy butter is another good option for these chops. Variations appear in our archive and in our archived recipes.