4-6 servings
Pea soup once was ubiquitous in London, food of the street and the tavern. Its association with the city dates to the Medieval period (Lizzie Boyd, British Cookery at 135) and rivaled the association of gumbo with New Orleans, and like gumbo there are as many variations as cooks. Unlike gumbo, however, pea soup seems to have disappeared. In the Editor's decades of visiting Britain nobody has served it. That is a shame; the soup is cheap, easy and soothing but you will need some ham stock. This is our bfia synthesis of several recipes.
---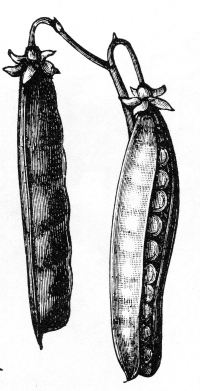 - about ½ lb dried split peas, soaked overnight if you have time, for a couple of hours or not at all if you lack it.

- 1 Tablespoon unsalted butter

- 2 slices bacon, chopped

- a carrot, peeled and diced

- 1 celery rib, diced

- a good sized onion, diced

- ½ - 1 teaspoon dried thyme

- about 1 ½ quarts ham stock

- 2 Tablespoons minced parsley

- about 2/3 cup finely chopped ham, boiling bacon or Canadian bacon
---
Melt the butter in a big heavy pot over medium heat and add the bacon.
Once the bacon begins to render and color, add the carrot, celery and onion to the pot.
Stir the mixture until the vegetables soften but do not let them brown.
Add the drained and rinsed peas with the thyme and stir them around for a few minutes before adding the stock and some pepper. Bring the soup to a boil.
Reduce the heat to simmer the soup until the peas fall apart; they will mash easily against the side of the pot when done.
Stir the parsley into the soup and puree it with a hand blender (best) or in a processor.
Check the soup for salt and pepper and serve it hot with the diced ham thrown in.
Notes:
- You can make this soup much thicker; the same amount of other ingredients will support as much as twice the amount of peas but the consistency from our recipe is the one we favor.
- Cooking time will vary depending on the peas themselves and on whether and how long you have soaked them. Figure on anywhere from one to three hours. You will not overcook this soup but be careful to keep the heat low enough to prevent the soup from scorching.
- A quick alternative to the traditional overnight soak is boiling the peas (in a quart of water per half pound of peas) for two minutes, then letting them steep for an hour before draining and rinsing them. This method speeds things considerably and you may need less than a hours' simmer once you have assembled the soup.
- We like to make this soup with the liquid that remains from a dish of boiled bacon and cabbage but ham is just as good; we just do not usually boil it and have a hard time getting it on the bone or scrounging bones from the store. Boxed ham stock is not bad in a pinch and -- horror -- the granulated ham flavored powder that Goya sells is entirely acceptable in a crisis.
- According to Jane Grigson. "[the] peculiarly English thing about this soup is the flavor of the smoked bacon. It belongs to the tradition of boiled salt pork and pease pudding." Mrs. Ayrton however, no slouch either and not to be accused of inauthenticity, omits bacon from one of her recipes. Mrs. Grigson omits both celery and carrot as well as thyme.
- Some recipes add a peeled, diced potato after step 4. We do not see the point.
- Some sour cream or crème fraiche and some minced chives or scallions make good garnishes along with the ham.
- You can use big old fresh peas (they are not good for much else), dried marrowfat peas, fresh or frozen peas instead of the dried split peas, but the traditional way is best. Marrowfat peas, however, are a close second.
- Croutons, or 'sippets', are another traditional garnish.
- A later seventeenth century recipe from the 1666 edition of Robert May's The Accomplish't Cook is a little simpler but not much different from modern versions. It is an appealing preparation:
"Take the best old pease you can get, wash and boil them in fair water, when they boil scum them, and put in a piece of interlarded bacon about two pound, put in also a bundle of mince, or other sweet herbs; boil them not too thick, serve...."