4 servings
The cider gives this soup a clean, bright flavor because somehow it sweetens the onions without caramelizing them. The use of vegetable rather than beef stock, and cream instead of cheese, also lightens the tone in contradistinction to French soupe à l'oignon. Adapted by britishfoodinamerica from a recipe by Mark Hix in British Food.
---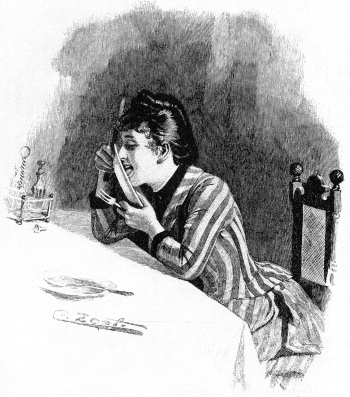 - 1 Tablespoon neutral oil
- about 4 cups thinly sliced onions, the sweeter the better (like Vidalia)
- 1 teaspoon dried thyme
- 2 Tablespoons unsalted butter
- 1 heaped Tablespoon flour
- ½ cup dry hard cider
- 1 quart vegetable stock
- Worcestershire (optional)
- hot sauce (optional)
- salt and pepper
- 3 Tablespoons heavy cream
- minced scallions
---
Heat the oil in a heavy pot over medium heat and toss the onions and thyme to coat them with the oil
Reduce the heat to low, cover the pot and simmer the onions until limp, usually 20-25 minutes. Do not let the onions brown.
Stir the butter into the onions until it melts, then sprinkle the flour over them and stir to incorporate it.
Gradually dribble and stir the cider into the onion mixture.
Once the consistency is uniform -- it will be a slurry -- add the stock gradually as it marries in stages with the onion and cider mixture.
Check the seasonings and add Worcestershire, hot sauce, salt and pepper as needed. You will need salt.
Simmer for an hour to an hour and a half.
Swirl in the cream and serve the soup garnished with the scallions.
Notes:
- The soup is better made through step 6 a day ahead and reheated before adding the cream. Handy too on a week night.
- The time consuming part of this recipe does not appear in it; simmering a vegetable stock. Do not be deterred if you are short of time. Boxed vegetable stock is nothing special but works in a pinch: Cut an unpeeled onion in half and throw it in the boxed stock with whatever aromatics you have got – celery and its leaves, carrots, leeks, bay, peppercorns, perhaps a chili. Bring the stock to a boil simmer it for as long as you have got and strain it. Be sure to top it up to a quart with water if the stock has evaporated. Alternatively use chicken stock.
- It does not hurt to add a peeled and diced apple at the end of step 5. The soup will be slightly sweeter and taste of an almost gingery spice. See what you think. Alternatively use a little more cider for a subtler effect.
- Bigger onions make longer tendrils, which is more fun.