A recipe is lifted with minor changes from Elizabeth Aryton, one of only a few she gives herself credit for creating. Zesty and soothing at once, the citrus, sherry and beef together are characteristically English.
---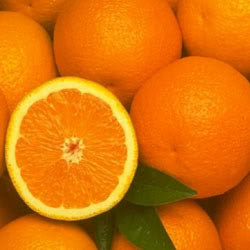 - about 10 oz rich homemade beef stock of 1 can consommé
- ¾ lb – 1 lb good Italian canned tomatoes pureed in a food mill or processor
- juice of 4 – 6 oranges
- juice of ½ lemon
- 2 heaping teaspoons sugar
- salt and pepper to taste
- 4 oz dry Sherry (fino or amontillado)
- 1 Tablespoon brandy
- minced chives or scallions
---
Simply mix everything together in a pot, bring to a hard boil and serve. Delicious.
Notes:
- Elizabeth Ayrton serves this soup with croutons and chopped mint. We prefer the chives or scallions.
- Mrs. Ayrton uses 10 ounces of tomato juice instead of the tomatoes.
- The Editor likes to place thin slices of sea scallops in the bottom of each bowl and pour the hot soup over just to heat them through, barely past opaque. Alternatively, she drops a tablespoon of fresh crabmeat onto the center of each filled bowl.
- You can substitute clementines or tangerines for the oranges to mix things up.
- Constance Spry has a recipe for "Potage de Tomates à L'Orange" but it is much different. She calls for 2 pounds of tomatoes, "fresh or canned," seeded (and presumably peeled if fresh), a carrot, an onion, a bay leaf, a strip of lemon peel, whole peppercorns, 3 pints of chicken stock, 1 ½ ounces each butter and flour, a pinch of sugar, salt and a little cream and orange zest. She thinly slices the onion and carrot, and stews them with the bay, peel, peppercorns and stock partially covered for about an hour, then pushes the results through a strainer. She then makes a white roux with the butter and flour, stirs it into the soup with the sugar and zest, dribbles in the cream and serves the result hot.