Bara Brith (Speckled Bread)
There are several versions of this traditional Welsh fruit bread: To me, this is the nicest one. Excellent sliced, toasted and spread with butter. In my childhood, I remember it as notably spicy. You will need a 2 lb loaf pan.
---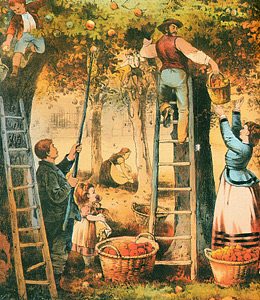 - 8 oz milk
- 2 oz brown sugar, plus 1 teaspoon
- 4 teaspoons dried yeast
- 1 lb flour
- 1 teaspoon salt
- 3 oz unsalted butter
- 1 teaspoon mixed spice
- 1 egg, beaten
- 12 oz mixed dried fruit
- honey for glazing
---
Scald the milk and pour it into a bowl. Whisk in the sugar, then yeast, and leave the mixture in a warm place to froth for about 15 minutes.
Sift the flour and salt into a large mixing bowl, then stir in the remaining (2 oz) sugar.
Rub the butter into the dry ingredients until the mixture looks like fine breadcrumbs.
Stir in the mixed spice, then pour in the beaten egg and frothed milk, and mix to a dough.
Turn the dough onto a floured surface and knead until smooth and elastic, usually for about 10 minutes, then place the dough back in the bowl and cover it with a damp cloth or some plastic wrap. Leave in a warm place to rise until it has doubled in size, usually about 1½ hours.
Turn the dough out and punch it down to remove any air from it, then gradually knead in the fruit.
Generously grease your loaf pan with butter.
Pat the fruited dough into a rectangular shape, then roll it up from one short side to the other and put it, seam down, into the loaf pan.
Place the pan inside an oiled plastic bag and leave it to rise, until the dough has rounded nicely above the top, usually about 30-45 minutes.

Preheat the oven to 375°.


Once the dough springs back when pressed lightly with a floured finger, remove the pan from the bag and bake on the shelf below the center of the oven for 30 minutes.
Cover the top of the loaf with foil to prevent it from burning and bake for a further 30 minutes.
Turn out the loaf by holding it in a dishtowel in one hand and tapping the base of the pan with the other. It should sound hollow--if not, pop it back in the oven upside down (without the pan) for another 5 minutes.
Cool the loaf on a wire rack, and brush the top with clear honey before the loaf cools.
Slice thinly and serve buttered.
Notes:
- 'Mixed spices' are proprietary blends of baking spices that are widely available in the British Isles but nearly unknown in the United States. Make your own by blending spices like allspice, ground cardamom, cinnamon, clove, mace and nutmeg in combination and proportion to taste.
- The mixture of dried fruit is flexible too; consider any combination of apricots, dates, figs, currants, raisins.....