The Editor always serves two onion dishes at Thanksgiving, one of plain boiled onions and another, something spiced. This is one of the spiced options. Its combination of Old School seasonings, in particular molasses, gives it particular appeal on this most American holiday. Four servings; may be doubled indefinitely for a crowd.
---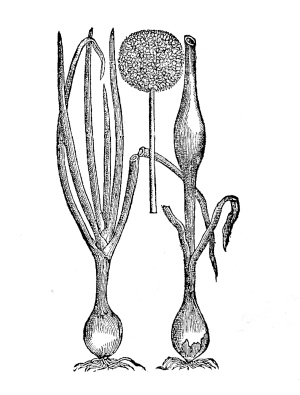 -1 lb pearl onions
-1½ Tablespoons unsalted butter
-1 Tablespoon molasses
-1 Tablespoon Colman's prepared mustard
-1 Tablespoon Worcestershire
-1 teaspoon dried thyme
-salt and pepper
---
Bring a pot of salted water to a boil, throw in the onions, reduce the heat to a simmer and cook them for about 5 minutes.
Drain and rinse the onions and then drain them again.
Peel the onions (a tedious task, but see the notes).
Melt the butter in a skillet over medium low heat and stir in the molasses, mustard, thyme and Worcestershire.
Roll the onions into the skillet to coat them with the sauce and cook until it turns to glaze, in about 10-15 minutes.
Season with salt and pepper, and serve.
Notes:
- We must admit that especially on a big and busy day in the kitchen, like Thanksgiving, shortcuts do beckon, and the use of frozen tiny pearl onions is a good one. Bird's Eye sells them in handy one pound bags. Their great advantage is the fact that they arrive at your house peeled, which reduces the cooking time for the recipe by about 80%. Simply nuke them in the microwave for about five minutes before proceeding to Step 4.
- A good variation on our theme appeared in the Reader's Digest 30 Minute Cookbook. It uses about the same amount of dried rosemary as our thyme (but crushed in a mortar and pestle; dried rosemary is needly); 2 teaspoons of Dijon mustard and soy sauce instead of Worcestershire. No pepper; you should not need salt.
- For a big and busy crowd, prepare the dish ahead and then microwave it at the last minute.
- The 30 Minute Cookbook seems to have sunken from sight on publication in 1997 and never resurfaced. Used copies are available online for a pittance. It is worth finding; unlike just about every other recent American anthology of 'international' recipes, the one from Reader's Digest includes a number of British choices, including kedgeree, potatoes mashed with Stilton and a tart of leek and Cheddar.