Our Rural Correspondent somehow finds
The Oxford Arms
The Oxford Arms is not in Oxford. It is located in the picturesque village of Kirtlington, not to be confused with nearby Kidlington or Kiddington, and lies about five miles north of the city. Though the village turns into something of a motorists' 'rat run' between Oxford and the M40 every rush hour, it boasts several attractions: a village pond, golf club, extensive polo park and attractive domestic architecture among them. If you can stand yet more excitement, the Oxford canal, which runs between Oxford and Coventry is nearby. An annual festival, the Lamb Ale, has been held in Kirtlington for centuries around late May and early June each year. Village amenities, the Oxford Arms aside, include a shop/post office and the Dashwood hotel-restaurant.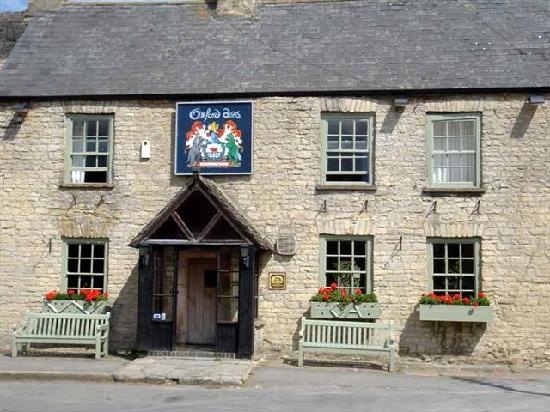 The Oxford Arms
Troy Lane
Kirtlington OX5 3HA
United Kingdom
1869350208
The Arms occupies an attractive but unspectacular 19th century building on Kirtlington's main street. At night external lighting enhances its appearance. It has car parking. Though your reviewer lives within ten miles of the pub, it had never really registered in his consciousness except as a blur while out rat-running. A first visit took place one Friday evening in September, with the Education Correspondent and two old friends who, living in a nearby village, vouched for its excellence. They were not wrong.
Although the Arms admits to being a pub (with two draft beers: Tribute, from St Austell, Cornwall, and Old Hooky, from just up the road) it eschews the word 'restaurant', opting instead for the quaint, if not antiquated: 'eating house'. And why not? After all, it is a public house and, moreover, one in which people eat. With tables in the bar area it certainly has a gastro-pub rather than a restaurant feel. It has also a homely atmosphere, with vegetables and herbs sourced, as far as possible, from its own garden. At lunchtimes, aside from the regular 'foodie' menu, Kelmscott ham, egg and chips is available (£12/$19) along with a range of sandwiches such as cheddar cheese with chutney and the Kelmscott ham with English mustard. Kelmscott, for the uninitiated, is a small village on the Thames in remotest West Oxfordshire. It is chiefly renowned for its William Morris connection and his house there is open to visitors smart enough to crack the cunning code that conceals more than reveals its open periods
And so to the rest of the food at the Oxford Arms. There is a printed menu plus a list of specials. Our party of four opted for whitebait, smoked salmon with granary bread and lemon, and salmon/prawn fishcake with a sweet chilli sauce. The price of the whitebait now eludes me but the fish cake and smoked salmon, both of which are also available as main courses, were £7.50/$12.00 and £6.50/$10.50 respectively (£13.50 and £13.00 as entrees). Our main courses were fish cakes (again), venison burger with chutney and triple-cooked chips (£13.00/$21.00), aged sirloin steak with mustard and horseradish butter (£19.50/$31.00) and, your reviewers choice, Kelmscott Pork (these guys like their Kelmscott pigs) with Ramsay Black Pudding and Apples (£14.00/$22.50). The pork, complete with crispy crackling was nothing less than wonderful. The other choices also won a chorus of approval.
Desserts included warm pear and almond tart, cognac prunes with vanilla ice cream with sherry and tiramisu (all at £6.00/$9.50). The wine list runs to about 30 items within the price range £16.50-£25/$26.50-$40. There are no half bottles (except for champagne) but around a dozen wines are available by the glass (175ml or 250ml).
With pre-dinner drinks, a £24/$38.50 bottle of wine, three courses each and coffee, the bill for four came to £133/$213 (before tip)--which seemed most reasonable in relation to the quality on offer.