Our annual holiday gift guide.
Each year we look for items that fit the sensibility of britishfoodinamerica and its readers in an effort to allay the anxiety of the busy holiday shopper. A number of evergreen ideas for books, foodstuffs, kitchenware and other things also appear in our archive at Numbers 13 and 24.
Part 1. To view.
Print on demand services have proliferated in both the United Kingdom and the United States. Many offer excellent quality at a fair price and the Bridgeman Art Library, for one, has operations in both countries. Artrepublic and Magnolia Box, the service that Tate Britain uses through its online shop, are other good outfits. Both Bridgeman and the Box produce Giclée prints and offer thousands of different images for sale.
Our favorite depictions of culinary subjects this season include linocuts by Eric Ravilious from the 1938 'High Street' series and lithographs by Edward Bawden. The two were students together during the 1920s at the Design School of the Royal College of Art and must have influenced one another: Their styles share a good deal.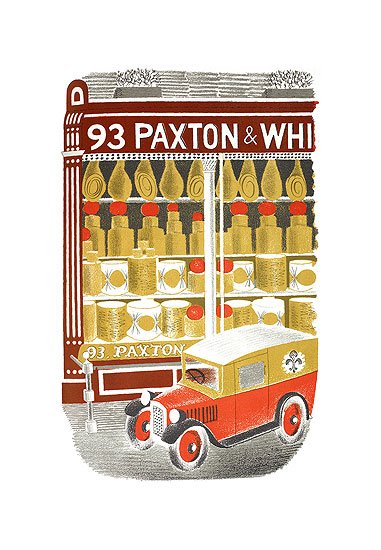 Cheesemonger
Ravilious went on to become an Official War Artist and honorary Royal Marine who was posted to Iceland, where he died in 1942 on an air-sea rescue mission, a tragic loss.
Prints from the High Street series with culinary themes include 'Baker and Confectioner,' 'Hams,' 'Knife Grinder,' 'Public House,' 'Restaurant and Grill Room,' and 'Wedding Cakes.' Our favorites, however, are 'Cheesemonger,' in fact Paxton & Whitfield in Jermyn Street, which dates to the eighteenth century, and 'Oyster Bar.' They all are available from www.artrepublic.com for £49 or $81; worldwide shipping is free.
Bawden's work (he died in 1989) recently has enjoyed a considerable revival of interest. We particularly like two lithographs from the 1967 series depicting six London markets. 'Borough Market' and 'Covent Garden Fruit Market' also are available from www.artrepublic.com, for £148 or $243.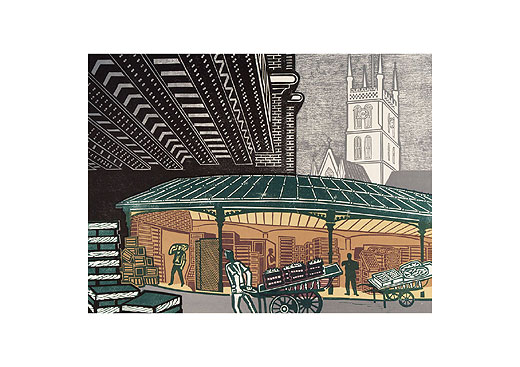 Borough Market
The same website sells a lovely linocut by Sybil Andrews, 'Mangolds' (that is, mangel-wurzels, or beets) for £138 or $227.
It costs less to shop through www.magnoliabox.com, the people who produce prints for the Tate: Prices start at £15 and increase only based on the size of print selected. Some of the contemporary choices reflect English (and Scottish) eccentricity in a most whimsical, and therefore appealing, way.
Paintings by Susan Bower with self-explanatory names if deeper themes include 'Boiled Egg and Soldiers' and 'The Full English,' both from 2004.
Rockers of a certain age will find the work of P. J. Crook familiar; she provided the LP cover art for King Crimson and more recently has depicted culinary subjects including 'Café,' (2004) 'The Supper,' (2010), 'The Little Sweetshop' (2006) and our favorite, the undated 'Food of the Street.' Prints of these and other paintings by Crook are available through the Bridgeman Art Library's Art on Demand function at www.bridgemanartondemand.com.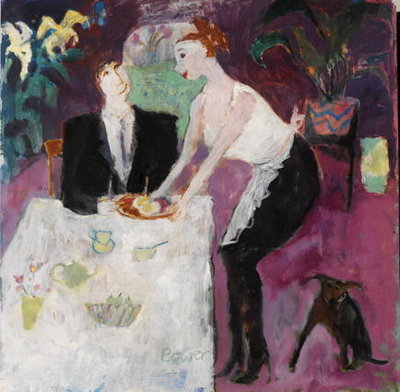 The Full English
At Magnolia box, the work of Sophia Elliott evokes an updated, less cheerless Camden Town esthetic; both 'Mortlake Brewery' and "'the Queen' pub, Bellefields Road" embody the austere romance of industrial London.
Norman Hollands adopts a sleeker style with 'Sardine Can Inversion' (1997), 'Boiling Sweetcorn' (2003) and other paintings: www.artrepublic.com.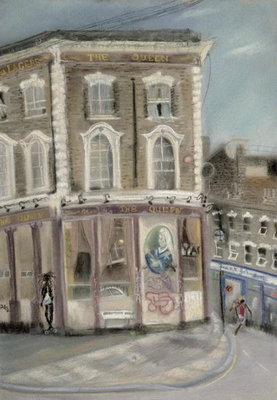 The Queen Pub
Willie Rodger imbues his simple, humane and irresistible linocuts with an elusive but unmistakable Scottish cast. A 1991 series of single figures and various edibles (and a potable) includes 'Wee Chip,' 'Wee Hangover,' Wee Pud' and 'Wee Sweetie.'
Rodger uses the same spare approach to subject and style in 'Once in a Blue Moon,' also from 1991, depicting a happy naked couple in bed drinking Champagne; adorable. 'Wee Romp,' which belongs with the rest of the 'wee' series, also departs from the cuts described earlier in its portrayal of figures coupling, perhaps a result of that Champagne.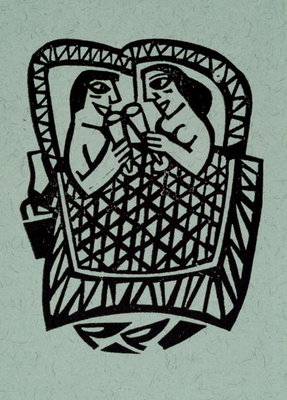 Once in a Blue Moon
It has only to do with the aftereffects of food but the body language of 'Shit!' (1997) captures the shock of anyone who just stepped in it. All of these images by Rodger are available from Magnolia Box (again, starting at a reasonable £15) as well as from www.Art247.com, which also will print them for you on dishtowels ('tea towels'), keyrings, mousepads, mugs, totebags, T-shirts and the like. Prices for these prints from Art247 begin at £19.99; the cost of other items varies.

Shit!
Keynes, who thought he could measure the mental health and even happiness of a population by the number of Champagne bottles in the trash, would have been pleased to see 'Boxing Day Empties' by Lincoln Seligman. The same painter's 'Masterchef' depicts a demure rather than demanding kitchen captain. Both date from 2005; both on sale at Magnolia Box, which also offers lots of other Seligman work, including paintings with a culinary connection like the more recent 'Seafood Extravaganza' from 2010.

Boxing Day Empties
Those of a historicist bent can adorn the walls of their dining room, public house or restaurant with images culinary too. From the sixteenth century, a series of images by John White, engraved in turn by his contemporary Jan van der Straet, records the mores of Native Americans in what would become the Upper South, including their foodways.
White was among the earliest English people who travelled through parts of the eventual North Carolina, mapping the terrain and sketching its inhabitants, before becoming governor of Raleigh's Roanoke; Virginia Dare was his granddaughter. He escaped the doom that befell the lost colony, retiring unhappily to Ireland, but never lost faith that the missing settlers somehow, somewhere, had survived.
White's depictions of the North Americans include 'Cooking Fish,' 'Cooking Food in a Terra Cotta Pot,' 'How the Indians Catch their Fish' and 'Indian Method of Catching Geese in Shallow Water.' Once again at Magnolia Box.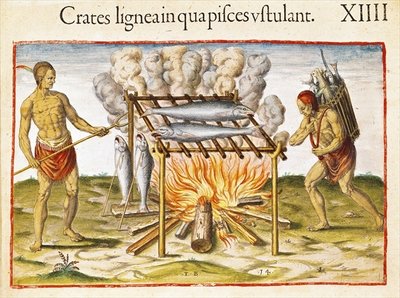 Cooking Fish
Leapfrogging a century, Hogarth has prints ('Beer Street,' Gin Lane' and of course 'The Gate of Calais,' or 'O, The Roast Beef of Old England' (1748)) at Magnolia Box too, along with various Rowlandson grotesques like 'Gluttony' (ca. 1800).
Lots of other classics lurk at Magnolia Box; 'Still Life with Slices of Salmon' by Goya (1808) and Monet's rosbiff from 1864, 'Still Life, Joint of Meat,' represent but two examples.
Then there are the Victorians. John Henry Henshall for one anticipates Manet (if in lesser light) with 'The Public Bar' from 1883.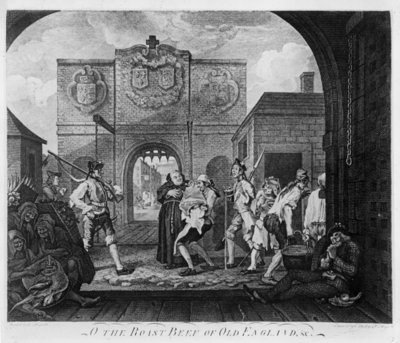 For those with bank accounts big enough to acquire the real thing, the J. Peterman catalog and Brunswick House in London sell old signs from English public houses. At this writing, prices for signs available online at Peterman and in its print catalog range from $750 to $1750 plus a hefty shipping fee.
Why not end with Mrs. Beeton, or at least some strange illustrations to the increasingly bloated posthumous editions of her compilation? Prices for them at www.easyart.com start at £14.95 and increase to £59.95 depending on the size of print you select. Available illustrations include 'Bacon and Ham,' 'Fish,' 'Game,' 'Salads' and others.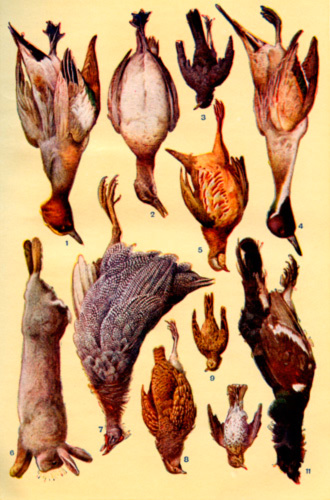 Game from Mrs. Beeton