britishfoodinamerica offered readers so many suggestions for gifts of food last year that the cupboard of the Editor's imagination is very nearly bare. Most of our 2011 suggestions are evergreen, so take a look in our archive at Number 24 in the practical. Some new notions, however, do come to mind.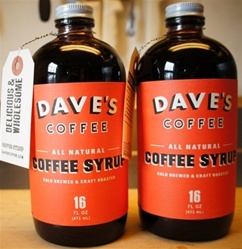 Dave's coffee syrup from little Charlestown, Rhode Island, is, along with johnnycake meal, quahogs, saugy's hot dogs, soupy, spinach pies and other delights, one of the unofficial official foods of the state. As the New York 'Tasting Table' website recently determined, however, coffee syrup is not just for Rhodyphiles, who use it mostly to concoct coffee milk (This is a 'shake' in traditional Rhodilish; what you would call a shake is properly speaking a cabinet. Do not ask.). Dave's is even better than Autocrat, which also is good, the standby and standard for coffee syrup since 1895. Dave's syrup is an intense reduction of its own (also excellent) coffee and cane sugar. No fructose, no stabilizers, no nothing else. Coffee syrup is, as Tasting Table realizes, "almost infinitely versatile. Replace honey or molasses with it for just about any application; make barbeque sauce, roast root vegetables or boost up Elisabeth Ayrton's English recipe for boiled beef or grilled steak with black coffee, which you will find at the practical. You will find Dave's coffee syrup at www.davescoffeestore.com and all over Rhode Island. Autocrat no longer sells online at its own website but rather than underwriting competitors like Despot or Dictator now sells through www.littlerhodyfoods.com.
Wilkin & Sons Tiptree gooseberry preserves. Americans do not know from gooseberries but the British have prized them for centuries. As with so many kinds of jam, the best gooseberry preserves come from Wilkin & Sons Ltd. In a pinch you could slap up an impressive dessert by making a gooseberry fool; mix together barely whipped cream and some preserve with a dash of booze; good rum or brandy might be best. Available at many upscale grocers including Garden of eden and the usual suspects in your town.
Wigwam ham from S. Wallace Edwards & Sons may be the best country ham now made in the American south. And that says volumes. Forget about the Black Forest, prociutto or Serrano. Available at Farmstead in Providence and at www.virginiatraditions.com.
Lyons country snapjacks. Delicate British oatmeal cookies of a high order; available in the 'Irish' sections of bigger American supermarkets and ll over the United Kingdom.
Marmite, British readers please note, is a species of exotica in the United States. It is love or hate for all with this one. The Editor stands square in the amorous zone and is gratified to report that a number of upscale supermarkets, like Kings, now carry the stumpy jars.
Molé sausage made in Seattle by Armandino Batali at Salumi Artisan Cured Meats. The flavor is incomparable. This is an American original, an essence of cured pork graced with notes of chocolate and chili. Available from the producer at www.salumicuredmeats.com and at Farmstead in Providence.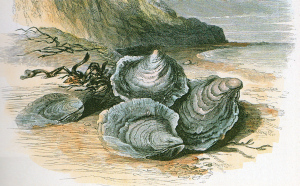 Mushroom ketchup, a bygone necessity, has all but vanished in the United States but you can find the good stuff from George Watkins, for a price, at Dean & Deluca. www.deandeluca.com
Oysters are hardier than you think and have a decent (refrigerated) shelf life so do what the estimable Rowan Jacobsen does and order them by mail or online. A festive gift for a treasured friend or other right-thinking person whom you want to impress. Bon Appetit and the Sansome Street oyster Bar in Philadelphia have called Watch Hill oysters from Winnapaug Pond in Rhode Island; they and a lot of other varieties usually are available from a number of internet sources including J. P.'s Shellfish at www.jpshellfish.com; you may need to call them at 207.439.6018.
Paxo sage & onion stuffing mix. Decidedly downmarket and decidedly good. As our own Charles Burling observes, you can spend the time and money to make your own from scratch too and will not be as good. Available at a reasonable price from Two For The Pot in Brooklyn Heights or A Taste of Britain in Wayne on the Philadelphia Main Line and at a usurious one from Myers of Keswick in Manhattan. Various online sources also will answer the call of google.
Good remoulade sauce, New Orleanian rather than French, comes in two bottled guises; Old School, from Zatarains, and Elite School, from Gail Uglesich. www.zatarains.com and Seafood Etc in Stonington, Connecticut for the old; www.uglesichs.com for the elite.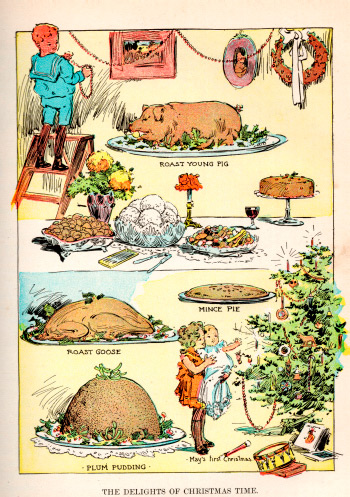 Riesling vinegar from the Extra Virgin Oil Store in Mystic, Connecticut, is nothing short of a shock. Citrus, sour and sweet bombard the palate in constant combination; perfect with nothing but seasoned olive oil on salad. Their blood orange vinegar is nearly as striking, and makes an excellent base for mignonette to dab on oysters.
Pickled walnuts are utterly English and nearly unknown anywhere else. The taste nothing like walnuts as you know them because for pickling you need to catch the nut when still green and soft. It is remarkable that someone ever discovered that you could pickle the things but you can, with some difficulty. Pickled walnuts go with cheeses, cold or boiled meats and other pickles. Difficult to find in the United States and expensive compared with prices in the United Kingdom but a special gift for a special friend. The Opies brand usually is available at brick & mortar Dean & Delucas and via www.deandeluca.com.