The Editor is an aficionado of pie birds but her longtime, and friendly, Australian internet source has, alas, folded. Never mind; they flock elsewhere on the net.
New sources mean the discovery of new styles, some of them antique. Many of the birds, both new and used, at www.piebird.net are sentimental and inartful. Some, however, pack considerable appeal, including a (new) wheatsheaf for $15; three different kitchen stove designs, including a potbelly at $10 apiece; an inverted rose; a lifelike, even frightening green and white toad to terrorize inattentive diners; and, on the more conventional front, some unconventional birds, including an attenuated black duck and "white clarice cliff style pie bird." These last four each cost $10 too.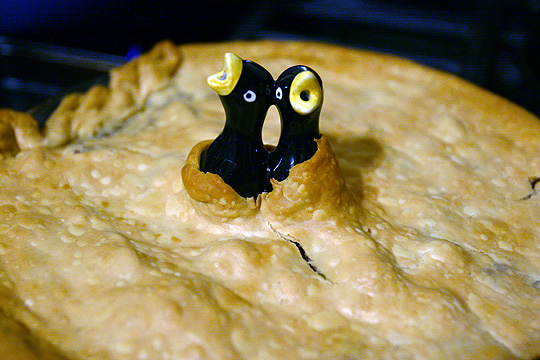 The site also sells the old barrel shaped advertising birds beloved of the Editor, including one from the condiment kings ("Heinz 57") and another from a long forgotten English bakery ("Eat Pale Thorpe's Pork Pies").
Wade Ceramics, Ltd., an English company, bakes a recognizeable line of birds; each one features a creature or foodstuff on a pedestal, including cow, blackbird, mallard duck, pig, sheep, apple, blueberry, cherry and peach. Available, incongruously enough, from a Kansas entity, www.happywareing.com, and of course from amazon.
Le Creuset of all people (French and ordinarily expensive) offer pretty if comparatively workaday stoneware birds at the reasonable price of $4.95, also at amazon, in seven vibrant colors including Caribbean blue, cassis purple and cherry red.
Another surprise value comes from Spode. Their 'woodland pie bird' flaunts a red beak, brown wings and floral design on its white chest. The Christmas variant has the same beak with green wings and a holly branch instead of the flowers. Each bird costs $7.95 at www.mytableware.com.
Finally for purposes of pie birds we arrive at the future, where Norpro molds pie birds of silicone. They are inelegant compared to brittle ceramic and unnecessarily robust unless you want to put one in a kiln but should delight fans of chemistry, sous-vide and others who display an avant garde sensibility; cheap too at only $4.46 from amazon.
Crate & Barrell continues to offer good value for money; cocktail apparatus, barware and beer glasses, including classic pint jars and kolsch glasses, all sparkle at various prices. For tasting parties featuring flights of beers, consider the 'beer sampler set' of four small, numbered glasses nested on a wooden paddle. $29.95 online and in the stores.
Also at C & B, a classic KitchenAid countertop mixer comes in holiday red for $349.95. So do the recently refashionable Dansk Kobenstyle butter warmer with its chunky heatproof handle ($39.95) and four quart casserole ($99.95; you can use the spindly handle of the lid for a trivet).
Oxo, the British maker of stock cubes, also makes a long line of kitchen utensils. Their chunky and distinctive designs tend to the ergonomic; prices are reasonable. The three piece set of color-coded peelers (green for cucumbers but also serviceable for potatoes; orange to julienne carrots or anything else; red with a serrated blade for tomatoes) would please any cook. Available along with other Oxo tools at any upscale kitchen store and online at numerous outlets including www.amazon.com.
P.O.S.H, a beautiful shop in the landmark Tree Studios building west of North Michigan Avenue in Chicago, harbors all kinds of treasure. They have a set of six spare and perfect 'bistro' wine glasses at $18, sell spooky jadeite dinnerware and antique sterling cutlery, teapots and other vessels from England and, it must be said, France. There is a chunky 'Hall China Boston teapot with sunken cover,' a 1920s design, for only $10; the top will not tumble off when you pour your tea. For the holidays, salt and pepper shakers nestle in Santa's sleigh ($12) Online at www.poshchicago.com.

Selections at Posh, Chicago
Four and Twenty Blackbirds carries only antique kitchen copper. Prices are expensive and fair for stunning artifacts meant for use. They have been retinned where required and have the capacity to outlive us all barring extraordinary abuse. A stunning British shipboard teakettle, conical to prevent tipover as the vessel rocks, would set you back $398. Other British items include 'Haystack' measures for ale or spirits, $298-$498 depending on size, and robust saucepans from $125 to $898. These items date from the outset through end of the nineteenth century; the shop stocks older and newer items as well. The website address depicting items on hand is www.4and20kitchenantiques.com but you will need to call Maine to place an order: 207.706.6848. The proprietor is nice.
The Working Class Emporium in the Tribeca neighborhood of Manhattan (www.workingclassemporium.com) sells culinary items old and new. Their selection of antique English silver and silver plate, much of it Sheffield, includes a Champagne bucket, a tea set, sets of knives and of spoons, and other artifacts considered essential to the genteel nineteenth century table. Victorian platters (Working Class calls them 'meat plates') cost from $145 up to $695 for a set of two.
Striking, colorful enamel bread tins from the 1930s and '40s run from $195 to $235; equally vibrant enamel 'winkies,' quintessentially English saucer shaped candle holders with a ring handle, $25-$65.
On the new side, Working Class carries an enamel rack and ladles for $95. For outdoor nostalgics and ironic Anglophiles, a backpack picnic set includes china, glass and metal utensils for four ($165); unwieldly wicker will set you back $350. Add $35 for a plaid picnic blanket with carrying straps to fend off the dew. Fashion too, much of it the ironic house line, but also from designers like Lulu Guinness and Paul Smith.