Tracks, Penn Station: the other train station oyster bar in New York
Everyone knows about The Oyster Bar at Grand Central Terminal; the gorgeous vaulted ceilings, the brusque but usually professional service, and the multitude of oyster varieties available for a price (along with some decent and less decent seafood in general). But there is another railroad oyster bar in New York; Tracks Raw Bar & Grill, inside Penn Station on the Long Island Railroad level. It is quite strange and rather fun.
If Grand Central and its oyster bar are architectural glories of New York and indeed the world, Penn Station is, to paraphrase Ada Louise Huxtable, a rathole. It also is in fact a wreck, the subterranean rump of the soaring McKim, Mead & White transport palace destroyed in a fit of philistine profiteering during the architecturally demented 1960s. What now passes for Penn Station is tacky, dirty, overcrowded, even claustrophobic and Hades hot in summertime. It can stink. But not Tracks; the name may be trite but you will note immediately that it is cool and clean, unlike anything else in the degraded maze of the station. They have their own AC and, apparently, cleaning staff.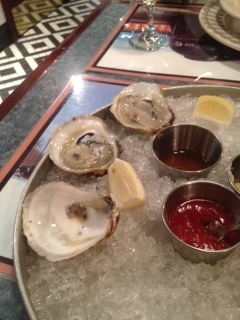 Even the savviest New Yorker might not know that Tracks exists. There are two entrances, one as you exit the number 2 or 3 subway trains--from this side it looks like a railroad car built into the station walls--or from the left of the LIRR ticket booths. This, the front entrance, is garish, and therefore blends into the grungy fast food ambiance down on the Long Island Rail Road level. For that matter, it reflects much of commercial strip Long Island in more ways than one. If it is ugly it is not forbidding, and sometimes, like here, something good (like the late lamented Patrick's Pub in Little Neck) lurks past the unpromising 'exterior.' People are nice here too.
If you enter Tracks from the LIRR side, you look into a very long bar (again, like a railroad car) toward a booth-filled seating area at the rear. The essential raw bar itself divides bar from booths, a nice pivot and focal point. Tracks claims "one of the longest bars in NYC", a boast we are in no position to dispute.
On to the oysters. Tracks carries a fair number of varieties, which varies but always includes some West Coast oysters in addition to a larger number of East Coast selections. On a recent visit, they stocked seven of the easterners including East End and Hog Neck Bay from Long Island, and three from the west. Prices are gentle by New York, even east coast, standards. Oysters start at $1.85 each for Blue Points, then four types for $1.95 and on up from there, but not nearly so far up as at the Oyster Bar at Grand Central, where some varieties of oysters go for over $3.00 apiece.
At Tracks oysters are served on ice (good) with a very standard red cocktail sauce (mediocre), some lemon wedges (better) and sometimes, not all the time, a good mignonette (best). They are cold, bright, and carefully shucked. They must sell a lot of them, because all we tasted were delicious.
Everything else about Tracks is New York Fake Irish Pub, like Patrick's (maybe more fitting than fake; a lot of the waitstaff sound like recent emigrants). Uninspired to be sure, but comforting too. That means good draft Guinness to drink with the oysters, at least as good a foil as champagne or crisp white wine.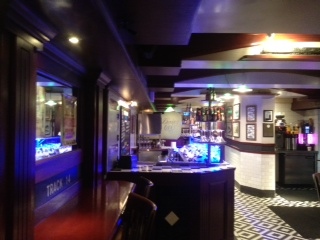 The rest of the food is standard bar fare: they do, however, serve something they call New England clam chowder that is in fact an Irish style potato soup laced with clams. Not really New England, not really chowder, but quite good nonetheless. Have a bowl with the oysters and some stout if you find yourself stranded in the no-man's land that is Penn Station, and enjoy the mishmash of train/bar/Irish/oyster ambiance. Then again, why wait? The oysters are good, the price is right and subway links to the rathole superb. Make Tracks a destination, take your friends, and flaunt your inside scoop.
Tracks Raw Bar & Grill
Penn Station, New York
www.tracksbargrill.com