The Albion - A restaurant review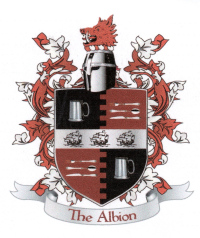 During our dash to Bristol, the Rural Correspondent, the Editor and a loyal companion were lucky enough to sample the food at several public houses if, however, a 'gastropub' is a public house rather than a restaurant. The term 'gastropub' itself is both ugly and misleading; if the place is good enough to attract discerning people beyond its immediate geography it deserves to called a restaurant. That said, 'gastropub' does seem from our experience of the genre to stand in as shorthand for "we are not going to bother with putting together much of a wine list and we may not bother with cask beer either." The food can be another matter altogether--or not.
Despite mixed online reviews and our misgivings about gastropubs, we decided to venture to The Albion in Clifton for dinner. Along with The Eagle in Farringdon, London, The Albion was one of the first gastropubs in Britain and that gave us additional pause. Despite a rapturous following, The Eagle is cramped, the food can be lackluster and dining conditions are random. You take what you find, to the extreme that during some of our visits some diners, including this discomfited Editor, wound up dining without a table by attempting to balance plate and glass laptop style: No fun.
Still, we did arrive at The Albion with some expectations. Our prior contacts with its young staff had been models of informal courtesy, by telephone booking a table and in person: We had stumbled by at midday to request a recommendation for lunch elsewhere, and despite some initial reluctance to risk disappointing us with a bum steer, a waiter, the hostess and bartender stepped up to offer suggestions. They appeared genuinely pleased that we were returning for dinner; they also appeared happy that we respected them enough to request the recommendation, which would turn out to be a good one.
It was dank and drizzly when we returned in the evening (but not, of course, a dark or stormy night; even if conditions warranted the description, bfia is insufficiently ironic to repeat it). Nonetheless, apparent veterans of The Albion, and of the housebinding British winter, cradled pints and sampled small dishes at tables in the forecourt (literally; the pub is within an arched mews), a practice we still find eccentric in wettish weather despite both the presence of those nifty LA-style heating towers and its widespread vogue in England (Scots seem more sensible).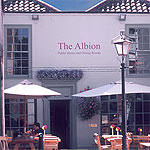 The Albion
Boyce's Avenue, Bristol, Avon BS8 4AA, UK
0117-973-3522 www.thealbionclifton.co.uk
We entered a big and warmly austere room in greys and oak. It appears a little informal in the rustic English way (some tables had chairs salvaged from grade schools; they had bookracks on their backs) but not at all twee. A long bar fronts the entry; there are a few tables in the anteroom. A big fireplace fronted by club chairs dominates the main dining room; amiably animated drinkers in no mood to move had claimed the chairs and their satellites. We would not have moved either.
The big room was not quite full, but we were ushered nonetheless into a small, windowless alternative up a single stair (drinkers beware) and off to the side. This, in theory, should have been irritating; in fact it was not. The little room is an example of creative restaurant design. The five tables each seat no more than four, a big skylight gives the Soaneian illusion of expanse, and good pictures in gilt frames set off the scarlet walls and clumpy floorboards. Two efficient and engaging waitresses shared the service in the small room; a short, pretty woman with a spectacular smile and a tall, pretty one with the brusquely flirty manner that only a certain species of Englishwoman can sustain.
The diners were a happy bunch, including four ruddy men at the table across from us who looked like something out of artwork from the English Renaissance. They could have been rugged investors in the Society of Merchant Venturers that once dominated Bristolian affairs and remains a significant landholder in the city, or maybe even seadogs (a conceit, we know, they probably were fallen bankers, but true enough as to appearance; is there an Elizabethan seafarer's physiognomy?). They were noisy but not noxious and ripped with gusto into their roast fore rib of beef which, we noted with bemused satisfaction, actually arrived on trenchers.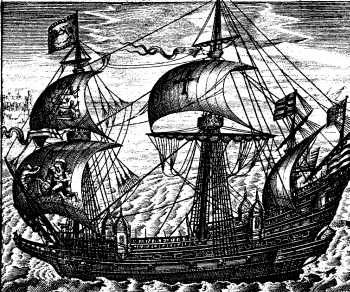 Ark Royal
If the place is so welcoming and the presentation so smart, what about the food? Just go; there is not much point in describing it in detail because everything was not just good, but engagingly twisty. We even liked the inclusion of ingredients we did not think we liked. If the roast beef was a nod to Hogarth it was an ironic one; the perfectly rare ribs arrived along with braised ox cheek and monster chips. The kitchen cooks traditional beef (and a stuffed roast chicken with bread sauce for two) out of confidence rather than cliché. Less traditional offerings included some starters; a brandade with cod cheeks that devastated any other version we have tried, including, unhappily, our own. The housemade charcuterie platter was enormous and, unfortunately for purposes of moderation, addictive. Rillettes and jellied ham were laced with fresh tarragon, ordinarily ruinous and cloying, but spry in the hands of the kitchen at the Albion; there was moussy foie gras and cured ox tongue too, a cargo suitable for four at £17 for two. Oysters are a bargain, for England if not Louisiana, at £1.50 apiece (French, not pricier English ones, but still).
The main courses are a mix of the pristine and the creative; whole crab with house mayonnaise and then something described as 'lamb belly,' which seemed like spiral- wound, crisply blasted tails of the loin chops that were served with sweetbreads over a bed of 'polenta' tasting suspiciously, and happily, like traditional grits. The scrap lamb should not have been much to think about, but some alchemy rendered it arresting. To complain that the rich sauce was too winey would be to cavil and is not to be countenanced. They served a tender rabbit--no strings--with asparagus risotto and a perfect John Dory with wild mushrooms. Baked endive, a side at £3.50, was really a rich gratin generous enough for a large entrée, not that vegetarians are otherwise neglected.
If you have room, the creative desserts are good, the cheese comes from the artisanal Trethowan dairy and the selection of single malts is extensive. The wine list upholds the legacy of the gastropub but there is excellent, and local, cask ale.
We three spent £140 with a reckless tip and felt like thieves. Incidentally, you should get out for much less; other than the throwback chicken (something the Editor is eager to try) and beef, none of the main courses approached £20 and we greedily overordered on the pretext of research. Incidentally, as if any more evidence were needed, our experience at The Albion reinforces the conclusion that the internet is an unreliable source of information.

Finally, The Albion is no gastropub after all; it even calls itself a "Public House and Dining Rooms" and we would return to Bristol just to go there.