Corrigans Mayfair - Restaurant Review
Isobel and Farley take a gingerly stab at Corrigan's.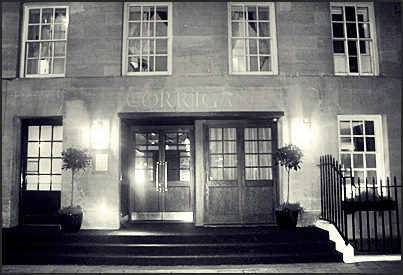 Corrigan's Mayfair
28 Upper Grosvenor Street, Mayfair
London W1K 7EH UK
+44 20 7499 9943
We decided to try Richard Corrigan's new restaurant with some trepidation. We do not get to London that often and hate to waste time on disappointing dining. It is not that we assumed Corrigan's would disappoint; it is just that his old place, the Lindsay House in Soho, was so delightful. If the cooking was a bit more refined than we prefer, and we lamented the absence of a bar, we enjoyed the professional service, beautiful Georgian décor and reliably deft dishes. It was expensive but not exorbitant.
The address of the new place, on Upper Grosvenor Street at Park Lane, in the epicenter of expense account Mayfair, did give us pause. So did its website; nobody should demand your table back in two hours at prices like these, which trump the ones at the old Lindsay House.
The room scared us at first, a half-hearted cross between thirties nightclub and ocean liner, complete with overdressed greeter and waiters in white jackets. The style of the diners ranged from Jermyn Street to the dreaded 'business casual' all the way nearly to trailer park, but the restaurant should not be faulted for that in these 'informal' times. This is not the homey and elegant Lindsay House, but rather a jarring excursion for a chef who positions himself in the crowded cookbook market as an enlightened but unpretentious son of the Irish bog.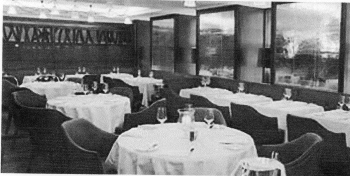 We did not start well. The captain, who took our order for the drinks that we found ourselves craving, could not fathom the concept of 'dark rum' and bungled our request, but we should not single out Corrigan's for the fault; restaurant staff cannot grasp the concept outside of enlightened outposts in coastal Rhode Island. If someone asks us for dark rum on ice with the merest splash of tonic and a big blast of lime, we know how to fix the drink. It goes into a tumbler with a good wedge of citrus squeezed into ice before the rum and tonic follow in proportion of about ten to one; the rum does not belong in a silo insipidly flooded with quarts of quinine and garnished with a shy sliver of peel. But again, this is a common failing even in a sailor's town.
The wine list brought relief if, however, the steward did not. The list included the usual stratospheric suspects intended to demonstrate the serious if not confiscatory philosophy of the restaurant along with a lot of silly talk about biometics, but there were interesting and feasible choices too. Some were interesting but not at all feasible; perhaps the EU duty on American wines is retaliatory because something else has irritated the French. The excellent Bonny Doon Old Telegraph (not 'telegram' as described on the list, whose author missed the reference to Chateauneuf) was expensive at £46; the even better Pleiades, now in the XVI edition, was exorbitant at something like £68. You can, however, cherry pick, at least in relative terms. We were pleased with a bottle of 2006 Madiran from Domaine Berthoumieu, a creature we had not previously encountered, once it opened up. That was a relief because the wine steward insisted to the point of psychosis on taking our wine order before anyone appeared to either describe the menu or warn us of an 86, let alone take an order for food.
The wine list described our choice, fairly enough, as 'tannic' and even 'ferocious:' It is grouse season so we bit. But what if the grouse was gone and we wanted lemon sole? Why did the steward fail to offer us a decanter? This was inexcusable behavior that should never be countenanced unless you are a reviewer willing to see how far the misguided will go.
But happy day; the grouse was not gone, the waiters try their best once unleashed, and their best is good. Service was impeccable and pleasant without pretense once we got through the beverage brigades, and the captain redeemed himself in style.
Complimentary cheese puffs were fair; complimentary deep-fried olives squirted gooey cheese following a pleasant crunch; we could have gorged ourselves on them. Boring white rolls and nice brown bread laced with oatmeal arrived a little late, as usual in restaurants of late. How much do they save on bread?
We started with a poached duck egg with greens and a crab salad in crab jelly. If the jelly was an unnecessary showboat, it was not unpleasant, and both plates were exemplary with glasses of good Amontillado.
Then to the main dish, described on the menu as grouse pie for two and misdescribed by the captain until he carved it. When we asked about the constituents of the filling for the pie, he replied, pleasantly enough, "the whole grouse sir, with the legs on the side." Was this a return to eighteenth-century minimalism, when unboned birds were braised under protective paste? It was not. It was, as the captain mused while carving, more of a 'grouse Wellington.' Apparently Mr. Corrigan is brave enough to cook such an unfashionable thing but insufficiently brave to broadcast the fact, so his customers risk some degree of ambush.
The risk paid off. The breasts of the bird cupped a whole lobe of foie gras; they were coated in minced wild mushroom, bound with Savoy cabbage, baked under a dome of puff pastry on a slab of the same and served with a piquant thin sauce of stock from the birds and something else. It is hard to cook grouse; the bird is so gamey that it needs to hover between the revolting and the sublime, and this was sublime. The legs were charred, the breast was rare and the liver just so. The iron pot of vegetables that accompanied our Wellington was an unheralded bonus, ridiculous in the good way; tiny green beans tousled with cabbage and studded with golden chanterelles, pearl onions and perfect sweetbreads.
Our memories may not be what they were, but at least have not evaporated altogether and some nagging vestige of recall directed us to Corrigan's irresistible (and lavishly produced) cookbook, The Clatter of Forks and Spoons. And there it was on page 236, "Grouse and Foie Gras in Pastry," the same basic preparation but for individual pies of smaller birds rather than the one we shared. It is nice to find a celebrity chef like Corrigan (he has television programs in both Britain and Ireland) cook the recipes he sells to the buyers of his book, a practice that is not common. It is only too obvious that the recipes flogged in many celebrity books are untested until the unwary reader bungles them.
Back at the restaurant itself, it is after all possible to get great value from a dish priced at £60 for two, weird as that feels to write, even if the additional cover charge of £2 per person is churlish. Our tab came to something like £200 with tip.
There is at bar at Corrigan's and it stocks Pampero Anniversario, the cognac of South America. It likely is the best rum on the planet at any price notwithstanding all the chatter about (light so less interesting) rhum agricole from the French Caribbean. What is wrong with molasses anyway, and why is Anniversario so hard to find? The lovely bartender, a sailor from Italy, explained that she stocks it because she likes it; more bars should hire sailors. More bars in serious restaurants also should follow the example of Five Points in New York and St. John in London and serve distinctive draft beer, but that is a different fight for another time.
We had no room for dessert or cheese at Corrigan's but coffee served with complimentary petits fours was not too bad and nobody tried to hustle us out after two hours after all. We got to drink our rum in comfort. Finally, what about that 'something else' in the sauce for the grouse? Apparently it was "[a] dash of herby green Chartreuse" if Corrigan followed his own advice from Clatter. First impressions matter but we will return.