A winter fool from Elizabeth David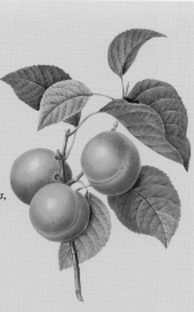 Like Jane Grigson, Elizabeth David published a winter fool recipe using dried apricots, although, curiously, she does not refer to its seasonality. David's recipe is a departure from other fools: She roasts rather than simmers her apricots. Here, she says, is why: "The way to get maximum flavour out of dried apricots is to bake them slowly in the oven instead of stewing them. They emerge nicely plump, with a roasted, smoky flavour which I find irresistible." (An Omelette and a Glass of Wine 244) The apricots do emerge with smoky, almost savory rather than sweet tones; opinion about this dessert is divided at britishfoodinamerica, but nobody denies its originality.
---
-½ lb dried apricots
-1 Tablespoon Bourbon or Scotch whisky
-2-3 Tablespoons honey
-6 oz heavy whipping cream
---
Soak the apricots with the whisky and just enough water to barely cover them in a single layer, for any amount of time from 2 hours to overnight.
Preheat the oven to 330° and bake the apricots and their soaking liquid in a small, covered casserole for about an hour. Let them cool.
If any liquid remains in the pot, get rid of it, then puree the apricots with the honey.
Whip the cream just until it begins to stiffen and mix it with the puree.
Spoon the fool into four glasses, cover and chill before serving.
Notes.
- David omits the booze, but it adds another layer of smoky flavor and, if you like this sort of fool, you might as well go all the way.
- David suggests the addition of about a Tablespoon of ground almonds to this and other dried apricot fools.
- This recipe essentially subverts the notion of a traditional fool (subversion was the kind of thing David liked to do); bright, fresh flavor usually is the foolmaker's goal. The Editor likes David's 'savory' winter fool, especially with a glass of good whisky, but admits to minority status on this one.
- In An Omelette and a Glass of Wine, David also outlines another baked fool, adapted from several seventeenth century sources, that she calls black fruit fool (they called it 'black tart stuff' in the 1600s). It is not unlike our own fool made from whisky prunes, but unlike other fools it floats cream atop the fruit instead of mixing them together. Our version of her version goes like this: Soak ½ lb prunes overnight in ½ cup port with just enough water if needed to cover them in a single layer. Soak ¼ lb each of currents and raisins together in enough water to cover them overnight too. Bake the prunes with their liquid in a covered casserole for 1 hour at 330, then put the other fruit and its liquid into the oven in a separate covered casserole and bake both vessels for about another hour, or until the prunes have plumped and taken most of their liquid. Let everything cool and puree the prunes; drain the mixture of currents and raisins, puree it, and mix it with the prunes. Spoon the combined purees into glasses and pour enough lightly whisked cream into each glass to cover the fruit. Cover and chill before serving with a little cinnamon or nutmeg dusted on top. You will have enough for 8 'fools.'
- Of course you could vary the proportions of currants and raisins to each other, or use only one or the other fruit. Obviously remove any pits from the prunes before you puree them.
- Your aim is not to whip the cream; you want to thicken it only enough to prevent all of it from leaking through the fruit.
- The Editor is particularly enthusiastic about this fool but it tends to meet the usual resistance to prunes from Americans. You should try it regardless, for as David says, it is "a delicious and refreshing cold fruit puree. As a pie filling it is rich and dark without the cloying and heavy qualities of mincemeat. It has also a certain originality which provokes a small surprise at the end of the meal." (Omelette 243)
-This, however, also is typically David in denigrating traditional British foodways; we like mincemeat and mince pies.