A traditional combination that goes back centuries and finds its way into pie fillings, in chunks instead of mashed, with lamb or pork as well as on its own or a creamy base like this. The citrus of course is particularly nice with duck.

---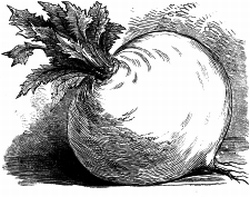 - about 4 lb. yellow or white turnips, peeled and cut into 1 inch chunks
- 2 Tablesppons unsalted butter
- 4 oz heavy cream
- 2 Tablespoons orange juice
- zest from half an orange
- heaped ¼ teaspoon mace
- white pepper and salt to taste
---
Simmer the turnips in salted water until nearly falling apart.
Drain the turnips well and pass them through a food mill, mash them or bash them in a food processor.
Return the turnips to the pot on medium heat and stir if necessary to evaporate any liquid.
Check for salt and pepper and serve hot.
Notes: The time for initially simmering the turnips varies a lot depending on the turnips. Yellow turnips take a lot longer than white ones, and the cooking time for yellow turnips varies with their age and size.
- A little ground or minced fresh ginger also enlivens the dish. Add it with the butter and cream.
- If you like turnips like we do, go all in for the big yellow ones.