Our Guest Historian Reads Lark Rise
Introducing the first essay in a new occasional feature, food in fiction, in which our Guest Historian finds food, feasts, fact and fancy in Flora Thompson's Lark Rise.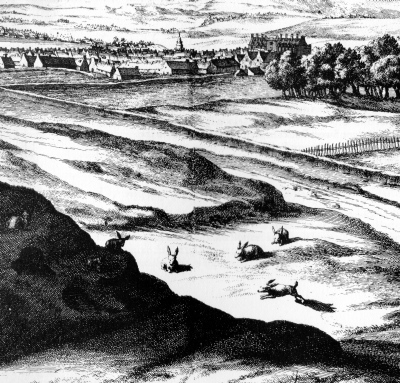 Flora Thompson published Lark Rise in 1939 when she was in her sixties. The book was followed by Over to Candleford in 1941 and Candleford Green in 1943. Together these three volumes comprise the trilogy From Lark Rise to Candleford, which has become recognised in Britain as a classic for its evocation of English rural life in the last years of the nineteenth century and a window on a vanished world. From Lark Rise to Candleford has been placed on school curricula and adapted for the stage. More recently it has come to the attention of a much wider audience through BBC television's freewheeling and saccharine adaptations.
Lark Rise was the name Thompson gave to the hamlet (Juniper Hill) in which Laura Timms, her alter ego, grew up. It was a scattering of about thirty cottages and an inn located close to the Oxfordshire-Northamptonshire border, around 19 miles from Oxford. In the 1880s, the decade covered by the first volume of the trilogy, Lark Rise was a small, unprepossessing and isolated settlement populated mainly by agricultural labourers and their families:
"The hamlet stood on a gentle rise in the flat, wheat-growing northeast corner of Oxfordshire. We will call it Lark Rise because of the great number of skylarks which made the surrounding fields their springboard and nested on the bare earth between the rows of green corn." (Lark 1; see B. English 7-34)
Laura's father, a stonemason, offered a less romantic appraisal. He saw Lark Rise as "the spot God made with the leftovers when He'd finished creating the rest of the earth." (Lark 252)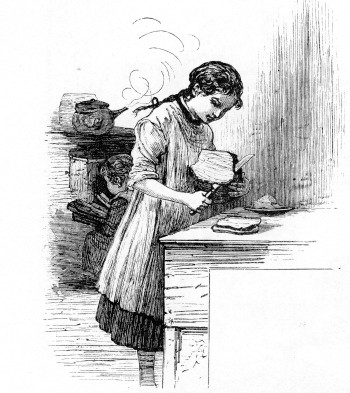 In common with those in most rural communities, hamlet houses had no running water and no sanitation beyond an outhouse or 'garden closet.' Neither did they have lighting other than that supplied by candles, paraffin and daylight. Lark Rise residents had few possessions and fewer luxuries but, Thompson maintains, they did not pity themselves. They were poor but generally had enough to eat, notwithstanding that most families were large. But sufficient could still be short commons; in one "terribly poor" family a mother and daughter fried one rasher of bacon for their lunch each day. They took it in turns to have the rasher, the other having to be content with dipping her bread in the fat. (Lark 161)
Since finding sufficient was a preoccupation of all, the raising and consumption of food feature prominently in Lark Rise, the volume that covers Laura's childhood. The food of hamlet folk was "rough." (Lark 5) Breakfast was bread and lard (Lark 39), sometimes with the addition of mustard for the men, or a smear of treacle or sprinkle of sugar for children. Milk was "a rare luxury" and butter "too costly for general use." (Lark 17) Margarine, or butterine as it was known, was available in the 1880s but little used since most people preferred lard. (Lark 16)
Some cottagers kept bees and therefore had honey and, perhaps, mead; many made their own wine, jam and jelly from elderberries, blackberries or other wild fruits. If they were hungry during the day, farm workers would munch on a slice of turnip or take a bite of cattle cake. Boys started work in the fields young and their mothers generally saw that they had "a bit of summat" to peck on between meals. This might be half a cold pancake or the remains of a roly-poly. A farm worker's lunch comprised cold tea from tin bottles and, for the lucky ones, bread with a little bacon. The less fortunate had more bread and lard, supplemented, perhaps, with a little cheese. But even these modest rations were more generous than the meagre fare consumed by women at home, especially when they had just given birth when water gruel, dry toast and weak tea were thought an adequate diet. Once the parson's daughter had called by with a jug of veal broth and a large sago pudding, the patient was deemed sufficiently recovered to resume a normal diet--along with a half-pint of stout a day for those who could afford it. (Lark 125-26)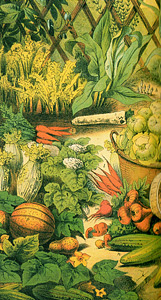 Lark Risers regarded a kitchen garden or allotment as essential. Every cottager grew large quantities of vegetables and reared at least one pig. Pigs were important members of the family (until slaughtered) and households did much to care for their pigs and fatten them to the utmost. Children scoured the countryside for greenery and snails to feed them and, if necessary, men would forego their daily half pint of beer to keep the pig in food. At a time when fresh meat was a luxury--usually seen in the form of "six pennyworth of pieces" for a meat pudding--a pig could provide bacon for an entire winter or even longer. (Lark 10-11)Pigs were killed by travelling butchers or pig stickers who generally did their slaughtering as an evening sideline after they had finished their unrelated day jobs. The slaughter could be a noisy, bloody business, sometimes made noisier when the pig got away, prompting a cross-country chase to recapture it. Butchering the pig was a communal occasion that attracted a crowd of spectators, few of whom evinced any sympathy for the doomed animal.
Once dead, the pig was bled and singed. The gristly outer coverings of the toes were removed and flung to the children who sucked and chewed them, burnt and filthy though they were. For the adults beer flowed and pig's fry was eaten straight from the cooking pan. Then came the serious business of butchering the carcass and distributing the meat. Some joints went to neighbours who had previously shared out their own pig; other cuts might have been mortgaged to the baker or miller in return for pig food in hard times, but everybody received something. Over the ensuing days hams and bacon were salted, chitterlings cleaned, lard dried and hog's pudding made. It was a busy time but also a cheerful one.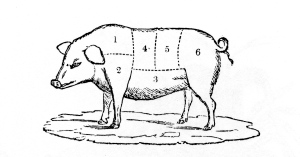 The Sunday following was the occasion of the pig feast when relatives who lived within walking distance would come for dinner (in Lark Rise neighbours were never invited for a meal). Not every cottage had an oven but there was always access to a neighbour's bread oven which would be loaded with pork joints, potatoes, batter puddings, pork pies and sometimes cakes, then left to bake without interference. Four different kinds of vegetable were cooked as an accompaniment along with a meat pudding that was eaten alone before the joint was served. On normal Sundays a sweet roly-poly was prepared as a first course in order to take "the edge off the appetite." But at a pig feast no one wanted a sweet pudding: "that could be had any day, and who wanted sweet things when there was plenty of meat to be had!" (Lark 13)
Such days of 'glorious plenty' occurred only once or twice a year. The routine weekly challenge was to feed a large family on 10 shillings (50 pence or 75 cents) per week. This challenge was met mainly by making use of the abundant garden vegetables: Potatoes, peas, broad beans, runner beans, cauliflowers, onions, cabbage, kale, lettuce, radishes and herbs. Potatoes were the key, for enough needed to be grown to last the year. Their peelings went to the pig and, in turn, pig muck fertilised the vegetable garden. Men tended the vegetables while women cared for the herb garden in which among the thyme, parsley, sage and lavender might be found peppermint (for tea) and yarrow (for beer).
Laura's mother cooked "plain and wholesome food." (Lark 223) But for everyone bread, rosemary-flavoured lard and green vegetables were the staple fare, supplemented, perhaps, with a little bacon. Toast was a family favourite and cold, boiled, streaky bacon on toast made "a dish so delicious it deserves to be more widely popular." (Lark 108) Autumn provided an opportunity to supplement the quotidian diet with foraged mushrooms, sloes, crab apples, rosehips, haws and elderberry. Laura's mother did not approve of her children trailing around wet meadows and spoiling boot leather in search of a little free food: "Six shillingsworth of good shoe-leather gone for sixpen'orth of mushrooms." (Lark 231)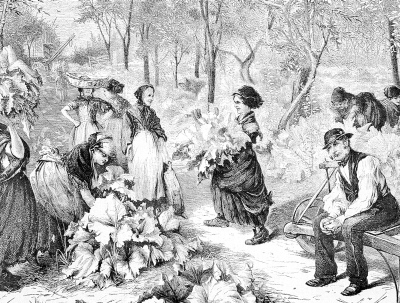 Foraging, for watercress, cowslips (for tea) and snails (again, for the pig), was not just an autumn affair. On their way to school in the "mother village," 1˝ miles from Lark Rise, hamlet children quickly raided their lunch baskets and then snacked on the turnips, green pea 'shucks,' ears of wheat, hawthorn leaves (known as bread and cheese), sorrel and berries that grew along the way according to season. "There was always something to eat" and they ate it less out of hunger, more from "habit and relish of the wild food." (Lark 167)
Fresh meat was greatly desired but seldom obtainable. Children and adults alike trapped small wild birds, which were roasted over an open fire or put into a meat pudding. (Lark 145) A small joint occasionally obtained as a Saturday night bargain was a rare treat: In cottages lacking an oven, the joint was roasted on a string over an open fire with a child acting as turnspit. Pot roast was an alternative but for most cottagers "there was nothing to beat a 'toad,"' that is, a joint encased in suet to retain its juices and then boiled.
Several annual feasts, however, had meat on the menu. At Christmas a farmer would kill an ox and give each of his workers a joint of beef. This duly appeared on the Christmas table along with a plum pudding made with suet duff and raisins, and bottles of homemade wine. The "Sunday of the Feast" in September was a day for roast beef and Yorkshire pudding. The "Monday of the Feast" on the following day was for women and children only, because the men were at work. This was an occasion for tea and cake. Housewives provided the baker with a basin of raisins, currants, lard, sugar and spice to make the "baker's cake." He supplied the dough and baked the cake, returning it 'beautifully browned' from his oven at which point, presumably, money changed hands. Finally, there was the "Harvest Home" dinner which was such a tremendous feast that some went without breakfast to preserve their appetites.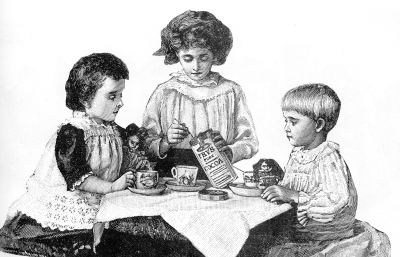 Thompson dismisses the idea that the 1880s were years of transition with the astute observation that all ages are such, but she does note that important changes to the traditional way of life were taking place, especially, it seemed to her, after Queen Victoria's Golden Jubilee in 1887. These changes included the mechanisation of farming and loss of traditions such as the Feast Monday. Homegrown produce was being replaced with shop-bought items such as tinned salmon and Australian rabbit. Chocolate, unknown to hamlet children in the early eighties, had become a favourite sweet before the end of the decade. Cottagers no longer baked their own bread but bought it from a baker who visited the hamlet on three days each week.
Other food vendors included Jerry Parish the fruit and fish man who visited Lark Rise with his bloaters, grapes, pears, peaches and oranges. Most of his produce was intended for the affluent, none of whom lived within the hamlet. A few cottagers occasionally bought a bloater for 1d (˝p or roughly 1 cent) or some soft roe for the children, but most could not afford such treats. Oranges were so exotic that nothing was wasted, including the rind, which was dried for children to chew. Jerry gave hamlet folk their first sight of tomatoes, also known as "tommytoes" or "love apples." Lark Risers dismissed them as "nasty, horrid things…as only gentry can eat," and this remained the popular estimation for years. (Lark 111)
Lark Rise has been described as a "lightly disguised story of Flora Thompson's youth." (OED) Questions have arisen, however, about whether Lark Rise should be regarded as historically accurate rather than a work of the imagination. Thompson herself was ambivalent, not to say contradictory, but many historians and others have viewed the book uncritically as a reliable portrait of life in an English agrarian community during the 1880s. In a fine article published in 1985, Barbara English argued that life at Juniper Hill at the time had a dark side that is virtually absent from Thompson's books. She concluded that Lark Rise supplies an idealised, nostalgic vision that constitutes a fine writer's 'special pleading' not for a vanished past but for one of happy families, good health, contented poor folk, benign "toffs," endless sunny summers and snowy Christmases that never really existed. (B. English 7-34)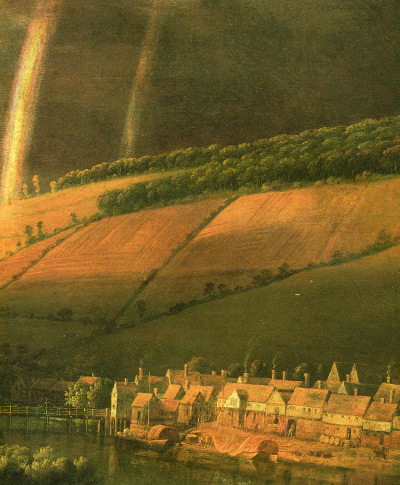 Author's note:
Flora Thompson (1876-1947) was born in Juniper Hill, Oxfordshire, and educated at elementary school in the nearby village of Cottisford. At the age of 14 she began work at the Post Office in Fringford. Her subsequent career in the Post Office took her to Hampshire, where she married in 1903 and had three children, one of whom died in the Second World War. Other than From Lark Rise to Candleford, her best-known book is the novel Still Glides the Stream, published posthumously in 1948. A Country Calendar and other Writings (ed. Margaret Lane) appeared in 1979. Thompson died in Brixham, Devon, and is buried in Dartmouth.
Editor's notes:
The term 'cattle cake' does not appear in the Oxford English Dictionery despite its widespread usage in nineteenth and twentieth century England, including of course Oxfordshire, the setting of Lark Rise. It is a concentrated feed for cattle processed in blocks. As late as the Second World War, hungry farm workers resorted to eating it; one of them has said that it looked like hard toffee but would not choose to eat it except in extreme conditions. He did eat it during wartime.
(www.bbc.co.uk/ww2peopleswar/stories/58)
'Sago' is palm starch something like tapioca used as a thickener and sweet pudding base.
Pig's fry is a euphemism for offal and usually refers to the heart, liver and lungs. It also can be a synonym for haslet; recipes for that appear in our archive.
Sources:
Barbara English, '"Lark Rise" and Juniper Hill: A Victorian Community in Literature and History," Victorian Studies 29 (1985)
Oxford Dictionery of National Biography, http://ezproxy.ouls.ox.ac.uk:2117/ view/article/38059, accessed 21 Jan 2011
Flora Thompson, From Lark Rise to Candleford (London 1939-43)