4 servings
 If it is not made with shellfish stock, a soup is not a bisque. This speedy soup is adapted from The Early American Cookbook by Hyla O'Connor (New York 1974), which in turn draws from Susannah Carter and Hannah Glasse among others. This soup is easy and soothing.
---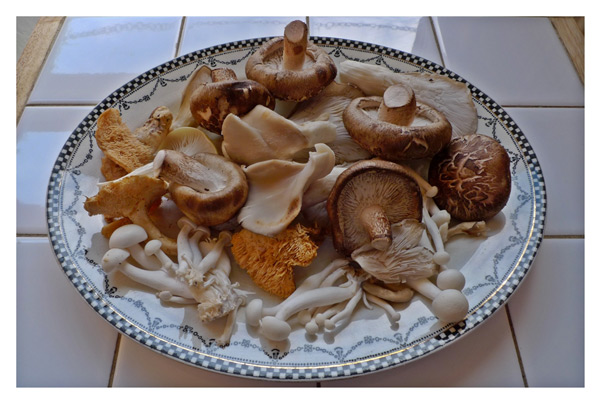 - 4 Tablespoons unsalted butter
- about 2 cups coarsely chopped mushrooms
- about ¾ cup finely sliced leeks
- 3 Tablespoons flour (Wondra will not lump)
- 3 cups shellfish stock of any kind…or boiled clam juice
- 1 or 2 bay leaves
- ¼ teaspoon mace
- 1 cup heavy cream
- about 1 Tablespoon medium dry sherry (Amontillado is good)
- 2 Tablespoons minced scallions
- salt and pepper
- a little minced parsley
---
Melt the butter in a heavy pot over medium high to high heat. Add the mushrooms and leeks, stirring to coat them with the butter and then stirring as little as possible to keep them from scorching.
Cook until the vegetables have softened and wilted, usually 5 – 7 minutes, then stir in the flour until it loses its raw white color.
Pour on the stock, whisk vigorously, add the bay leaves and bring to a boil.
Add the mace, reduce the heat to low and simmer for 20 minutes if you have the time, as little as 5 minutes if you do not.
Stir in the cream and increase the heat to medium low until the soup is piping hot but not boiling: Do not let it boil.
Stir in the sherry and scallions, check for salt and pepper, and serve with a sprinkle of parsley.
Notes:
- You can substitute 2 Tablespoons of clarified butter or ghee for the butter and oil.
- Replacing ¼ cup of the cream with crème fraiche does no harm at all. Recommended if not strictly authentic, but neither are the scallions.