For four.
Welsh lamb has a particularly delicate flavor but this traditional Welsh combination of aromatics and seasonings works well with all kinds of meat.
Preheat the oven to 425°.
---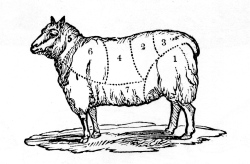 - A 2 lb rack of lamb, chilled

- 2 garlic cloves, smashed and chopped

- heaped teaspoon sea or other coarse salt

- 2 Tablespoons honey

- 10 oz dry white wine

- pepper

- 1 Tablespoon minced fresh rosemary
---
Score the thin layer of fat covering the lamb in a diamond pattern. Combine the garlic, salt, honey, wine, pepper and rosemary and marinate the meat in the mixture for 30 minutes to an hour.
Place the lamb on a rack within a roasting pan and pour the marinade over the meat and to drip into the pan. Roast the rack for 30 minutes: The chops should be a uniform pink.
Let the rack rest for 10 minutes before carving and then serve the lamb cut down between the bones as either single or double (preferred) chops.
Notes:
Serve the chops with laverbread, braised leeks and roast potatoes with rosemary for an emphatically Welsh palette of flavors.