A wartime 'Kedgeree of Kidneys'
For two.
Kedgeree, a rice dish that is one of the hybrid glories of Raj cuisine, ordinarily is based on fish, and usually smoked fish. Sometimes curry goes into a kedgeree and sometimes, as in this recipe, not. Although fresh and smoked fish as opposed to canned fish were not rationed, they were scarce during most of the Second World War, when trawlers were requisitioned for antisubmarine and coastal defense duties. Offal was not rationed, and relatively plentiful, so it made a good wartime substitute for other fresh sources of protein. The dish is considerably changed by the use of kidneys but not at all bad. This version is based on Sir Hugh Walpole's recipe from A Kitchen Goes To War.
---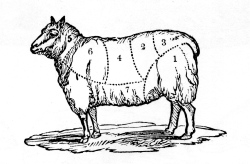 - ½ cup rice
- a small minced onion
- ¾ cup lamb (preferred) or other stock
- 2 Tablespoons unsalted butter
- 2-3 cored and diced lamb kidneys
- salt, pepper and cayenne
- 1 teaspoon minced parsley
---
Cook the rice and onion with the stock in a tightly covered pan until the rice absorbs the stock and becomes tender, usually about 20 minutes.
Melt the butter in a heavy skillet over high heat, add the kidney dice and sear them.
Season the kidneys with the salt, pepper and cayenne, reduce the heat to low and dump the rice and parsley into the skillet.
Stir everything together and serve hot.
Notes:
- For our money, a dash of curry powder--not too much more than a pinch--and a drip of cream or coconut milk improves any kedgeree, including this one.
- The substitution of fresh coriander for the parsley is a major, nontraditional, improvement.
- Some chutney, of virtually any variety, is an excellent condiment for Kedgeree of Kidney.
- Kedgeree was originally a breakfast dish. It makes a nice Sunday supper.