4 Servings
This salad is a good bet with Sussex stewed steak, our sherried steak dishes or, in summertime, grilled steak itself. People who do not think they like Brussels sprouts like them this way. Once you go through the labor involved in shaving the sprouts into the thinnest possible strips, the salad is a snap to compose. A mandoline really helps here.
---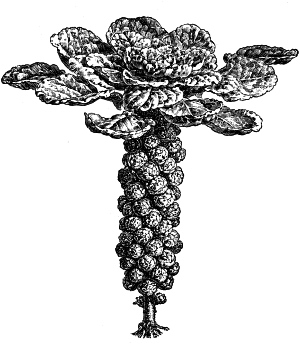 -1 quart Brussels sprouts
-1 teaspoon English prepared (Coleman's) or Dijon mustard
-2 Tablespoons walnut oil
-1 Tablespoon extra virgin olive oil
-1 Tablespoon lemon juice
-1 teaspoon sherry vinegar
-salt and pepper
-1 cup shelled walnuts, roughly broken
-1cup shaved Parmesan
-1 cup chopped flat leaf parsley
---
Blanch the Brussels sprouts until just barely beginning to become tender; a bit of crunch is good here. You will want to shock the blanched sprouts in cold water as soon as they are done to prevent them from overcooking in their own heat.
Once they are cool enough to handle, trim and shave the sprouts into the thinnest wafers, cutting vertically from top to stem. Put them in a big bowl.
Make the dressing by whisking the mustard with the oils. Use violence. Once the oils emulsify, whisk in the juice, vinegar, salt and pepper.
Gently tumble together the shaved sprouts, nuts, cheese and parsley.
Toss the salad with its dressing and serve at room temperature (not cold).

Notes: All of the ingredients other than the sprouts themselves are negotiable. Pecorino Romano, Grana Padano or even a firm and flaky extra sharp Cheddar are tasty alternatives to the pricy Parmesan. Dry mustard is a hotter alternative to its prepared brothers. You could use only walnut oil, only olive oil or any proportional combination of them. If you do not have sherry vinegar, use malt or wine vinegar. You could vary the proportion of juice and vinegar, or go with one or the other alone. A little cayenne would not be unwelcome.
Some people shave the sprouts raw; we found that variation a little harsh.
For a southern version, use roast peanuts or even pecans, barely bashed, instead of walnuts; peanut oil; and cider vinegar.