This is a recipe that was handwritten by the Editor's great grandmother a century ago. It remains a fixture at Thanksgiving and Christmas. The Editor's grandmother also made this pudding, and now the Editor and her mother keep the tradition too. We at britishfoodinamerica never have come across this particular kind of pudding elsewhere, except once, many years ago, at a long closed restaurant called the South Shore Grill in Wakefield, Rhode Island. It was a special and they called it Autumn Pudding, which makes sense; the Editor's great grandmother and grandmother never made it at Christmastime. It is not as sweet as traditional English Christmas puddings, and its texture is cakelike rather than heavily sticky. This "lost" recipe for a forgotten dish is worth reviving. Serve the pudding with hard sauce and foamy sauce.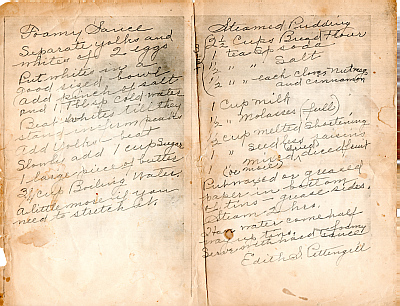 ---
2 ½ cups bread flour (see the notes)
1 teaspoon baking soda
½ teaspoon salt
½ teaspoon ground cinnamon
½ teaspoon ground cloves
½ teaspoon ground nutmeg
1 cup milk
½ cup molasses or black treacle
½ cup melted shortening (the original manuscript specifies Crisco: shredded suet also would be traditional)
½ cup dark raisins
½ cup golden raisins
1 cup chopped dried fruit in any combination of figs, dates and apricots
butter for lining a pudding basin, tin or bowl
---
Sift together the flour, baking soda, salt, cinnamon, cloves and nutmeg
Add the remaining ingredients in order of appearance, mix everything together and turn the batter into a buttered pudding basin, mold or bowl. Cover the basin or bowl tightly, or secure the mold (see the notes) and steam the pudding in a pot of steadily boiling water for two hours.
Serve with heavy cream or go all the way and make hard sauce and foamy sauce to accompany the pudding in the traditional manner.
Hard Sauce.

---
½ cup confectioner's sugar
4 oz. unsalted butter
vanilla to taste
a generous slug of good dark rum (optional and highly recommended)
a little milk to bind
---
Cream everything together and the hard sauce is ready to go.
Foamy Sauce. This is more involved than hard sauce and cannot be made ahead of time for obvious reasons.
---
2 eggs, yolks and whites separated
¼ teaspoon salt
1 Tablespoon cold water
1 cup sugar
2-3 oz. softened unsalted butter
¾ cup boiling water
---
Beat the egg whites with the salt and cold water "until they stand in firm peaks."
Beat the yolks into the whites and slowly fold in the sugar, then the butter.
Pour on the boiling water, lightly stir the sauce and serve immediately.
Notes:
- We have always used metal pudding molds for this dish. They are 8-10 inches long and resemble half a walnut. The top fits tightly (a water seal) over a base with a rim of about an inch. You can find them at antique stores and junk sales.
- We douse these puddings with good dark rum and wrap them in a towel for a few days. The editor's grandparents and great grandmother did not drink much, so the rum is not strictly authentic to the family recipe, but is otherwise traditional.
- The Editor's mother makes this recipe with mixed candied fruit--citron, citrus, cherries and the like--instead of the diced dried fruits (she does, however, include the raisins) to create a version that is closer to the traditional Christmas pudding. Also a wonderful dessert.
- A major difference between this and Christmas puddings is the higher proportion of flour, absence of bread or breadcrumbs and lower proportion of both shortening and fruit. The result is not nearly as heavy as other such puddings but still rich and flavorful.
- It is essential to use bread flour rather than all-purpose or unbleached flour in order to avoid a mucky texture.
- The Editor's family invariably calls this dish 'plum pudding.' It has no plums.