Eat at Highlands.
Now, however, you should return to make your purchases from Grahame Fowler before he closes at seven o'clock. Then, on to the best part of the day; get to Highlands early so you can claim a table (no reservations) before a horde of attractive, smartly dressed (in 'I made an effort' clothes) babes and boys descends upon the place. Even so, kids are welcome too.
Highlands is small and loud, but the noise of conversation is lovely. It has two good rooms that somehow seem both spare and warm, but as usual the bar is the better one. In the dining room, a wall of exposed brick faces stunning avian wallpaper from Timinus Beauties in Glasgow. This is New York, however, and tiny tables sit tight. The bar is undecorated but for the head of a stag; steel joins more brick lighted by clear bulbs with big glowing filaments strung in line above the bar.
The proprietors have an eye for detail; the façade is glassy plate, squeegeed to illuminate the dining room but left misty in the bar to lend mystery and atmosphere. The iron load-bearing columns from Edinburgh in the barroom are delicately fluted and more attenuated than their muscular American counterparts. Votives and winter plants rim the floor of the chilly entry; useful and pretty double coathooks run below the bartop; wineglasses are big and good; coffee arrives with a jug of whole milk and a small British spoon cradled in the handle of the cup. There is no trace of tartan, except on the cushions of the mismatched chairs and the backs of the staff, who pick their own plaids.
Maybe best of all is the wallpaper in the lone bathroom (they really could use another one). It is one of those toile prints of bucolic rural scenery, except that it is not. On inspection the setting is an urban park, complete with addict shooting up, decrepit housing project and other signs of squalor. The artist also depicts the least recognized of Charles Rennie Mackintosh's Glasgow landmarks (the paper is by the same Timinus Beauties), Queen's Cross Church.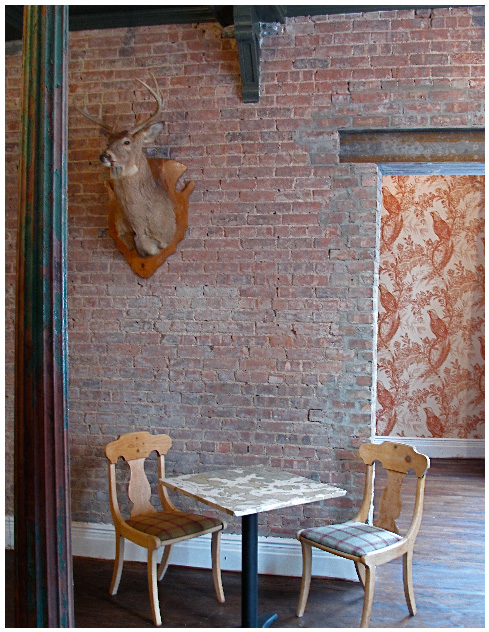 Highlands
150-152 West 10th St., New York, NY 10014
The business plan is efficient but requires a smart, motivated staff. Highlands has one. The plan combines sophisticated cocktails with casual and, for the United States, exotic dining. The bar follows the current fad for elaborate cocktails, with a Scottish twist; bartending here requires knowledge, skill and speed. Highlands is most definitely a bright signal in the cocktail circuit judging from the variegated glasses of bright liquids held by many of its occupants. Beer is stellar if not cask ("Brooklyn," according to Steve Iannacone, the bar's affable distributor, "is more advanced."); Wells' Bombadier and other ales, from Scottish craft brewers, Red Hook's Six Points and elsewhere join in regular rotation.
As noted, Highlands is not just some cocktail lounge with a nod to bar food; the kitchen is serious and not a mere cost center. The menu is short and Scottish, no burgers or wings, and the wine list limited but apt, with a slant to what the British call 'New World' producers from both sides of the equator and around the globe. Prices are fair. A Keith Tullock Pinot Gris was revelatory, big and bossy but also deft; it escaped the slightly cloying finish of the fuller bodied Tokay Pinot Gris from Alsace. Australia produces a lot of jammy fruit bombs but this grape belongs in the Antipodes.
On our visits there were seven starters and a snack, four mains and another four sides. We sampled nothing but good food at Highlands. A starter of cockles (on an American menu!) steamed in that Pinot Gris was briny, as it should be, and more than big enough for two, good value at $15. They cure their own salmon. Cod ($21) is a good test of any kitchen and Highlands passes; the fish was cooked just to flaky under a brittle crust strewn with capers alongside superb bubble and squeak, which they should add to their list of sides. It also came with frisee, dressed with a milder version of bfia's own Driving Shoe Dressing. Tasting Table has good things to say about a vegetarian entrée, mushroom shepherd's pie. The haggis (from New Jersey), served with its indispensable turnip and mash, has crunch and flavor; the haggis bread served with charcuterie is sublime. Scotland has a deep tradition of great curries that a soup of finnan haddock and squash upheld, but the Editor's favorite offering was a big faggot (on an American menu!).
For the uninitiated, faggots are agglomerations of pork, pork liver, onions and seasonings that should include sage. They are ground, shaped and nestled in caul fat for cooking. Faggots appear all over Britain, but are most associated with the north of England and Scotland and they can be delicious. Highlands served the first one we have found west of the Arrans and the best one we have tasted anywhere. Another American first for us was use of pork liver at all; it usually and sadly only finds its way to the dog food factory on this side of the sea. The faggot came with onion marmalade and applesauce, which was good even if our savory version would have been better. All this for only $18 (the haggis weighed in at $19).
Our waitress was friendly, efficient and patient, too; she put up with all our questions and happily allowed us to linger over glasses of superb Compass Box Spice Tree whisky even though she could have used the table, because the descent on Highlands accelerates by eight o'clock. Throughout our visit a thought kept cycling; the place is packed, the food is good, the drink is good, the cost is low, this is New York, they don't have to be this nice; but, they are. The skulking and surly bar staff at the Breslin should take notice.