Ferry Plaza Seafood & the Hog Island Oyster Company: Two oyster bars at the San Francisco Ferry Terminal & a note about clam soup on the west coast.
In 1989 an earthquake, predictable and tragic, struck San Francisco. But like New Orleans, another city perched at a geographical precipice, the place is nothing if not resilient and some good arose from the disaster. Among them was the resurrection of the Ferry Terminal at a prime location on the Embarcadero which, like Grand Central Terminal in New York, Union Station in Washington and countless American urban landmarks had been reduced to a squalid shell pocked with plywood by the 1980s.
Ships have returned to the slips of the Ferry Terminal and its great central hall has reopened to the city. Now it is devoted, fittingly enough in this city that feeds itself with fervor, to food. The farmers' market without is nothing short of spectacular, even during these winter months of relative scarcity; the shops and restaurants within boast serious and friendly proprietors eager to talk and to please. Their goods are good indeed.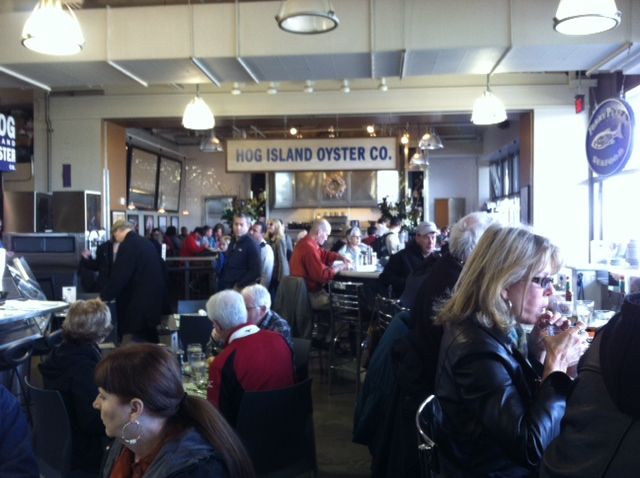 The shops, selling herbs, meats, mushrooms, cheese, honey wine, cookware and all other manner of culinary requirements, are predominantly singular and local; the bazaar even nurtures an endangered species, the bookstore. The managers who lease the space have not raced straight to the bottom line of chainstore staples and tourist traps, and so discerning tourists have come anyway to mingle with local devotees. The Ferry Terminal exudes all the magic that Quincy Market, Boston's ravaged heart, lost long ago.
Prices in San Francisco tend to be high, and the tariff at establishments in the Terminal is no exception, but they do not seem to get a premium for their lovely location: Prices at these places are fair.
Perhaps the competition accounts for that. Two oyster bars, for example, face off across a narrow track. Each of them spills onto the esplanade outside, where patrons happily linger even in the darkest days of January and February. The best action is inside at the bars, even if unlike eastern and Gulf iterations you will have trouble trying to banter with the shuckers, who work at a certain remove.
The menu at the idiosyncratic Ferry Plaza Seafood is short and good. They do not serve crackers, deep fry food, offer tartar sauce or countenance ranch dressings, and take defiant pride in their strictures. Like most places serving seafood in the bay area they have something they call 'New England clam chowder,' and like just about everywhere else out west that is not what it is. Many of these variations on clam soup are good but by none of them are by any means authentic.
At Berkeley Bowl across the bay, an upscale hypermarket for food and drink of all kinds with an attached cafeteria, they serve soup in portions the size of a lake. 'New England clam chowder' appeared to be based on a roux rather then spiked with milk or cream. It was loaded with a mince of colorful vegetables and bits of cured meat in no way resembling the essential salt pork; a nice hearty soup but hardly chowder.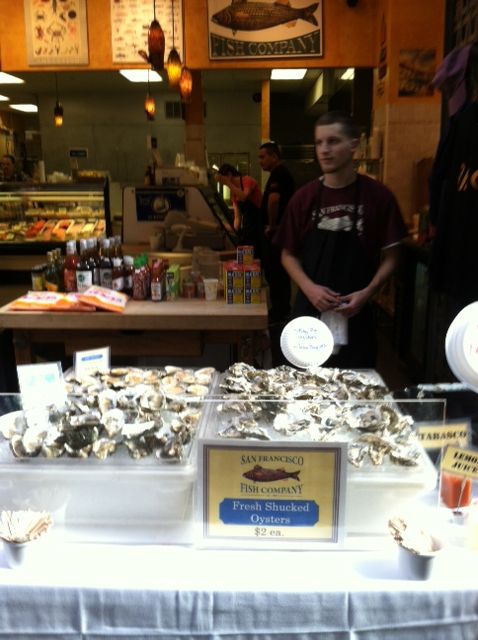 We had come to Ferry Plaza Seafood for the oysters and were not disappointed. Both the Kodomos from Hammersley Inlet in Washington state and Royal Miyagis from British Columbia displayed an oddly creamy but hardly nasty taste. The Kodomos tasted strong, something like the proverbial bottom of a fishing boat, the Miyagis in their deep deep cups sweet.
They pour only beer and wine and not many species of that, but the Anchor Steam and Sierra Nevada on tap are worthy if unimaginative mates for the fish. Our oysters were not cheap at $28 a dozen, but not exorbitant either, and the appointments and view are hard to beat.
The Hog Island Oyster Company across the corridor matches the view and eclipses all else. Hog Island starts from a certain advantage as one of the more celebrated oyster farms in the United States and has squandered none of it at the Ferry Terminal.
Its design is more muscular and less generic, its oysters superior and its fake chowder packs more appeal. The line is longer and the greeting more fun; they are brusque across the hall but ebullient over here, and the bouncer controls the queues with kindness. A drink while you wait? It makes a difference.
The Hog Island menu is more limited than at Ferry Plaza; shellfish raw or roasted, simple salads, soups and a grilled cheese sandwich for the antipescatorian outlier fill the short bill. Dungeness crab from local waters is properly fresh and the oysters pristine. In fact they blew the competition away.
Our waitress urged us to try their Kodomos from Hammersley Inlet even though we protested; we had, we explained, just eaten some. No, not these; we, she claimed with cool confidence, get ours exclusively from a small private plot and you will not have tasted anything like them. And we had not; they were brighter and fresher, loaded with character but with no hint of cream. Not that they stood out.
All the oysters we knocked back were noteworthy; sweet little Sand Isle kumamotos with translucent shells from Humboldt Bay, Northwest Naturals from Eld Inlet, Washington, and of course Hog Island's own salty and clean flavored Sweetwaters from the famous Tomales Bay.
Like Ferry Plaza Seafood, they do things their own way at Hog Island, but with calm confidence rather than defensive defiance. They make their own unusual mignonette. 'Hogwash' is a mixture of rice wine, ponzu, cilantro, chili and shallots that they serve with wedges of lime, a first for us oysterwise. We were dubious but it worked, perhaps a testament to the character of place, or this place anyway.
Now to the chowder, which ranged farther from the genuine article than any other bowl we tried by the bay. It was better than the others, something like the pan roasts at the Grand Central Oyster Bar in New York stripped of the Old Bay and Sherry. The description on the Hog Island menu itself gives away the game; "Manila clams [in their shells no less] with aromatic vegetables, bacon, potatoes and cream.
The wine list is short and well chosen but ignore it for the beer, Racer IPA from the cult brewer Bear Republic and Hog Island's own Oyster Shell Stout brewed for them by the equally iconic 21st Amendment people right in San Francisco.