Our Graduate Correspondent visits Los Angeles & gets some surprises, including Ye Olde King's Head.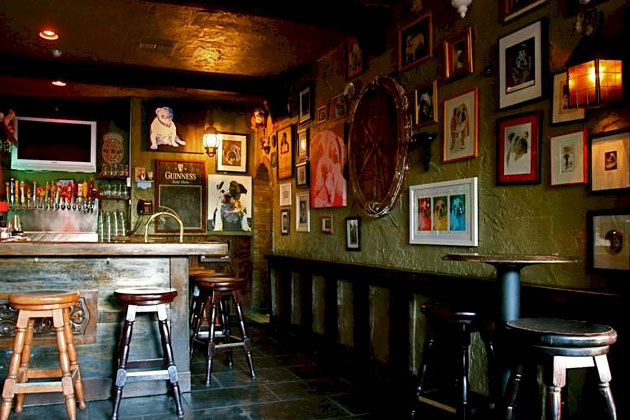 I had walked for a ways along the clifftop where Santa Monica falls away over miles of beach. A native New Yorker, I was spellbound by palm trees in December, and a grey mist over the ocean seemed balmy after the turbulence of Irene. As the sun sank into the ocean and I passed the fourth sushi shop in five blocks, the last thing I expected to smell near an Equinox gym was the heady perfume of roasting meat. Ye Olde King's Head Pub, Gift Shoppe and Restaurant is not easy to miss or mistake; it sports a portrait of its namesake Edward the Third with the mixed arms of England and France emblazoned on his surcoat. The establishment takes up fully half a block, and sports an impressive collection of flags from the Commonwealth, United States and Britain; of course it includes the Union Jack.
I have not seen a more concentrated locus of Anglophilia outside Europe. The staff speaks in genuine accents, refreshing for Los Angeles, and the beer is good and dark.
The fish and chips taste like you were eating them from a cone of newspaper by the Thames. The menu includes a typical range of American pub fare along with a respectable number of traditional British dishes. Despite its hokey name the place is welcoming and authentic; those bedrock British dishes include a full English breakfast (even baked beans!), sausage rolls and the elusive Scotch egg, a mixed grill (liver but, alas, no kidney), pies of beef and Guinness, chicken with mushroom, Shepherd's pie too; Lancashire lamb pie on Saturday; traditional Sunday roasts and a side of pickled onions. Just as authentic; chicken tikka masala and some curries. Eighteen beers on tap, including Fuller's London Pride, the benchmark pale ale.
The King's Head observes all the niceties; high tea is served, dartboards line a wall and seasonal offerings are available. Come for a filling lunch washed down with plenty of beer, or stop by after dark, when a friendly crowd full of expats makes merry.
The 'shoppe' is, despite the unaccountably twee usage, an added benefit. They stock the British foods so hard to find in America, from teas, biscuits and crisps to meat pies, bangers and black puddings; also a broad selection of English china, some flags and the usual souvenir apparel. No catalog online.
The most memorable moment of the visit occurred when my father and I ducked into the pub for a pint (or, as it transpired, more) on a brisk (for southern California anyway) evening. Slightly tipsy on exiting, we were amazed to find it snowing outside. The illusion did not last; we quickly realized that the flurry was concentrated outside the door thanks to a machine hidden on the roof. It was magical to imagine that it was snowing in L.A. for the holidays, if only for a Guinness-fueled second.
Ye Olde King's Head Pub
116 Santa Monica Boulevard
Santa Monica, CA 90401
(310) 451-1402
- Andrew Greissman