Royal Oak, Cues Lane, Bishopstone, Wiltshire: A Review from our Rural Correspondent.
The Royal Oak is not really remote; it just feels that way when weaving towards it along the single-track roads below the North Wessex Downs that connect it to the outside world. For all that Bishopstone is a tiny village in a deeply rural setting it is only eight miles from Swindon. Swindon has many claims to fame, not least its regular appearance in lists identifying Britain's top ten 'crap' towns and its possession of the famous 'magic roundabout' (rotary or traffic circle to Americans) consisting of 'five mini-roundabouts arranged around a sixth central, anti-clockwise roundabout'. Drive it if you dare!
Bishopstone has no roundabouts, magic or otherwise, but it does have the Royal Oak. Unremarkable in external appearance, it was a 'certifiable dump' when taken over by its present boss, Helen Browning, a local organic farmer, CEO of the Soil Association and all-round green guru. Some might say, in fact they have, that the pub is not much better now. At a glance it is a standard Arkells brewery tied house, a design which looks rather too suburban for a country pub. Closer inspection, especially round the back, reveals tired window frames and peeling paint. Inside the décor and furnishings are far from elegant. None of the dining furniture matches and the overall impression of the all-in-one bar and restaurant area is of a domestic front room that could benefit from a good makeover, or at least a thorough tidy-up. All this could change soon for a pending planning application, if successful, will see a transformation not least in terms of the addition of new letting rooms (there are just two currently). It must be hoped that any expansion and refurbishment will not be achieved at the expense of the warm atmosphere, charming quirkiness and great food that are the Royal Oak's current hallmarks.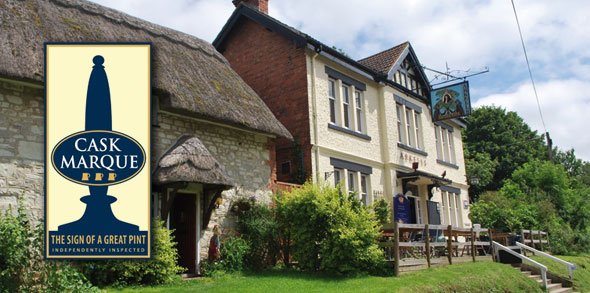 Your reviewer first encountered the pub several years ago at the end of hiking along a section of the Ridgeway, a long distance track that winds over 87 miles of spectacular downland (ie upland) from Ivinghoe Beacon in Buckinghamshire to West Kennet, near Marlborough, Wiltshire. A short downhill detour from the trail leads the walker into Bishopstone. Chance took this wayfarer to the front door of the Royal Oak at precisely 3.05 pm on a hot summer's afternoon. The reason I can recall the time of my arrival so exactly is that the door was just shutting behind the last diners and drinkers as they exited following lunchtime service. So no food or drink for this hot, hungry and weary traveller. 'You've missed a treat' said the last man to leave, thereby rubbing salt into the wound. Since that dark day I've been back, time and again, always timing my arrival rather more judiciously than on the first occasion.
What is the attraction? Principally the food which is robust, innovative and unfailingly delicious. Much of the meat (pork, beef, lamb, veal 'and occasional wild critters') is sourced from Helen Browning's Eastbrook Farm which is just round the corner from the pub and serves as the 'organic mothership'. Most other suppliers are almost as local and just as organic. Some salad stuff, vegetables and fruits are sourced from local gardens but there is an eclectic mix because head chef, David Crabtree Logan, is happy to trade crawfish, vegetables, rabbits etc (cultivated and poached) for beer, wine and food. On the occasion of my last visit (July 2016) appetisers and starters included fermented radishes; potted pork on toast; sliced cured beef with elderbud capers; green garlic soup with crispy rillettes and mint oil; and cucumber and kohlrabi salad with lovage, buttermilk, cranberry and walnuts. Among the main courses, only five in total, were lamb chops with puy lentils; glazed shallots and mint sauce; hake steak and kill't lettuces with grilled potatoes and bacon bits; and, for the veggies, Cerney (goat's cheese), shallot and basil tart with salads. In case you are wondering (as I was after reading the menu), a kill't lettuce is one wilted in hot oil. Puddings included elderflower panna cotta with poached gooseberries; prune and almond tart with Armagnac ice cream; and rhubarb soup with kefir sorbet and pink pepper meringue. Expect to pay between £6-8 for starters ($8-10 at today's exchange rate), around £16 ($20) for a main course and £7 ($9) for a pud. A blackboard always features several specials or 'odds and ends' as the pub terms them. As for beer, the bar features real ales such as Arkells 3B, Wiltshire Gold and Hoperation IPA. Arkells, a Swindon brewer of some antiquity (a producer since 1843) but years of scant distinction, appears to have found or re-found its mojo in recent times.
The Royal Oak has drawn favourable attention in The Times, New York Times and a range of dining guides but it will not be to everyone's taste. Some customers have dubbed it 'scruffy' and 'noisy' or even 'horrible, horrible, horrible'. Others, however, have judged it 'superb', 'professional' and 'warm'. Probably the one adjective everyone will agree with is 'eccentric'. So if you like eccentricity coupled with good food along with a little pig racing in the lane outside if your timing is right, the Royal Oak is the place to go. Good luck with finding it and do not arrive too late because nothing is frozen and supplies of certain dishes can run out.