'Melted Butter:' a misnomer & once The Only Sauce.
For almost three centuries, visitors to Britain and the British themselves remarked on the ubiquity of butter sauce or melted butter sauce which, strictly speaking, it is not. As early as the early nineteenth century it was not only prevalent, but prevalently bad. Apparently it was so degraded that it frequently did not even include any butter. By the 1960s it had virtually disappeared and the Editor personally never has encountered it other than in books and latterly at home. As Sheila Hutchins wrote in 1967, "though excellent it is completely forgotten." If it is well made, and it is not difficult to make well with a double boiler, then it is refreshing and good.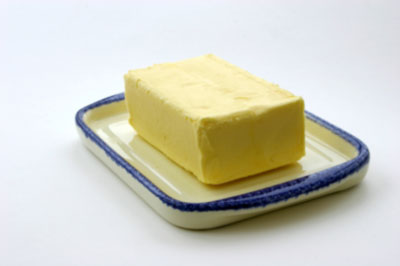 Here is the delightful Dr. Kitchener on butter sauce:
"It is so simple and easy to prepare, that it is a matter of general surprise, that what is done so often in every English kitchen, is so seldom done right, - Foreigners may say, that although we have only ONE SAUCE for Vegetables, Fish, Flesh, Fowl, &c. – we hardly ever make that good.
It is spoiled nine times out of ten, more from Idleness than from Ignorance, and rather because the Cook won't then because she can't do it, - which can only be the case when Housekeepers will not allow Butter to do it with.
GOOD MELTED BUTTER cannot be made with more flour and water: there must be a full and proper proportion of Butter. – As it must be always on the Table, and is the FOUNDATION OF ALL OUR ENGLISH SAUCES…."
For such a simple preparation it may be surprising how many versions of butter sauce appear in manuscripts and cookbooks. Dr. Kitchener himself noted that he had "tried every way of making it" before deciding on his own recipe. This one, derived from Esther Copley's The Housekeepers Guide of 1834, has worked consistently in the Editor's kitchen.
Enough to film 4 servings of vegetables or to garnish 4 servings of fish or meat
English butter sauce. Use a double boiler if you have one. If not, nest a smaller pot in a larger one containing enough water to rise halfway up the sides of the smaller pot. Alternatively, if you are brave and work fast, make the sauce on direct heat. Remember that the base sauce is susceptible to virtually infinite variation. The liquid in the base sauce can be water, wine, fortified wine, stock, thin gravy or milk, and can be finished with other liquid flavorings.
- 4 Tablespoons cold unsalted butter
- 1 heaping teaspoon flour (Wondra will not lump unless you are hopeless)
- 2 ½ Tablespoons cold liquid
---
Cut the butter into small pieces with a butter knife and sprinkle the flour over the butter.
Mash the butter and flour together with you're a fork or (better) hand until thoroughly combined.
A little before the food for the sauce is ready to serve, bring the water in the double boiler or nested pots to a boil, and reduce the heat to medium.
Put the cold butter and flour mixture into the pot, and whisk it vigorously once it starts to melt.
As soon as the butter mixture is just melted, dribble in the cold liquid while continuing to whisk the mixture vigorously.
As soon as the liquid is incorporated into the butter, pour the sauce you're your food or into a sauceboat for serving.
Notes:
- These proportions are not rigid. To thicken the sauce, add flour; to thin it, reduce the amount of flour a little (not too much; it holds the sauce together) or add more liquid, or both.
- Our base sauce for vegetables uses a dry riesling. It gives the sauce a bright note that a lot of people mistake for lemon.
- Spiced and herbed sauces. Obviously you can add salt, pepper, cayenne, nutmeg, mace or the spice of your choice to the butter and flour paste. The same is true for any fresh herbs or combination of them.
- Do not use milk if you want to add any acid or the sauce may curdle. Scalded milk will, however, reduce the odds of curdling.
- You can flavor the sauce with liquids too; Worcestershire, mushroom ketchup, general's sauce, hot sauce, citrus juice or tomato juice or sauce. Add liquids at the end.
- Once you have made the base sauce you can add other ingredients to make other traditional but lost sauces.
- Anchovy sauce. Add to the butter sauce over low heat from ½ to 1 ½ teaspoons of anchovy paste mixed with lemon juice to taste.
- Horseradish sauce for boiled beef, fish dishes or carrots. Simply add about a Tablespoon of well-drained prepared horseradish into the base sauce over low heat.
- Shrimp or crawfish sauce. Use the smallest cooked shrimp or crawfish tails you can find. Add about ¼ teaspoon each of cayenne and mace to the butter and flour when you work them into a paste; use shrimp or other seafood stock, or white wine for the liquid; and stir the shrimp and a generous squeeze of lemon or tomato juice into the made base sauce over low heat. This is a good complement to grilled or sautéed fish.
- Curiously, the encyclopedic Elizabeth Ayrton has little to say about this sauce. She uses hot salted water instead of cold liquid to make hers, and an egg yolk beaten with a Tablespoon of cold water. It is difficult to make.
- Jane Grigson, citing Francatelli, adds a Tablespoon of heavy cream at the end of the base sauce - - even after the addition of the lemon juice.
- Mrs. Grigson liked this sauce too, and in 1974 predicted its return:
"I suspect that melted butter, or English butter sauce, is in for a come-back. With the popularity of the nouvelle cuisine, the light but rich texture of butter thickened sauces has become popular again." (English Food at 352)
That, sadly, has not happened, but we can change the landscape: To the barricades for melted butter!
- The major pitfall to avoid in making English butter sauce is separation, or "oiling." That is why it is important to use cold ingredients. If you are unfortunate and despite your energetic precautions the sauce has separated, whisking about 2 Tablespoons of cold water into the mess should restore its emulsion.