Six starters.
This soup is liberally adapted from Marie's Melting Pot by Marie Lupo Tusa, her 1980 chronicle of the Central Grocery in New Orleans. While the recipe indisputably is New Orleanian in concept, it also uses ingredients and combinations of them that adhere to the spirit of the eighteenth century English kitchen.
---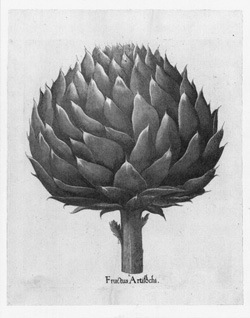 -2 Tablespoon butter
-1 onion, peeled and finely diced
-1 rib of celery, finely diced
-2 peeled and minced garlic cloves
- ½ teaspoon dried thyme
-2 bay leaves
-1 Tablespoon good extra virgin olive oil
-1 can or package of frozen artichoke hearts, thawed, and cut into 3/8" ribbons
-1 cup clam broth or oyster liquor
-2 cups pork, ham or chicken stock
-cayenne and hot sauce to taste
-2 Tablespoons minced parsley
-3 Tablespoons minced scallions
-black pepper and salt to taste
---
Melt the butter in a heavy pot over medium heat and add the onion, celery and garlic. Cook until they soften but do not brown: Reduce the heat if necessary.
Add the thyme, bay, olive oil and artichokes, stir everything together, add the clam juice or oyster liquor and stock along with the cayenne or hot sauce, bring to a boil, then cover, reduce to a simmer for about an hour.
After 45 to 50 minutes of simmering add the parsley and scallions, taste for salt and pepper, and simmer for the last 10-15 minutes.
Puree the soup with a hand blender or food processor and serve hot.
Notes:
-The original recipe is plainer. It omits the butter, onion, celery, cayenne or hot sauce and thyme, uses water instead of stock and does not sauté anything: The soup is just boiled and then simmered. Nor does Ms. Tusa puree her soup.
-For a more assertively English (or Creole rather than Italian) undertone, substitute lard for the olive oil.
-The soup is much better pureed: The process really pulls up the flavor of the artichoke.
- For a treat, poach a dozen oysters in the pureed soup or add a handful of shredded ham at table. Or add them both.