Jane Grigson's rendition of Margaret Costa's 'Green Soup'
Here is Mrs. Grigson in characteristically generous form, giving credit where due: "One of the best springtime soups has a sharp acid flavour, which dispels the stodgy feelings left by winter food. Most recipes for sorrel soup cook the leaves in with potato and onion, but Margaret Costa had the excellent idea of using raw sorrel leaves and a blender, so that the fresh flavour and colour remain unspoilt."
---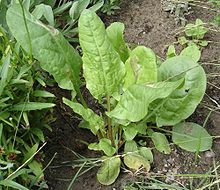 1½ oz unsalted butter
about ½ cup minced onion
2 medium potatoes, peeled and diced
1 quart good chicken stock
a little grated nutmeg
Salt and pepper
pinch of sugar
2 good handfuls of sorrel (see the notes)
4 Tablespoons heavy cream
chopped chives
---
Melt the butter and cook the onion until it softens but does not brown.
Stir in the potatoes and stock. Add seasoning. Simmer until the potatoes in turn soften.
Meanwhile cut away any thick stems from the sorrel and wash it well.
Add the sorrel leaves to the onion and potato mixture and puree the soup with a hand blender (or in batches in a conventional countertop blender; less convenient) until it become smooth and turns a bright green.
Dump the soup into the pot in which you cooked the onion and potato mixture.
Check the soup for seasoning and consistency: Add more stock or water if necessary, and reheat without the soup but do not bring it to a boil or the sorrel will turn ugly and lose its flavor.
Add the cream and chives. Pour into a tureen and serve with the cubes of bread.
This soup can also be served chilled, but it will need a little more cream and quite a lot more liquid.
Notes:
- Mrs. Grigson again, on the preparation of sorrel:
…. [A]s a general guide I find my handful varies between 125 and 150 g (4-5 oz), and that for most occasions a couple of handfuls is enough. You will find that in most sorrel recipes there is plenty of give-and-take as far as quantity is concerned. The final taste is all that matters, and that can be adjusted easily enough. Another point to remember is that young bright leaves, the ones that are barely unfurled, taste freshly sharp. When the leaves are big and dark green, they become very strong indeed and a little coarse in flavour. Then they must be used with discretion. As most handfuls involve a mixture of leaves at various stages, the whole thing balances out.
When you bring in the sorrel, wash it well and tear away blemished bits of leaf. Cut off the stalks and the larger ribs. Stack the leaves in one or two piles, then roll them up and cut across with scissors. The strips will melt rapidly into a puree, without stringiness or the need for sieving…. "
Mrs. Grigson gives further good advice in warning her reader not to use a stock or 'bouillon' cube.
As she also notes, you can serve the sorrel soup cold, but then will require a little more cream and a lot more stock; use your judgment to obtain the consistency you like.
Mrs. Grigson always served her sorrel soup with little cubes of crustless bread fried in butter, an excellent accompaniment.
All quotations in this recipe and its notes come from Jane Grigson's Vegetable Book (London 1979) 454-56.