Acadian stuffed dumplings.
Chinese cooks have nothing on Atlantic Canada except perhaps a heightened visual aesthetic. These poutines rapees may have "a greyish colour and gluey texture" but the flavor of these potato dumpling stuffed with salt pork is as appealing as a pork bun from the dim sum trolley.
---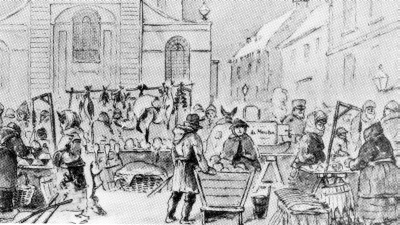 -½ lb salt pork, the fatty kind in stores
-6 grated Maine potatoes
-4 more potatoes, these cooked and mashed
-salt and pepper
-flour (preferably Wondra)
---
Soak the pork in a generous bath of cold water overnight to leach away some of the salt. Dice the pork and divide it in 6.
Squeeze as much liquid as you can from the grated potatoes by wringing them through a dishtowel or other cotton cloth.
Mix the mashed with the grated potatoes and season them generously with pepper, and judiciously with salt.
Roll the potato mix into 6 dumplings; each should be roughly the size of a baseball.
Punch a tunnel just past the center of each ball, deposit a measure of pork, and close each tunnel.
Roll each dumpling gently in flour.
Carefully roll the dumplings, no more than 2 at a time into a big pot of boiling saltwater: Try to maintain a rolling boil.
Reduce the heat to a simmer and cook the dumplings at a bare burp for about 2 ½ hours.
Serve the dumplings buttered and hot with more pepper and salt.
Notes:
- According to A Taste of Acadie (incidentally the source of the quotation in the introduction to the recipe) by Marielle Cormier-Boudreau & Melvin Gallant (Fredericton, New Brunswick 1991), these dumplings are considered a 'national' dish in southeastern New Brunswick.
- Atlantic Canada has a traditional sweet pie with a molasses filling enhanced by fried salt pork. This variation on British treacle pie may sound incongruous, but does have considerable appeal. Molasses is not quite so sweet as black English treacle, and the salt pork adds a nice tang the cuts what can seem a cloying sweetness. It should be no surprise, then, that these stuffed dumplings traditionally also have been topped with sugar and molasses to serve for dessert.
- Pig in a bag, or Cochon en sac, apparently is a specialty of Cheticamp. Add a teaspoon of baking powder and about half a cup of flour to the potato dough and shape it into a fairly thick plank. Place the salt pork down the middle, seal up the pudding, dust it with flour and tie it in a cotton towel or, if you are determinedly historicist and like to sew, a cotton pudding bag. Then boil away for the same 2-3 hours. (Acadie 123)
- Acadians also slice cooked poutines to fry in butter.