It's metaphorically fourth & long to the north of Oxford, or, our Rural Correspondent goes punting for a pint & finds some food.
What to do in Oxford? Well, you can read for a degree--or try a spot of punting. In Cambridge, because the River Cam flows more or less through the old city and close to many colleges, it is hard to avoid punts and punters. Things are different in Oxford. Within the city limits the river bisects a wedge of rural land that separates North Oxford from New Marston. In this landscape deer graze and snakes slither within a half mile of central Oxford. But many a day tripper will never see a punt or even the premier punting river, the Cherwell (pronounced Charwell). Punting in Oxford provides an opportunity to glide through pleasant countryside but gives the punter only glimpses of 'dreaming spires.'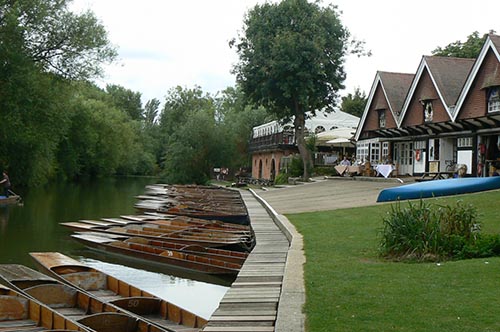 There are two main punting stations in Oxford, near the city centre below Magdalen Bridge and in North Oxford at the Cherwell Boat House (CBH). The CBH is tucked down a lane off Bardwell Road between Dragon Prep and Wolfson College. It has a large fleet of punts plus a few rowing boats. As a business, renting punts is like selling ice cream. On a hot day it is a winner worth thousands of pounds. But if the weather is cold and wet (Britain occasionally has such days) things can be slow. In the typical summer it is a case of a few boom days followed by bust.
Punting is not difficult and the accomplished practitioner should be able to achieve a speed of around 3mph. Most practitioners, however, are not accomplished, so here are a few tips. Punters, who will stand on the stern at the Oxford end (i.e. on the keel of the punt and not on the decking by the bow on the Cambridge end), should aim to occupy the middle of the river where the bottom consists of hard gravel and the depth is around eight feet. Avoid the side of the river; it is overhung by willows, is shallow and has a muddy bottom. A muddy bottom means a stuck pole. Once in midstream, let the pole slip rapidly through your hands to the bottom. Then, feeding the whole length of the pole through the hands, give it a good push. The next step is the most important: With most of the pole trailing in the river, use it as a rudder to maintain direction and station in the mid-river. As your speed decreases and your punt points in the desired direction, repeat the exercise. Finally, try to remember that the paddle issued with punt is not an auxiliary power source but your means to retrieve a stuck pole. And, as the paterfamilias in Hope and Glory warns his grandson, "Never leave the punt for the pole," unless, of course, you like to bathe in riverene murk.
The Victoria Arms, or Vicky Arms as it known to all but the benighted, is a hospitable public house along the river that even the uninitiated should manage to reach within 30 minutes; head upstream. Then beach your pint, savour a pint or two or more (but do not leave the punt for that pole, however unsteady your later stance) and smile in the knowledge that returning to the CBH is downstream all the way.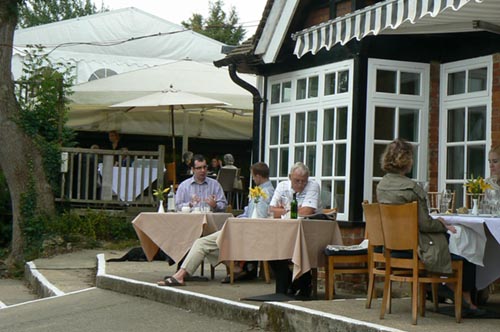 The CBH itself is a gem of Edwardian architecture from 1904. Aside from punts it offers ice cream, along with food and drink in a tea room, and a bar and restaurant. The restaurant is open all year and has outside tables within yards of the river as well as others inside with good views, so is at its best during the summer. Even so, the exposed beams and brickwork of the entire room make it bright and attractive. Two of us went for lunch on a dry but chilly day, so we chose one of those inside tables. At lunch on a weekday there are several dining options. First is the weekday lunch priced at £13.50 ($21.50) for two courses or £17 ($27.00) for three. The choice is limited but the value is excellent. Second is the set menu, also available for dinner, at £20.20/£24.50 (lunch) or £24.50/£26.50 (dinner). Finally, there is a la carte. On the day of our visit, appetisers included crab bisque, poached squab and a 'taste of the sea' (scallops, crab, manila clams, red dulse and sea lettuce). A la carte entrees included panfried turbot fillet at a rather steep £30 ($48); sea bass with Jersey Royal potatoes, samphire and sauce vierge (£24/$38.50); and panfried Tamworth pork chop with mustard mash and rosemary jus (£17.50/$28).
We both chose the weekday lunch and started with a salad of chicken, prawns, avocado and pecans. The Education Correspondent moved on to bavette of beef with Roquefort and red onion butter, handcut chips and field mushrooms. Your Rural Correspondent opted for grilled red mullet (slightly underdone), peas, red onion, red pepper, Jersey Royals and wasabi salad. The three desserts on offer, for which we had no room, were lemon and lime cheesecake, cherry, ice cream and sorbet.
An extensive wine list featured bottles from an Oxfordshire vineyard. Bottle prices ranged from £14 to £500 (for a Montrachet Grand Cru 1997). Our drinks bill, for a glass of champagne at £9 ($14.50), a Budvar, two glasses of wine and two coffees, exceeded the food bill; the total (excluding service) came to £55 ($88). Service, sad to say, was patchy.
For those who visit Oxford and wish to look beyond the ancient colleges, the short walk from town to the CBH is recommended. Take in the striking Victorian and Edwardian domestic architecture of North Oxford along the way. If you are diligent, find a copy of North Oxford by Tanis Hinchcliffe (London 1992) before you go. Hinchcliffe provides not only a good analysis of this noteworthy residential suburb developed by St. John's College but also lively profiles of its colourful residents. Diligent or not, go early, punt to the Vicky Arms for those pints, and finish with dinner back at the CBH.