---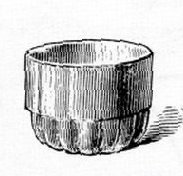 -4 oz unsalted butter
-juice of lemon
-1 teaspoon anchovy paste or sauce
-a bay leaf or 1/8 teaspoon powdered bay
-cayenne to taste
-1/8 teaspoon mace
-about 1/3 lb crawfish tails
-salt
-white pepper
-about 2 Tablespoons clarified butter or ghee
---
Melt the butter in a small, heavy pot over low heat and add the lemon juice, anchovy, bay, cayenne and mace.
Simmer the flavored butter for a few minutes to marry the flavors.
Add the crawfish tails to the pot, increase the heat to medium and cook until the tails curl into tight coils.
Turn off the heat, remove the bay leaf and season the crawfish mixture with salt and white pepper; allow the buttery mixture to cool but not to congeal.
Once the crawfish mixture begins to set, spoon it into four ramekins.
Melt the clarified butter and pour it carefully atop the ramekins to form a skin over the crawfish mixture.
Chill overnight before serving with hot toast and lemon wedges.
Notes:
- Hix uses considerably more butter in proportion to crawfish and omits the traditional cap of clarified butter. He also precooks the crawfish before blending it with the cooled, seasoned butter. Our version assumes that you are using thawed frozen tails; it is both simpler and better.
- An improvised if less traditionally British version of potted crawfish adds the Louisiana trinity to the crawfish mixture and substitutes Louisiana spicing for the anchovy and mace. To make Louisiana potted crawfish, add the lemon juice and bay to the butter at Step 1 along with a heaped Tablespoon each of minced bell pepper, celery and shallot, along with the cayenne and pinches of dried thyme and mustard powder; omit the other ingredients from Step 1. Cook over medium heat just until the vegetables soften, add a dash of Worcestershire, then complete the recipe by following steps 3-7. If you have any, the merest drip of liquid crab boil enlivens the dish; add it with the crawfish at step 3. We like this cultural hybrid a lot.
- Another sort of hybrid, something like a cross between a potted food and a terrine, called "cray fish cheese," appears in The Illustrated London Cookery Book (London 1851) by Frederick Bishop:
"Having washed and boiled the fish, take off the small claws and tails and set them aside, chop the meat that remains in the shells with some other fish, artichoke bottoms, sweet herbs, and butter; mix them well and put it in a dish in the form of a small cheese, round which lay the tails; cover it with bread crumbs, and colour it in the oven for a quarter of an hour."
It is difficult to know what to make of the reference to the meat 'that remains in the shells' because there really is not any; use chopped tail and claw meat instead. Proportions are up to you, but equal measures of crawfish, flaked, cooked finfish and chopped artichoke bottoms bound with half a measure of butter in proportion work pretty well. Any fresh herbs will do; add some cayenne, salt and white pepper to season the 'cheese.'
-There is a conceptual intersection of England and Louisiana in the marriage of shellfish and artichoke. Crabmeat Yvonne is a fixture at Galatoire's restaurant in New Orleans; Crawfish Yvonne does not appear on the menu (which regular customers advisedly ignore anyway; your waiter will steer you, reliably, to the fresh catch) but the kitchen always is happy to prepare it on request in crawfish season. The recipe is simple and superb; its secret is a base of what Galatoire's, with New Orleanian eccentricity, calls 'meuniere butter.'