A simple and appealing recipe from Eliza Acton. Nobody can guess what it is made from but everyone likes it.
---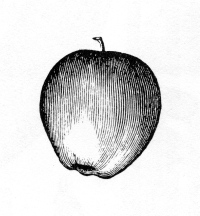 - 1 ½ quarts beef stock

- A pinch of rubbed sage

- ½ lb apples, peeled, cored and shredded or sliced thin

- ½ teaspoon ginger

- scant ¼ teaspoon finely ground black pepper
---
Bring the stock to a boil, add the apples and sage, and return the heat to a boil.
Reduce the heat to low, cover the pot and simmer for about 40 minutes.
Strain the soup: You should be able to push all of the apple pulp through the screen.
Return the soup to low heat, add the ginger and pepper and return to a simmer for 2 – 3 minutes.
Notes:
- Not necessarily traditional, but this soup is also good garnished with finely sliced scallions or chives.
- Some versions call for stirring rice into apple soup, but the Editor does not do it.