An Appreciation of the sheep's head, both at the table & on the page.
Lent is upon us, and the religious may turn their thoughts to Easter and gamboling lambs, if only to roast on the day. We therefore offer this Appreciation in our ongoing effort to promote seasonal foodways.Previously in the critical ("An Appreciation of British Soups," from No. 15) we have confessed our passion for the tete de veau served up with regular relish at Tout Va Bien in Hell's Kitchen, and on we go. For some reason pig's head has a less grisly and more acceptable reputation; people who could not imagine dining on calf's head will tuck into brawn, also called head cheese and sulze. Even supermarkets stock it in the deli counter for slicing.
This winter The Harrison in Manhattan has offered a particularly good deep fried rendition of head cheese, and our own Charles Burling, justly famous for his series of Notes From the Edge (of the Forest of Dean) here at britishfoodinamerica, has fashioned his own brawn from the head of a pig. Less resourceful cooks may have balked at this gift from a South London butcher but Charlie went straight into consultation with Mrs. Beeton and triumph.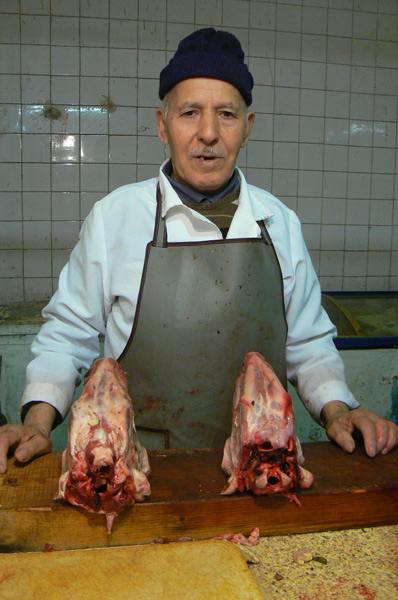 We now also admit to a certain fascination with sheep's head which, unlike the head of a cow or pig, is a commodity that the reasonably diligent shopper may acquire on a regular basis, at least in the environs of New York City. Sheep's head dishes have an ancient pedigree and have had a particular association with the morning meal. They also have considerable "literary and political credentials." (Hope 162)
In 1773, Dr. Johnson indignantly refused an offer of "some cold sheep-head for breakfast" on the Isle of Mull. His reaction delighted Boswell, who had encouraged their hostess in the offer from "a mischievous love of sport." (Journey 406)
Enlightenment Edinburgh celebrated sheep's head in both its rationalist and romantic phases. Ferguson wrote that "A gude sheep's Heid/Wha's hide was singeit, never fleed." (that is, not 'flayed,' in other words cooked whole), and Burns did not confine his culinary odes to the haggis:
"O Lord, when hunger pinches sore
Do Thou stand us in stead
And send us, from thy bounteous store
A tup or wether head."
-A Grace From the Globe Tavern, Dumfries, presumably for the table.
A 'wether' is a male sheep; 'tup' means ram. (dsl online) These enlightened sheep's heads were served simply, garnished with carrot, onion and turnip, and napped with brain or parsley sauce after a long, slow simmer. (McNeill 184)
Powsowdie, or variously powtowdie or powsoudie, the traditional sheep's head broth, was "the first Scottish dish encountered by the Wordsworths and Coleridge on their Scottish tour." Dorothy Wordsworth wrote that they "ate heartily of it." (Hope 162)
Sheep's head continued to sustain the impecunious in the British Isles for centuries. In his poignant portraits of nine Chelsea Pensioners, Philip Ziegler describes the living conditions of one poor family with six children in Hampshire during the early twentieth century. He recounts circumstances of considerable deprivation and crowding but also notes that it "was a happy enough home." (Soldiers 48-49) The family could not afford to buy fruit except perhaps for the odd orange at Christmastime, but like the urchins in Lark Rise, these siblings foraged the hedgerows and fields on their way home from school for berries, nuts and other wild foods. Potatoes were too expensive but their mother was both diligent and resourceful. She kept her children fed. "A cauldron of stew was almost always on the hob: a half sheep's head provided its meager element of meat; Swedes, turnips and other root vegetables were added as they became available." (Soldiers 48-49)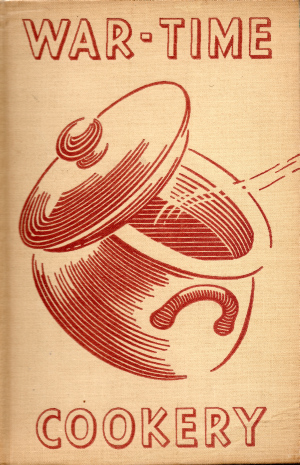 During and after the Second World War, offal was one of the few meats that was "off the ration" for all but two years, and recipes using sheep's head duly appeared in the proliferation of little cookbooks printed on brittle acidulous paper "in complete conformity" with the "Book Production War Economy Standard." They have not aged well and neither have many of their recipes, although the sheep's head broth from Mrs. Arthur Webb's War-Time Cookery, which notes that the "meat from a sheep's head is tender, well-flavoured, and easily digested," sounds indistinguishable from the early nineteenth century stew that Zeigler describes in Soldiers. (Webb 21)
Perhaps anachronistically, Jane Fearnley-Whittingstall recently has argued that even in wartime "[m]ost people drew the line at sheep's head" and adds that "[w]e may not care to try some of the more bizarre recipes from the rationing era," including a Sheep's Head Roll from a source she fails to identify. (Ministry 13, 114) Such a recipe does, however, appear in Food Facts for the Kitchen Front first published by the Ministry of Food during 1941 and does not sound bad. It is essentially a terrine that encases tongue in the other meat from the head mixed with oatmeal, something like a brawn without so much jelly. (Facts 92-93) The squeamish may like to try the technique using ground lamb instead of a minced head.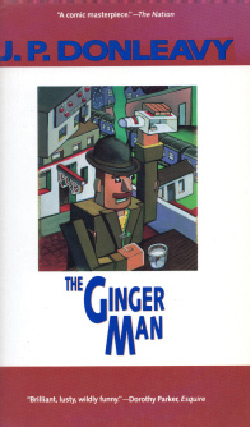 In postwar Dublin, J. P. Donleavy gives his boozy, lecherous and broke protagonist, Sebastian Dangerfield, an appetite for sheep's head, although his wife Marion demurs:
"And you can do some shopping too. Get me some bones from the butcher and don't bring back one of those revolting sheep's heads…. "
"I insist on a sheep's head." (Ginger Man 61)
Later that day, "[t]here was a sheep's head simmering in the big black pot" and poor Marion notices: "That's such an odor." Dangerfield, as in all things, is unrepentant: "I tell you, it's the finest thing in the world. I need it for my brains. Sheep's head gives brain food." (Ginger Man 64)
It is a reliable solace in Dangerfield's disintegrating world, and its contemplation brightens, however temporarily, his darkening mood. He has neglected his legal studies and shambles back to a squalid home in rumination on failure. "But now I'll get back to that sheep's head. Eyes. I love the eyes. I'll give a clear soup to Marion…. O I smell it. O me. Am I a cook." As a bonus, Dangerfield even got leftover soup jelly to heat for breakfast, like a Scot. (Ginger Man 80, 108, 109)
Then again, he also cheats on his wife, beats her, manages inadvertently to douse her in excrement and as to their baby shouts that "in the matter of foulness I'll see to it she's laid before she's fifteen." (Ginger Man 53) He may not be the best ambassador on behalf of sheep's head.
It did not just feed the poor. According to the authoritative (and wonderful) Marian McNeill, "'Gellied sheep's heid' was for centuries a favourite dish among all classes in Scotland. It appeared at the court of successive kings, and could be procured at almost any hostelry throughout the land." (NcNeill 186) We have lost so much in this as in many other things.
Mrs. Beeton, exemplar of the Victorian middle classes, included a good recipe in 1861, and called sheep's head "this ancient and homely Scottish dish." (Beeton 351)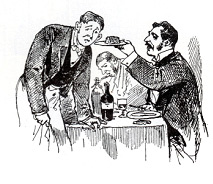 You call this sheep's head?
Charlotte Clark was wealthy enough to employ and instruct cooks rather than join them in preparing food. Her sprawling collection of kitchen manuscripts gathered from hundreds of home cooks was published posthumously as The Cookery Book of Lady Clark of Tillypronie in 1909 and "epitomizes the gastronomic life of late Victorian aristocracy." Lady Clark kept seven recipes for sheep's head, including one for powsowdie and another for pie. She particularly liked braised sheep's head with brain sauce. "The Clarks," in general, as Annette Hope wryly notes, "must have been very fond of sheep's head." (Hope 83-84, 161)
So was George Saintsbury, an Englishman educated at Oxford who held the chair in rhetoric and English literature at the University of Edinburgh from 1895 until 1915. He is a fascinating character who deserves an Appreciation of his own, and bfia intends to give him one. Meanwhile, in one of his Notes on a Cellar-Book, published in London during 1920, he properly insisted that:
"The people who regard haggis and sheep's head as things that the lips should not allow to enter them and the tongue should refuse to mention are (begging their pardon) fools. I believe it to be a fact generally and know it to be one in some actual cases, that… a cold sheep's head pie offered as a sort of galantine do[es] not fail to deceive and delight the average Southerner." (quoted in Hope at 124)
Of course by 'Southerner' Saintsbury refers to Sassenachs like himself and Dr. Johnson, if only he too would have consented to sample the delicacy.
At least until the First World War, all of Glasgow "solemnly" went "through the curious rite of eating mutton-heads and trotters" on Wednesday, a practice that apparently faded with wartime food shortages. (Munro, quoted in McNeill at 185)
Dorothy Hartley, the great chronicler of British foodways, wrote at mid-century that sheep's head is an "excellent dish, but one that takes time…. A properly prepared dish of 'sheep's head meat' is a very delicate and very nutritive dish. Her recipe includes herbs and spice, barley, celery, onions "put in 'whole,' as the outer skins make the broth a rich golden colour" and a variety of root vegetables. It sounds like powsowdie but while Mrs. Hartley does not call it that she does attribute the dish to the Scottish lowlands." (Hartley 146, 147)
As late as 1974, the Caledonian Club in London served powsowdie, and Robin McDouall reproduced the recipe in his laconic and funny Clubland Cooking.
Things have changed. "The trend to ease and speed in cooking nowadays means," according to Annette Hope, "that sheep's head is rarely on any menu." (Hope 162) That explains part of it but so do eyes, teeth and now even tongue, which tend to discomfit small children and squeamish adults during this era of factory food in which some diners cringe even at the sight of meat on the bone. Many people do not like to think about the origin of their food.
Hugh Fearnley-Whittingstall (Jane's grandson) is not one of them, and has good things to say about both beef and lamb's heads in The River Cottage Meat Book, but offers no recipes because both of them remained banned in Britain at the time of its publication in 2004 due to the BSE scare. They now have become legal to sell again in the UK.
Split fresh sheep's heads always are available twenty minutes from Lower Manhattan at A & J Seabra's Supermarket on Lafayette Street as well as at other grocers in the Newark Ironbound. Seabra's itself operates stores in other Portuguese neighborhoods throughout northern New Jersey, Florida, southeastern Massachusetts and Rhode Island.
Recipes using sheep's head, or at least inspired by it, appear in the practical.
Sources.
Anon. (UK Ministry of Food), Food Facts for the Kitchen Front (London 1941)
Isabella Beeton, Beeton's Book of Household Management (London 1861)
Ronald Black (ed.), To the Hebrides: Samuel Johnson's Journey to the Western Isles of Scotland and James Boswell's Journal of a Tour to the Hebrides (Edinburgh 2007)
George Blake (ed.), The Looker-On (essays by Neil Munro; Glasgow 1933)
Charlotte Clark, The Cookery Book of Lady Clark of Tillypronie (London 1909)
Dictionary of the Scots Language, www.dsl.ac.uk
J. P. Donleavy, The Ginger Man (New York 1988; orig. publ. 1965)
Dorothy Hartley, Food in England (London 1954)
Annette Hope, A Caledonian Feast (Edinburgh 1987)
Hugh Fearnley-Whittingstall, The River Cottage Meat Book (London 2004)
Jane Fearnley-Whittingstall, The Ministry of Food: Thrifty Wartime Ways to Feed Your Family Today (London 2010)
Robin McDouall, Clubland Cooking (London 1974)
F. Marian McNeill, The Scots Kitchen; Its lore and recipes (St. Albans, Herts. 1976; orig. publ. 1929)
George Saintsbury, Notes on a Cellar-Book (Berkeley 2010, orig. publ. 1920)
Mrs. Arthur Webb, War-Time Cookery (London 1939)
Philip Ziegler, Soldiers: Fighting Men's Lives, 1901-2001 (New York 2002)