The globalization of Chicago foodways, featuring the transformation of Bridgeport and an Appreciation of Art & Chelsea Jackson at Pleasant House.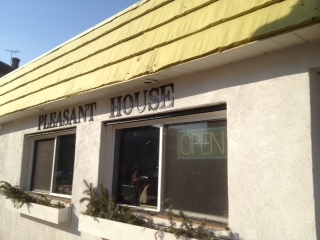 1. A city of nations.
A lot of foods come to mind in connection with Chicago, even if the city does not necessarily get its culinary due from the coastal press. Old School offerings include deepdish pizza, Polish sausage, Italian beef, smelts in season, steak of course and an indigenous 'Old Vienna' hot dog loaded with toppings and condiments. Much that emanates from Chicago originates in its humbler precincts, fitting for what considered itself a brawling and bluecollar town through most of the twentieth century.
Notwithstanding its checkerboard of immigrant neighborhoods and coterie of cultured and connected power brokers, what traditionally was the least cosmopolitan of the great American cities for the most part contented itself with itself. It drew upon its polyglot nature to breed a personality all its own, and while it has become a regional magnet for the restless, creative, and even artistic strivers of the hinterland, Chicago retains a certain suspicion of outsiders.
It also drew on ethnicity to create its own dish, 'Chicken Vesuvio.' Scoffers who discount the connection and point to Italy instead ignore the inconvenient fact that the dish appears on menus throughout the city and nowhere else. The time and place of its origin are subjects of dispute, but Chicken Vesuvio probably first appeared during the 1930s at a restaurant called, no points for guessing this one, Vesuvio.
The ingredients include the chicken of course, browned in olive oil with garlic, oregano and sometimes other herbs, white wine and sometimes lemon juice, and potatoes. The elements of the dish are hardly unique, but as prepared Chicken Vesuvio does not quite taste like anything else. Like chowder or gumbo, it does not travel well, but try it in Chicago and you will understand why the dish remains a fixture not only at Italian places, but also steakhouses and other kinds of restaurant there.
Latterly the city has acquired a reputation for Mexican, Thai and Vietnamese food brought to the city by recurrent tides of immigration, from both outside and within the United States.
Chicago has not always been recognized anywhere for its food. In 1960, for example, Clementine Paddleford included not a single recipe from the city in her Great American Cookbook. Its five hundred recipes originated in each of the fifty states, but none of the ten from Illinois bears the stamp of Chicago. Then and for years, the city never challenged rivals like New Orleans, New York or San Francisco as a culinary destination, but that has changed.
Le Francais out in Wheeling may have pioneered the transformation of Chicago dining back in the 1970s, and may have been the finest classical French restaurant in the United States for a time.
Now sophistication has invaded the hog butcher to the world, and not only in the guise of Charlie Trotter's pristine yet complex creations. Much that he has done takes an innovative approach to the best of French technique, but Chicago offers more. No place outside of Spain is so known for the mad science of molecular gastronomy. The leading practitioner in the city, Alinea, may stand in stature behind only the restaurants of Heston Blumenthal and Ferran Adria.
A cohort of upmarket Mexican restaurants, most notably the Frontrera Grill and Salpicon, has pushed the boundaries of Mexican cuisine to the extent that you are unlikely to get anything as good in Mexico as you can find in Chicago.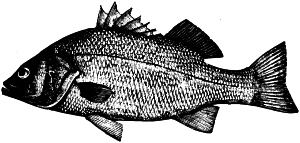 Seafood? They fly it in, so that Chicago fish can be fresher than you find in New York, where much of the catch that lands in restaurants is trucked down from New Bedford over a longer period of time. The Editor does not exaggerate; Shaw's Crab House has repeatedly and justifiably been named one of the country's best oyster bars by any number of publications. It has no dearth of Chicago challengers to the title.
This most archetypally American of big cities has gone global despite itself, and no restaurant in the United States is more celebrated than Next, where Dave Beran changes cuisines on a monthly basis and nobody can score a table without foresight and luck. The restaurant sells tickets online instead of taking reservations (no telephone listing), seats are released on a sporadic basis and, like airline tickets, vary in price depending on the date of purchase. Beran first cooked belle epoch Paris; Thai turned up next and critics have fought among themselves, but only about which iteration impressed them more. The James Beard Foundation has nominated Next for 'best new restaurant' and Beran for 'Rising Star Chef.'
2. The British finally arrive in Chicago.
The city of broad shoulders hosts a couple of more or less authentic British bars--the Duke of Perth, for example, stocks Scottish beers by Bellhaven and English ales by Wells, both on draft--and even has embraced that most English of innovations, the gastropub. Both Longman & Eagle and Publican have attracted national press, and lesser known examples, along with dreaded wine bars, open all the time. If the food in these places gives scant if any attention to the British idiom, they are serious about their British beer. Publican for example taps Jaipur IPA from the independent Thornbridge brewery in Derbyshire, and if it is not cask but keg, it is not at all bad.


Owen and Engine
Others concentrate on British styles from Midwestern craft brewers. They get less attention than their coastal counterparts, but IPAs from any number of shops in and around Chicago take a bow to none of the competition. Owen & Engine, for example, "is based on a simple idea of offering rustic British-inspired comfort food with real ales and a carefully crafted beverage progam." (www.owenandengine.com) Much of the inspiration sends Owen & Engine away on vectors beyond the British idiom, but they do offer roast marrowbones and Scotch eggs along with the ubiquitous fish & chips, which at times appears to have become the official dish of the city.
To their immeasurable credit, they also offer hand pumped American beer in cask. This is the traditional ale of Britain, matured in cask and fined with a second jolt of yeast, flattish (no added CO2, only the slight buzz of fermentation) and flighty, but when handled with care the best styles of beer, on this planet anyway. At this writing, three ales from Arcadia are on the engines at Owen & Engine.
Arcadia the brewery, not the rural paradise; it is located in Battle Creek, home of the flake and now also of imported British beermaking equipment. Arcadia's devotion to the beer styles of Britain is unsurpassed in the United States; at this writing their 'real ales' on tap at Owen & Engine include an ESB, an IPA and a porter. Each is worth the trip.
It is in the most unlikely place and in an unlikely way, however, that the best British food has landed in Chicago. Bridgeport, a scruffy precinct on the near southwest side of the city, has been known for many things. The vast Union Stockyards and their industrial abbatoirs earned Chicago its title as hog butcher, and at least as much beef as pork hit the rails at the peak of production.
Bridgeport has been Irish and clannish and racist and suspicious of outsiders. Its insularity bred one of the great American political dynasties and its fearsome machine. No Daley occupies the mayor's office or stalks the West Wing of the White House any more, but when they did, their base had been Bridgeport, where the streets got plowed while the 'liberal' neighborhood of Hyde Park stayed buried by snow.
Nothing remains the same, not even in Bridgeport. The Daleys with most of the Irish have moved on, and like Pilsen to the north, immigrants from this hemisphere have replaced much of the old European ethnicity. You will hear Spanish now, and find other things a Daley might have thought strange, including community gardens and British pies.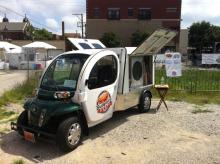 Cornish pasties emerge from the food truck of Bridgeport Pasty. The little handpies are properly constructed by a couple of earnest urban gardeners who discovered them during a bicycle tour of Britain. They fill the crescents three different ways, including the traditional mixture of beef, onion, potato and turnip. But for its origin outside Cornwall, the European Union could confer its coveted 'Protected Geographical Indication' designation on this product; it is that authentic.
Their pasties are good, so good that last month Bridgeport brought a third place finish back to Chicago in the 'open savoury' category from the International Pasty Festival held in Bodelva, Cornwall. They were the only Americans, the only non-British baker for that matter, to earn an award.
3. Yoopers and miners, their pasties and figgyhobbin.
Not that pasties are alien to all Americans. Unlike the press of other traditional British foods, they have retained their bridgehead in the United States, or at least the Upper Peninsula of Michigan, at least since the middle of the nineteenth century. That is why Bridgeport calls its beef based pasties Yoopers. It is a term not only for the inhabitants of the Upper Peninsula, but also for their dialect. Yoopers celebrate their most characteristic food each June with their Pasty Fest in Calumet, Michigan.
Cornish tin miners brought their pies, traditionally taken underground for lunch, with them when they immigrated to the new world. And not just to Michigan; the Cornish introduced pasties to the mining country of western Pennsylvania, where they still appear, and have established outposts in the unlikely locations of Arizona and southern California.
Pasties may have arrived earlier, possibly before 1830, to the east of the Upper Pen around Mineral Point, Wisconsin. Cornish people moved there to mine lead and later zinc starting at the end of the 1820s; by 1845 half the population bore Cornish blood. Some original houses in the Pendarvis part of town look identical to the country cottages of Cornwall and unlike anything else in the United States.
Mineral Point is a singular small town (population about 2500) in its devotion to Cornish foodways. Restaurants and shops still sell the pasties, and figgyhobbin, a traditional sweet suet pastry flavored with raisins. Food shops sell British goods too, along with the ubiquitous bratwurst and cheese of Wisconsin.
By the 1870s, Cornish emigrants were mining silver and baking pasties up in Montana at the encampments that became Butte. Pinky's Café in nearby Livingston still upholds their tradition; Anthony Bourdain recently ate pasties at Pinky's with 'No Reservation.'
Back south in Chicago, you can find the Bridgeport Pasty truck by visiting the bakers' website at www.bridgeportpasty.com.
4. The best British food in America?
The Pleasant House Bakery operates a food truck too, but unlike their neighbors at Bridgeport Pasty, they sell a bigger selection of British goods and run a shop, where you can eat in a tiny dining room open to the bakery behind. Art and Chelsea Jackson do it all, with a little help, and do it so well that theirs may be the best British food in America outside of a domestic kitchen.
They butcher their own meat from half hogs and sides of beef, grow many of the vegetables they use in a pair of community gardens right in Bridgeport itself, brew artisanal sodas and, of course, bake. They bake pies of steak and ale, mushroom and kale, a mild Balti, the curry from the English North, Cornish pasties and specials too. All of them are revelatory; during our visit the decidedly nontraditional if alliterative special was filled with chicken, cheese and chili. It was a happy trio; oozy cheese, moist meat and a hint of heat. Piecrust is ridiculous. It is light, flaky and bronzed; one food critic has written that it shatters in your mouth and the Editor cannot improve on that description.
The steak and ale pie may be best. That is fitting; beef based pies are among the glories of British food. This one has something indefinably interesting about it. What? With typical Anglostyle deprecation, Art says 'nothing really, it's just a basic Bourguignon;' fair enough, except for the ale, the bits of tomato and that indefinable appeal. It is the epitome of an English pie, made by an American couple here in the post-Hibernian heartland.
There is salad too, in March a winter one of bitter greens and orange segments scattered with shards of green and black olives boosted by dice of Feta and topped with shavings of Parmesan. The composition may use products imported from Greece and Italy but this was the taste of British food, a cuisine that has proven nothing if not promiscuous across the centuries. The great trading nation has imported scores of staples like Parmesan, anchovies and wine since Elizabethan times to stamp its island cuisine in a peculiar and appealing way.
You must make reservation for hearty high tea of an afternoon at the Pleasant House; on Sunday you may eat an English roast with its traditional trimmings. Do not let reference to high tea mislead you; It looks more like a working class caff in an English industrial city than a dining destination, but destination it ought to be.
This is a homely place that stands on no pretension; in fact it is a bit of a dump, one where we are happy to spend contented hours. You can still find this friendly, funky atmosphere in dives all over Chicago. They may serve different kinds of food but the feel is much the same. The species is a national treasure, endangered elsewhere now and routed in its former redoubts like Brooklyn or Seattle by battalions of hipster gentry.
Back in Bridgeport Art or Chelsea or both of them will interrupt the baking to serve your food, and if they appear harried--they work hard--they will take the time to answer questions and chat you up. They run out of forks and run back to the kitchen for more, or improvise with takeout plastic. You can help yourself to the HP and hot sauce if they forget, and get more food on the fly.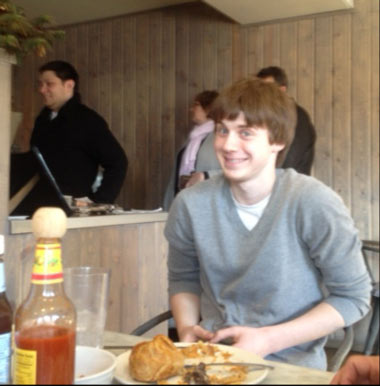 A satisfied customer at The Pleasant House.
5. A linguistic controversy.
No liquor license? No problem. Go to Maria's Packaged Goods and Community Bar next door to pick up a six; they stock dozens of craft ales from across the United States and around the world in their big old wooden icebox. The place is what some Chicagoans call a slashie, although a certain controversy attaches to the term, which does not seem to have appeared in print before 2006. That in itself is not dispositive, for we have seen how the publications of food terms and recipes can lag for a considerable time behind usage.
Pedantic guardians of Chicago's linguistic flame dislike 'slashie' as something novel, but the term is an excellent way to describe Maria's. Walk past the packy through a narrow hall and an inviting bar stretches the length of the back room. There is good draft beer here, and good food too, because Maria's and the Pleasant House are friendly. Visit or call the latter and they will serve you anything from their menu next door at the former.
Unlike the Pleasant House, Maria's has been around, if under various names, for a long time. It is a Bridgeport institution. Good food is not; Art cites its absence as a major incentive to open in the neighborhood. He wanted, he says, to bring its people something that they lacked. That contention is no marketing gimmick or icky slogan. The Pleasant House already has its haunting of regulars; some of them play soccer and first dropped by for postgame refueling some time ago. Everyone got to talking and now Pleasant House sponsors Royal Pie F.C. right in the heart of Bridgeport. Buy a shirt and help the cause.
Art Jackson's recipe for kale and mushroom pie from the Pleasant House Bakery appears in the practical.
Sources:
Clementine Paddleford, The Great American Cookbook (New York 2011); orig. publ. as How America Eats (New York 1960)