A pizza delivery resulting from an unlikely source prompts some consideration of things Newark--and Fluxus! featuring George Maciunas, Allan Kaprow and an online exhibition gallery.
It has been some time since culinary catastrophe has triggered a pizza delivery to the Editor's house but she recently ordered a pie (mushroom, onion and sausage) after running into the rain for some decent beer to drink with it.
1. A good company.
Any number of D'Artagnan products are expensive enough to make your eyes water but they are consistently good and, sometimes, come at a reasonable price. At about five bucks a pound a whole D'Artagnan duck, which you even can find fresh on a regular basis at supermarkets like the 'Big Y' chain in New England (they do sell food, not sex toys), is excellent value for money. The company has done a world of good in encouraging American consumers to add some adventure to their kitchens in the guise of things like the duck, its buffalo and boar.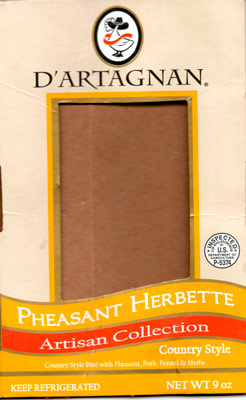 2. In praise of Newark too.
It also is praiseworthy that the company operates from Newark, New Jersey. Troubled, yes, and a shell of its former self, but Newark is still a city of unsung delights. The mayor counts as one. Corey Booker happily admits that he is addicted to Starbucks, the default target of other liberal urban activists, but lives in dire public housing and has to be the only politician of national stature who is a vegetarian African American orthodox Jew.
His city's art museum is a gem. The Newark Museum holds a smallish but intelligently conceived collection of American, African, Asian and Oceanic art (not much from Europe other than Portugal) along with, until 2010, a quirky 'zoo' of tiny creatures that lived in little windowed bays. They should bring it back.
The museum mounts imaginative exhibitions on subjects that more fashionable institutions ignore; for instance Stickley furniture a few years back and, in 1999, one of the better shows curated anywhere at any time, a celebration of eight Fluxus artists--George Brecht, Geoffrey Hendricks, Allan Kaprow, Roy Lichtenstein, Lucas Samaras, George Segal, Robert Watts and Robert Whitman--called "Off Limits: Rutgers University and the Avant-Garde."
3. Fluxus!
Brecht (unlikely enough a chemist at Johnson & Johnson) and Watts held weekly lunches at the Howard Johnson's in New Brunswick to plot Fluxus schemes; other artists joined them from time to time. Artists and provocateurs also affiliated with the movement were George Maciunas, whom many consider its founder, Al Hansen (his 'calliope venus' made from candy wrappers is a sexy hoot), Alison Knowles, Larry Miller and Robert Rauschenberg; adherents would include Yoko Ono.
In a very real sense Maciunas created Soho as well. After ambling through what then was a wasteland of industrial dereliction in 1967, he saw the potential for illegal "Fluxhouses" where artists could live and work on the cheap. By registering them as agricultural cooperatives, "a brilliant idea that he pulled out of his magician's hat," this "eccentric genius" hoped to evade the zoning laws that prohibited the residential use of loft space. (Bernstein)
Then,
"[w]hen the NY state attorney general investigated him for evading the real estate syndication laws, Maciunas turned life into art. He put a trap door in the ceiling for escape and put huge cutting blades on his door to prevent entry. He wore disguises when he went out and had friends mail prepared postcards from foreign countries to the AG so that they would think Maciunas was out of the country." (Bernstein)
He would succeed in the guerilla development of sixteen Soho loft buildings.
Fluxus was a raucous multimedia movement that celebrated transience and transgression: "The idea of art (or life) as a game in which the artist reconfigures the rules is central to Fluxus." (Schwendener) It originated at Rutgers University in the 1950s--take that, latecomers in Williamsburg--and spread around the globe to encompass painting, sculpture, installations, film, a Yam Festival, and the Orgies & Mysteries Theater.
Fluxus stagings included a "medical clinic" outside one of Maciunas' Soho Fluxhouses in which Watts and other Fluxants dressed in labcoats to measure the tongues of people in the street, and Flux-mass, "a mock religious action performance at Rutgers in 1970." (Bernstein; Schwendener)
4. Allan Kaprow and the action collage.
Kaprow coined the term 'happening' and staged the first one in 1958. The term and concept became ubiquitous; the lingerie company included "I dreamed I was at a Happening in my Maidenform bra" in its series of 'dream' advertisements.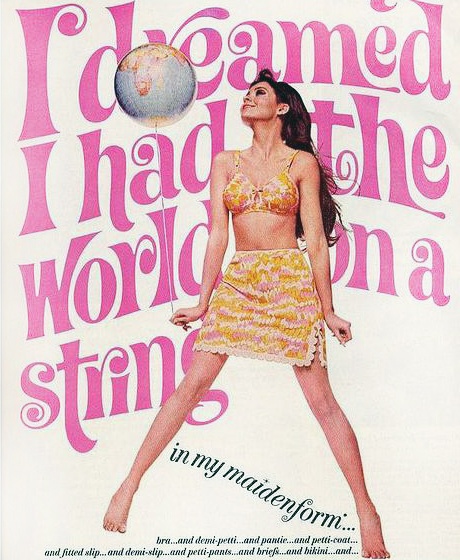 'Happening' had become synonymous with kooky, which pained Kaprow. In fact he was thoughtful and meticulous. As Charles Darwent explained in an obituary,
"happenings were misunderstood as flaky things carried out by beatniks with bongo drums. Actually, their pedigree, like that of their inventor, was intellectually immaculate, and they were far from being the haphazard things they seemed." (Darwent)
Happenings evolved from Pollack's 'Action Painting.' Kaprow extended the concept beyond paint itself, at first festooning his paintings with clumps of straw or wadded newsprint. He started adding armatures and other moving parts for people to handle, and eventually expanded his inventory of material to include, in his words, "chairs, food, electric and neon lights, smoke, water, old socks, a dog, movies, and a thousand other things." (quoted in Cotter)
Darwent called Kaprow's philosophy "fiercely democratic: where Situationists held every man to be his own artist, a happening turned him into his own artwork." (Darwent)
Kaprow was kind and unassuming, and unlike so many artists and architects (Charles Moore was another exception), he could write. His essays are bracing and of course provocative; the notable critic Holland Cotter described his work as "prolific and personable." (Cotter) When asked to curate his own retrospective, Kaprow refused. "How," he asked, "can you retrospect on a 30-year career where everything was throwaway?" (Darwent) But his work endures, like the playful assemblage he created for the San Diego Children's Museum.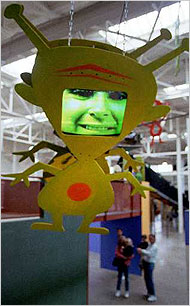 Kaprow came to call his own happenings 'action collages' and mounted one as far afield from New Jersey as Berlin. It was a six foot wall of bread and jam (the mortar) that he painstakingly erected and summarily destroyed, an ironic allegory lost on much of the Cold War public. Photographs of the 'Tree' happening Kaprow staged back home at Segal's New Brunswick farm in connection with one of the Yam Festivals show a crowd of delighted participants. This is art as joyful participatory abandon rather than sober introspective contemplation, precisely the point of the Fluxus manifesto.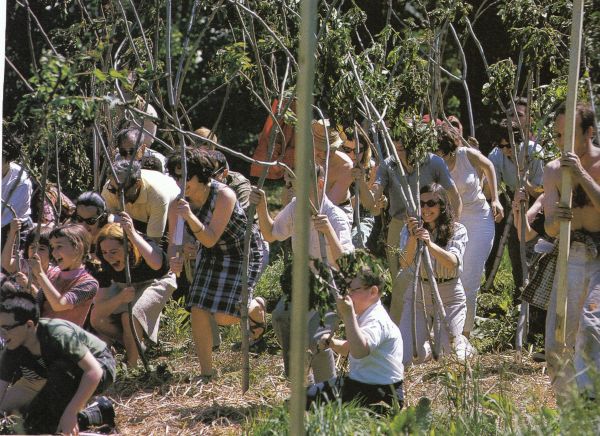 Happy participants at Tree, a Yam Festival
5. At the show.
Watts printed 'safe post' stamps of his own design, including images of pliers, ice cream scoops, W. C. Fields playing poker, and breasts. Artists affiliated with Fluxus pasted them instead of the real thing on letters and parcels that the post office witlessly delivered; delicious subversion.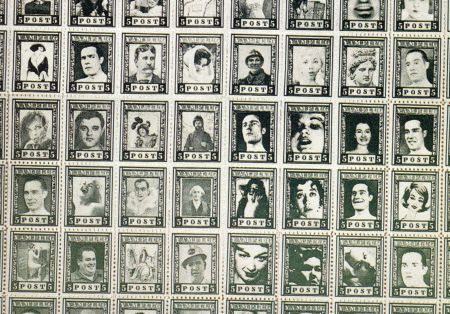 The exhibition itself was a cultural funhouse by turns spooky, contemplative, bizarre and hilarious. The stamps were there, along with a gallon can of lard and food sculpted of chrome by Watts.
You could turn a corner to encounter a functioning shower installed by Whitman. Water cascades across the projected image of a naked woman washing herself, a voyeuristic juxtaposition that was eerily mesmerizing and beautiful.
It was a wonder worthy of repeat viewing and quite properly won the International Association of Art Critics award for Best Exhibition in a Museum Outside New York City in 1999.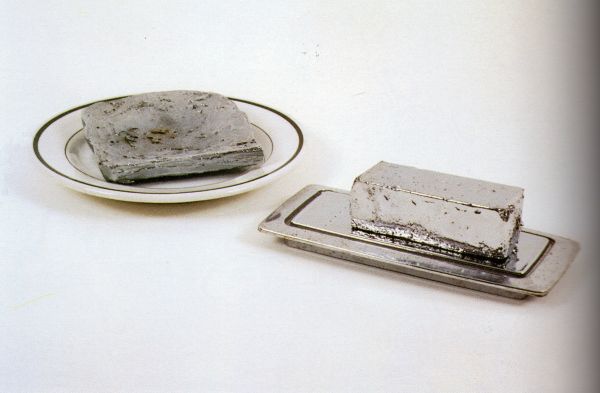 6. Diligent Devils outside the museum.
The Newark Ironbound is a Thing We Like for its Portuguese restaurants and shops. In a number of places you even can buy fresh sheep's head for a traditional Scottish supper. Lots of fresh fish too, some species live, and quail, along with a remarkable selection of fortified wines at Ferry Liquors.
In formerly derelict downtown, bars have blossomed abaft the Rock where the Devils play. The team itself is a model franchise, modest and successful underdogs on ice, and family friendly (but in a good way). The Devils are resourceful. No other operation in the NHL would be creative enough to transform David Clarkson from goon to scoring machine, then lose him to free agency, adjust and contend. The better of the bars, including the Edison Ale House, Hell's Kitchen and Loft 47, feature long ranks of craft beer on tap and decent food.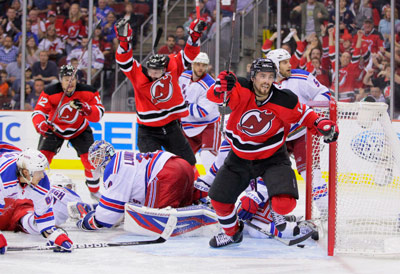 Still the city needs all the help it can get, and we are pleased that D'Artagnan pitches in through its presence. Besides, somebody with aspirations to the local production of artisanal food ought to operate outside Brooklyn. Maybe Newark could lure some beekeepers, picklemakers, piesmiths, brewers and distillers too.
7. Back in the kitchen.
For any number of reasons the Editor therefore was delighted a few days ago to notice a package of D'Artagnan 'Trumpet Royale' mushrooms on the shelf of a local shop. They were expensive but not overly so, especially for a treat and we decided to give them a try.
The mushrooms are sold as something special: D'Artagnan claims a trademark for the term 'Trumpet Royale' (although the United States Patent and Trademark Office holds no record of its registration) and touts them as 'romantic,' 'mysterious' and 'exquisite' on the packaging. They also, we are told, "add drama and richness to many dishes." Whew.
A Trumpet Royale mushroom looks a lot like porcini, if paler, which is better, if indirect, marketing still. They also are known as the boletus, or porcini, of the steppe, so the resemblance has not gone unnoticed by others. The pretty hunks of fungus need to live up to a lot.
Mushrooms on toast paired with good strong ale is a robust but not leaden lunch or light supper. The Editor duly penciled in her Trumpet Royales. Their partner would be a rare Storm & Averij dry-hopped ale from the Dutch crafters Brouwerij De Molen in Bodegraven. The bottle is big, even for a bomber, at about 800ml (no number on the label), and beautiful; heavy, with a neck waisted like a Coke bottle and corked with a Champagne cage.
We had husbanded, not to say hoarded our Storm & Averij for a special treat; most Dutch beers, unlike their rivals in Belgium next door, lack character, and this came recommended from a reputable beer shop. Perhaps the Dutch were creating their own variant of IPA, something analogous to the American West Coast style, or something otherwise distinct from the English original. It looked like a good fit for a trumpet; the ABV north of 9% should give the ale enough heft to withstand the punch of all that drama and richness.
We took the advice on the label of the mushrooms up to a point, adding shallot instead of garlic to avoid masking their taste, and seared them in duck fat over high heat until golden. We seasoned them up, slid them onto our toast, then scattered parsley on top.
And they tasted of nearly nothing at all. The texture, however, was robust, in a rubbery way. That proved appropriate to our chosen pairing because the Storm & Averij tasted of burning tire and roofing tar, so distinctive that it was difficult to get down. The bland flavor and gaggy texture of the mushrooms only compounded the overwhelming harshness of the beer, so into the bin and down the drain.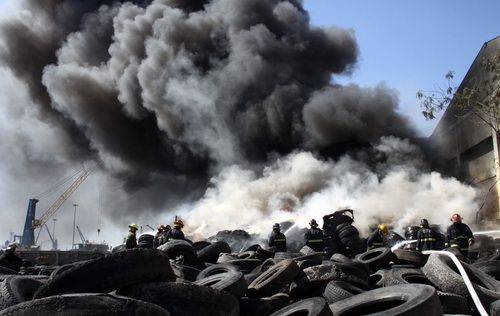 8. Testing a thesis; bashing a beer.
The Editor feared that her experience could be atypical and her verdict unfair so attempted some research. Not much appeared in connection with the fungus; no huzzahs but no complaints. Beerdrinkers, however, appear more committed to their passion than the eaters of mushrooms. At the Beer Advocate website alone it is possible to scroll for miles of comments on Storm & Averij. They reveal no pattern. Some contributors like the beer, others find it unremarkable but a considerable proportion of these fanatics loath it.
Haters compare the taste to iodine, resin, vitamin pills and "sea tea vomit," which must take a perverse genius even to consider imbibing, but no matter. The same writer continues, unnecessarily given the reference to vomit, that "nothing at all here works, can't believe how monumental a failure this is…." A more measured soul said "this is just not very good;" another called Storm & Averij simply "horrible."
At least this fiasco did not involve any suspension of disbelief or impulse purchase; the mushrooms and beer had seemed promising based on their provenance. A cautionary tale about the power of brand loyalty and packaging prowess.
Sources:
Anon., "Zimmerli Art Museum at Rutgers Celebrates the Origins of Fluxus," www.zimmerlimuseum.rutgers.edu (4 August 2011)
Rosyln Bernstein, "George Maciunas: The Man Who Invented Soho," www.huffingtonpost.com (17 November 2010)
Holland Cotter, "Allan Kaprow, Creator of Artisitc 'Happenings,' Dies at 78," The New York Times (10 April 2008)
Charles Darwent, "Allan Kaprow, Inventor of Happenings," The Independent (17 April 2006)
Allan Kaprow (ed. Jeff Kelley), Essays on the Blurring of Art and Life (Berkeley 1993)
Joan Marter, Off Limits: Rutgers University and the Avant-Garde, 1957-63 (New Brunswick 1999)
Martha Schwendener, "Celebrating Fluxus, a Movement That Didn't Create by the Rules," The New York Times (6 January 2012)
Mark Stevens, "New Brunswick Stew," New York (15 March 1999)