An Appreciation of Belhaven beers.
Belhaven, located in Dunbar outside of Edinburgh, bills itself variously as "one of Scotland's oldest breweries," "one of Scotland's oldest regional breweries" and "Scotland's oldest surviving regional brewers." Whatever the case, the firm dates from 1719 and has kept faith with its ancestry by brewing in a distinctive and appealing Scottish style. Belhaven produces some ten different beers, several unavailable in the United States and one, its Scottish Stout, perversely unavailable in the UK.
The beers are maltier than their cousins south of the border and some of them are colloquially called 'heavy' or 'wee heavy' within Scotland, but through some clever technique never cloy with sweetness like Newcastle Brown or Samuel Smith's. They are rounded and robust beers that still send the drinker off with a crisp finish of hoppy fruit.
In cask in Scotland, these are some of the best beers on earth and the bottled variants also are about as good as bottles get. Its basic bottled beer at 5.2% alcohol, the Scottish Ale, is satisfying and fine until you have tried its stronger stablemates.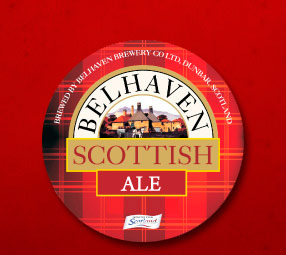 Twisted Thistle IPA, "grown, mashed, fermented, twisted and conditioned in Scotland" manages more of the magic with a big malt bottom overridden by bittersweet tones in authentic IPA fashion. At 6.1% this is a demure and refreshing IPA by American standards but in no sense insipid.
Belhaven also makes an excellent stout in the distinctive nineteenth century Scots style. Unlike Guinness and other good stouts in the classic low alcohol Irish idiom, which can weigh in at under 4% alcohol, this is strong beer at 7%. You would not necessarily know it until your head started to spin, either from the buzz or simply from the flavor, because the stout is balanced enough to avoid any current of harsh alcohol. Unlike Guinness, it has pronounced bitter chocolate notes and a certain tang to finish. Unlike oatmeal stouts and abominations like Mackeson's, it is not liquefied candy.
The star in this firmament, however, is the Wee Heavy, exemplar of the malty Scots style, keeper of the faith and not too knockout at 6.5%. To us, this beer is the flavor of Scotland, more even than single malt Scotch, haggis or lamb and barley. It has, as the label promises, the alchemical qualities "which characterised Scottish ales of the 19th century."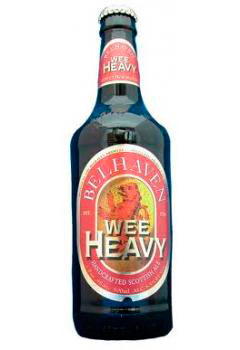 The Belhaven website is right: This "is a classic Scottish heavy but has a lightness of flavour and a great reddish colour in the glass." (www.belhaven.co.uk) It also has a big nose, like the smell of baking bread. The beer is both bold and bright, has no taste of alcoholic heat, and no treacly base. You want to drink lots of it no matter the season. Heavy bitter is a beer to grab in bulk if you can find it, but beware: All heavies are not alike. The industrial brewer MacEwan for one makes a number of beers, including its Export, in the 'heavy' style that are sweet enough to pour over pancakes but far too sweet to drink unless you only recently have been weaned from a steady and exclusive stream of coca-cola or alcopops. Another guileless, one-dimensional and forgotten heavy bitter from the 1970s was not bitter at all, except about the Union. It featured an offshore oil derrick on its taps and labels with the SNP slogan "It's Scotland's Oil," evidence that brewing and politics should not mix.
The four Belhaven beers are available, if only just, in the United States, and quite obviously worth a search. Stick with Belhaven, as they have stuck to their traditional guns, and keep a deserving brewer and its faithful beers alive.