Oysters outside the 'R' months?
Readers of britishfoodinamerica may be forgiven for considering the Editor perverse in running two Numbers that feature oysters during months whose names contain no 'R.' Forgiven but not necessarily correct, for although it was a passable rule of thumb in the past, and even was enacted into municipal legislation in colonial New York (1715) and Connecticut (1762), the rationale for the anti 'R' dictum has largely vanished along with the original oyster stocks that it covered.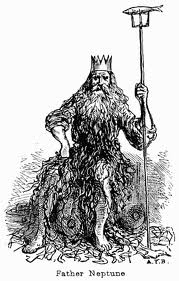 That rationale was, appropriately enough in metaphorical terms, a precautionary trident. Its three prongs consisted of concerns about spoilage, flavor and conservation.
The first rationale was prophylactic. Oysters shipped slowly by boat, cart or even rail before the advent of refrigeration, even ice-packed in their wooden casks, spoiled a lot faster in the summer heat. Spoiled oysters do not sell and oysters beginning to spoil can make you sick, a confluence of concerns both economic and hygienic. This entirely sound policy has been rendered irrelevant by refrigeration and airfreight.
Danger also lurks, at least in theory, to the south; Vibrio vulnificus, a scourge confined largely to the Gulf of Mexico. Vibrio, however, only emerges from the seabottom into water at temperatures above about 70° Fahrenheit. Even then, cooking kills it, one of the likely reasons along with the milder flavor and softer texture of Gulf oysters why so many New Orleanian recipes simmer, steam, bake, broil and roast them. Of course New Orleanians also eat oysters raw, because although Vibrio can kill, it has a hard time consummating the crime. If you have a compromised immune system, and if you are unlucky, then Vibrio might do you in, but the statistical risk is negligible.
Northerners need not fret; Gulf oysters seldom find their way beyond the states that border its rim, for reasons as much mythic and political as practical, but that is a tale for another Number.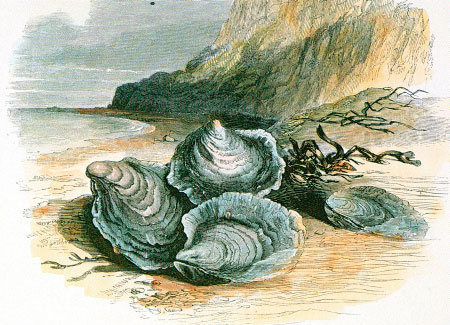 Second, wild oysters spawn in warm water, and spawning oysters both before and after the reproductive fact taste bad. They replace the glycogen that gives them a sweet taste with gamete, so unless you like the funk of primal sperm and egg the spawnful oyster lacks appeal. Then, after it spews the oyster is spent; it has, as Rowan Jacobsen observes, a terrible case of tristesse. At that point the oyster has lost its bulk and tone. There is not much meat and what remains does not taste like much.
The notion of eating an oyster full of spawn may entice some of the more adventurous aficionados of oral sex but has its darker side. No spawn, no oysters, so if wild stocks were to prosper they needed the summer months to procreate. That consideration has largely left us too, because the key word in the previous paragraphs is 'wild.'
Historically, even most wild oysters have gotten a helping human hand. That fact did not necessarily alter the arc of their lifecycle but things have changed there too. Cultivated oysters deviate in varying degree from the rhythm of nature.
Virtually every Pacific oyster grown today is sterile. They are bred with a third 'triploid' chromosome that prevents their producing spawn and, subject to water temperature, Pacific oysters therefore taste pretty much the same the same at any time of year.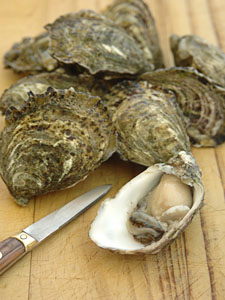 Oyster farmers also can control the breeding seasons of many east coast oysters to prevent a harvest of spawny types. In any event, no reputable oyster farmer is going to send an icky item to market. Another factor is water temperature; oysters do not spawn at temperatures under about 50° Fahrenheit, so the squeamish should select summertime eastern oysters from Maine and points north.
Water temperature itself, as noted, is a traditional variable; the colder the water, the better the oyster. This, however, like most truisms, is too crude; the temperature of the water where an oyster lives may be a variable but it is hardly dispositive on the issue of taste. The Editor has eaten better oysters from waters comparatively southern than those form farther north, and the opposite is true. It is not just a comparison between the Islands of Rhode and Prince Edward; raw Gulf oysters at their best can compare to anything on earth.
So to the third tine of the trident: it would appear that these tines are intertwined. Nobody need forgo an iced and briny oyster in summer heat to prevent extinction. The breeding cycle, as we have shown, no longer follows the sun. Besides, the more oysters we eat, the more of them people will grow. That makes us happy and maybe randy, so who could complain? Oysters enhance their environment too; the filterers net us oxygen like a tree.
Purists, however, demur. Jacobsen for one, whom we admire, advocates seasonality because it always was so. Then again so was poverty, and superstition, and privies and bad English food. Some traditions are honored better in the breach, so enjoy a summer oyster or score or more, and feel good--very, very good--about it. You are, after all, supporting your local or distant oysterer, hero to our palate and planet alike.