Shrimp Pudding - from London England Cooking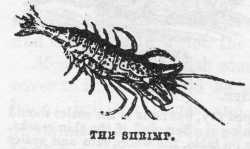 4 servings
  We found a recipe for shrimp pudding in London England Cooking [sic] "with Betty Evans," a San Francisco imprint from 1989. Evans discusses the dish in connection with the 'Dominican Black Friars' of Medieval London and implies that it is an old one. No such recipe, nor anything similar, appears in the seventeenth century manuscripts familiar to us at britishfoodinamerica, nor in Acton, Glasse, Raffald, Rundell, or any other historical cookbook available to us. Evans makes the astonishing statement that "[t]he Black Friars did eat and drink well. It is possible that shrimp pudding was one of their favorites, but if so they kept it a secret." This kind of idiocy subverts the concept of historical evidence: She 'reasons' that since there is no indication whatsoever that the monks knew about this dish, they must have eaten it. The real mystery here is how Evans got such speculation past her publisher, and how she got one for so slight and silly a book in the first place. To be fair, it does include some appealing if not many original British dishes.
The concept behind this preparation is interesting but Evans' recipe is as unsound as her historiography. It makes a soupy mess and the specified cooking time is too short. In this version, however, the pudding is an unusual and pleasant dish: Comfort food.


---
- 2 Tablespoons unsalted butter
- 1 medium onion, peeled and chopped
- 2-3 celery ribs, trimmed and chopped
- 6 slices of hearty white bread, trimmed of crust and cut into chunks
- ½ - ¾ cup shredded sharp Cheddar or other hard English cheese
- 2 eggs, beaten
- 1 cup of milk or half and half, or ½ cup each of milk and heavy cream (recommended)
- ½ teaspoon salt
- black pepper
- ¼ teaspoon cayenne
- ¼ teaspoon mace or nutmeg
- 1 ½ cups tiny cooked shrimp
- 1 heaped Tablespoon parsley
---
Preheat the oven to 375°.
Gently fry the onion and celery in the butter until they soften a little but do not brown.
Add the bread, remove from the heat and gently toss the bread and vegetables together.
Whisk together the eggs, milk and/or cream and seasonings.
Add the cheese, shrimp and parsley to the (now cooked) bread mixture and gently fold the ingredients together.
Transfer the bread and shrimp mixture to a lightly buttered baking dish, pour the sauce over it and bake until just firm, about 50 minutes.
Let the pudding rest a few minutes before turning it out onto a plate.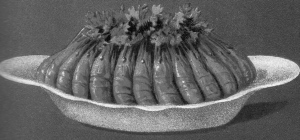 Notes:
-The Editor never can predict the precise baking time for any bread pudding, so check the pudding for firmness, either by pressing gently on its surface (it should offer just a little resistance when done) or inserting a straw into the center (it should come away just clean). Again, let the pudding rest for ten minutes or so before serving. The cheese and liquids will thicken slightly and improve the texture of the dish.
-Serve this for simple supper with a salad or as a rich side dish with grilled or roasted finfish and a compound butter.
-If you are fearful of a metaphorical mudslide, scoop the pudding in servings direct from the basin instead of turning it out onto a plate.
-The mace is more authentic.
-Some cooked bacon, about four slices chopped and fried almost crispy, adds a smoky and welcome layer of flavor; the shrimp and grits principle adapted to British food. Let the bacon cool and add it at step 4.
-Barbecued shrimp is another southern staple; it is not actually barbecued and has more variations than would be appropriate to catalog now. Our recipe with notes appears farther down this chain.
-Stale bread is neither necessary nor contraindicated for shrimp pudding.
-We do not really like pollack. We do, however, feel guilty enough to want to include so sustainable a fish. Then again, we suspect that it only is sustainable because nobody would choose to eat it given an alternative. We cannot help wondering why cod remains good value when we are told that its stocks have descended to disastrous levels. We do not doubt that they have done so, but marvel that the market has not adjusted to scarcity.
-We have found no other modern rendition of shrimp pudding per se. The closest thing is a recipe for Cheese and Fish Pudding from Eleanor Early's New England Cookbook (1954). It is a little similar but not at all the same. The recipe calls for 1-2 pounds haddock "cut into serving pieces" along with ½ pound grated Cheddar, a cup of milk, ½ teaspoon dry mustard, a little salt and pepper, 2 cups of "soft bread crumbs" and a pinch of paprika for color. The fish goes into a buttered baking dish in one layer. The rest of the ingredients other than the breadcrumbs are stirred together over low heat until the cheese melts, then mixed with the crumbs, poured over the fish and sprinkled with paprika. The recipe says that the pudding then should be baked for "30 minutes or until lightly browned and delectably puffy." In fact it will take more time. You can substitute any flaky fish, including salmon, for the haddock. You could try smoked haddock as well; blanch it first. For four people.