A dessert. Pumpkin bread pudding pops up in the Fall editions of food magazines in the United States from time to time but is virtually absent from American cookbooks and entirely absent from traditional British ones. That strikes the Editor as an odd oversight because pumpkin lends itself superlatively to the pudding that Nigel Slater calls the fortuitous byproduct of a boundless British "ingenuity in matters frugal." (Eating for England, London 2007, 17) The addition of pumpkin, however, is no mystery to Yankees like the Editor: Locally owned supermarkets in Rhode Island, McQuaid's for example, even bake their own. Nothing is more therapeutic on a raw, dank day.
---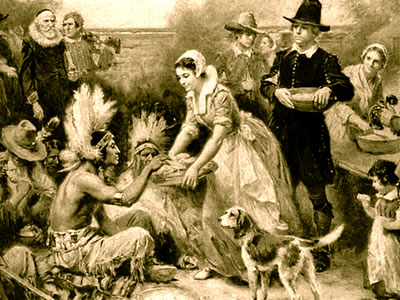 Preheat the oven to 350°.

-1 cup heavy cream
-2 eggs
-1 egg yolk
-½ cup milk
-¾ cup pumpkin puree (canned will do)
-scant ½ cup Demerara or Turbinado sugar
-¼ teaspoon allspice
-½ teaspoon cinnamon
-heaped ¼ teaspoon ground ginger
-a little salt
-about ½ cup raisins
-about 5 cups stale crusty bread cut into 1 inch chunks
-6 Tablespoons melted unsalted butter
---
Whisk together the cream, eggs, milk, pumpkin, sugar, spice and salt.
Stir the raisins into the custard.
Toss the bread with the butter.
Dump the pumpkin custard over the bread and toss it in turn.
Bake the pudding in an 8 inch square casserole or enameled pot of similar volume just until the custard sets, usually about 20-25 minutes.
Notes:

- The invidious temptation with this recipe is to overcook it. The custard will continue to cook, and set, after removal from the oven, so if it 'feels' done when you take it out, it is going to be rubbery. A toothpick should come away from the center of the pudding with a couple or three bits of custard sticking to it: Do not wait until it comes clean, at the point it ironically has become deceptive. The same temptation, by the way, bedevils the cook of macaroni and cheese.
- Some people do not like raisins. You can leave them out.
- Plain sugar also works; we like the richness of the darker stuff with the pumpkin.
- For a brighter pudding, soak the raisins in 2 scant Tablespoons of Port, Malmsey Madeira or sweet sherry overnight.