Coddled eggs represent one of the lost glories of British cuisine and make a very good starter indeed served with batons of toast. This recipe from Stillroom Cookery, as with all recipes for coddled eggs, is simplicity itself, except for a difficult initial obstacle. It is difficult these days to find an egg coddler. Utilitarian coddlers of appalling quality (the lids neither screw onto the coddler properly nor seal as they should, and the handle rings break away if you look at them in a malign manner) but superb old Royal Worcester and Wedgewood coddlers are widely available from online sellers like ebay at an unjustifiably wide range of prices. Shop around. If you cannot get a good coddler (but you can), use a muffin tin as instructed in the Notes.
---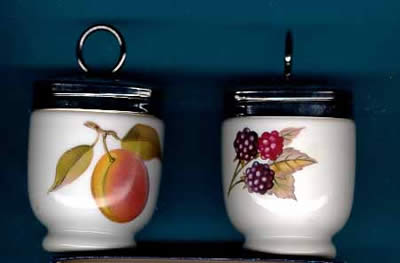 For each egg:
softened unsalted butter
1 Tablespoon pale ale or porter
1 Tablespoon heavy cream
an egg
salt and pepper or cayenne
---
Pour the beer and cream into your coddler, then slip the egg in there too, taking care not to break it, then season it. Screw the lid onto the coddler
Meanwhile bring a good sized pot of water to boil, then plunk each coddler into the pot and cook just until the egg sets (you can remove the lid to check if inexperienced), usually in about 10 minutes.
Notes:
-The recipe is beguiling on its own but less is not always more and lots of other things may be thrown into the coddler with the egg. Ham or salmon, smoked or not, is particularly good, so are minced chives or scallion greens, cooked bacon with or without fried mushroom duxelles, grated Cheddar or Parmesan with or without the ham, bits of smoked haddock, capers with or without the salmon….
-If you are stuck with a muffin pan, proceed as if it was a set of coddlers and bake the eggs in an oven preheated to 350˚ until they just set, usually in about 10 minutes as well.
You need not, of course, coddle eggs in beer. It is a welcome innovation from the estimable Grace Firth.