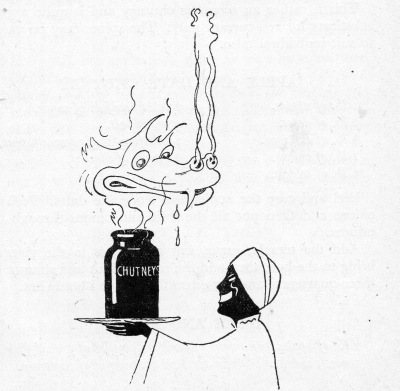 Each recipe will fill four ½ pint Ball jars.
Recipes for peach chutney are as varied as the ones for pickled peaches are similar. Every southern cookbook has one; so does Mr. Sarson. Our two versions are hybrids arising from several sources as well as the Editor's imagination.
---
First variation:
- 1 Tablespoon unsalted butter
- 2 teaspoons smashed and minced garlic
- 2 minced shallots
- 1 hot red chili, seeded and sliced into thick eyelashes
- 1½ lb peaches, blanched, skinned and coarsely chopped
- scant ½ cup Turbinado or Demerara sugar
- ¼ cup dark rum [see the notes]
- ½ cup cane vinegar
- heaped ¼ teaspoon allspice
- ¼ teaspoon powdered bay
- heaped ¼ teaspoon white pepper
- salt
---
Melt the butter over medium heat, stir in the garlic, shallot and chili, and cook to soften but not brown.
Stir the peaches into the mixture and cook for 2 minutes.
Add the sugar, then the rum, and cook for another minute.
Add the vinegar, allspice, bay, pepper and salt to taste, reduce to low and cook until the peaches just soften.
Either put the chutney into warm sterilized jars for laying down or just into jars: They should keep, refrigerated, for several months.
Second variation: The method is the same. Substitute white for dark sugar; bourbon for rum; malt for cane vinegar; mustard seeds and ground coriander for the allspice and pepper.
Notes:
- We like to use Cruzan blackstrap navy rum, dark and sweet, and Maker's Mark bourbon in these chutneys.
- We sometimes make the Bourbon chutney with green chili to distinguish it from the one with the rum.
- Many recipes, including those of Edna Lewis and Sarson, include raisins. Miss Lewis adds fresh ginger too, and purees them with garlic, salt and dried red chilies. Mr. Sarson suggests using dried peaches or apricots; this recipe is quick and easy too. Quarter 2 lb of dried peaches, spread them in a single layer and cover them with a quart of cold malt vinegar for 24 hours, when the fruit should have turned plump. Dice a pound of onions and put them in a pot with the peaches, vinegar and ½ oz each of powdered cinnamon and ginger. Bring the mixture to a boil, simmer for 15 minutes and pack into warm sterilized jars, or plain jars for keeping in the fridge. You do not need to add sugar due to the concentrated sweetness of the dried fruit.
-Agnes Jekyll, whom we Appreciated in our sixth number from April 2010, published a simple recipe for pickled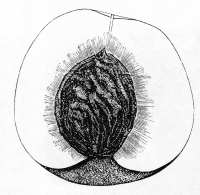 apricots in 1922, which, she says, "can be made with the best quality of evaporated apricots, well steeped and softened in clove-flavored water and treated with a little vinegar or lemon and a few drops of brandy or liqueur. The Editor put enough dried apricots to fill a 1 pint Ball jar in a nonreactive pot with a bay leaf, a few black peppercorns and a pinch of allspice instead of the cloves, poured boiling water into the pot barely to cover the fruit and let it stand overnight. She then strained off the liquid, plopped the fruit and aromatics into the jar and covered it with malt vinegar and Portuguese brandy (Maciera Five Star, leathery and good) in a proportion of 3 to 1. The superb result improves steadily with age; after some weeks the shriveled apricots plump uncannily to mimic fresh ones. Mrs. Jekyll's recipe first appeared in The Times of London and then in her Kitchen Essays. A beautiful facsimile is available from Persephone.
- All of these pickles and chutneys are excellent with cold ham, the drier country rather than wet 'city' variety.