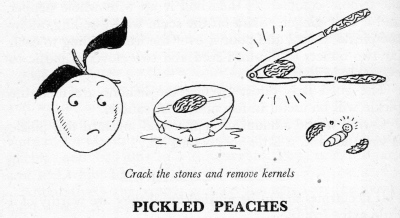 This recipe draws from both Egerton and Sarson. It uses a little less sugar and unlike either adds a proportion of brown sugar to the white along with some bay.

---
- Enough peaches to fill 2 pint-sized Ball jars (usually 8-12 in all)
- 4 cloves per peach
- 2 cups cider vinegar
- 1 cup sugar
- ½ cup Demerara sugar
- heaped ½ teaspoon allspice
- 2 cinnamon sticks
- 2 large bay leaves
---
Gently drop the peaches into boiling water for 2-2 ½ minutes; drain them and let them cool enough to handle without excessive suffering.
Pull the skins from the peaches and stud each one with 4 cloves.
Meanwhile put the vinegar, sugars, allspice and cinnamon sticks into a pot big enough to hold them and the peaches.
Bring the syrup to a boil, stirring to integrate the ingredients, but take care not to break the cinnamon sticks.
Boil the syrup uncovered for about half an hour, or until it thickens.
Gently roll the studded peaches into the syrup with the bay leaves and simmer for just a couple of minutes, taking care not to tear the bay or squash the peaches.
Pack the peaches into warm sterilized jars, dividing the cinnamon and bay between them.
Cover the peaches with the syrup and let them steep for at least two and preferably four weeks.
Notes:

- Egerton and Sarson both omit the bay; Egerton also omits the allspice.
- Sarson halves and stones his peaches before heating them in his syrup, which he barely brings to a boil before simmering the peaches immediately. He also ties his spice mixture in muslin for removal before putting the peaches into jars.
- Malt vinegar is an excellent alternative to the cider vinegar.
- Everyone it seems, including Egerton, tells us that the skin will slide magically off a peach if you dip it in boiling water for 1 minute. The same is said routinely of tomatoes. Unfortunately, it does not work. You need to cook the peaches longer or the skin remains recalcitrant. The peaches will soften some, not always a desirable outcome, but not a problem in this recipe.