Roast pork chops with rhubarb sauce & sage butter.
This is another recipe adapted from Terry Edwards and George Craig and is, as they claim, akin Yorkshire, famed for its pigs and rhubarb, on a plate. For the uninformed, that is a compliment, not a caveat. For four.

---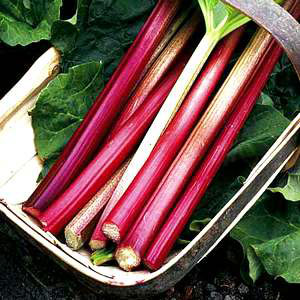 For the sauce:
about 2/3 lb chopped rhubarb
1 cup sugar
about 2 teaspoons tawny Port
pinch of good salt (like Maldon)
8 Tablespoons cold and diced unsalted butter
For the chops:
4 thick pork chops, fatty rims scored to retard curling
neutral oil
salt and pepper
6 Tablespoons unsalted butter
12 sage leaves
1 Tablespoon cider vinegar
---
Preheat the oven to 350˚.
Begin making the sauce by cooking everything but the butter in a heavy pot over medium low heat until the rhubarb softens, then puree the mix with your instrument of choice.
Set a big heavy skillet on medium heat until it gets extremely hot. Meanwhile paint each chop with a little oil and season generously with salt and pepper.
Fry the chops until browned, usually in about 5 minutes a side, but check them after a couple of minutes.
Set the chops on a cookie sheet and bake them for about 8 minutes.
Cook the butter and sage in the unwashed skillet that held the chops until the butter browns, then turn off the heat and add the vinegar. Stir the mix gently to avoid breaking the sage leaves.
Reheat the rhubarb and stir the butter into the sauce until incorporated.
Spoon butter and 3 sage leaves atop each chop and serve them with a bowl of the sauce for passing.
Notes:
-The original recipe uses water instead of Port to make the rhubarb sauce. A dash or two of rhubarb bitters would not be a bad addition.
-The original also uses a lot more butter with the sage, 12 Tablespoons of it, along with 8 sage leaves and double the amount of vinegar.